VITAS Healthcare Thanks Methodist Dallas Health System Staff During COVID-19
May 14, 2020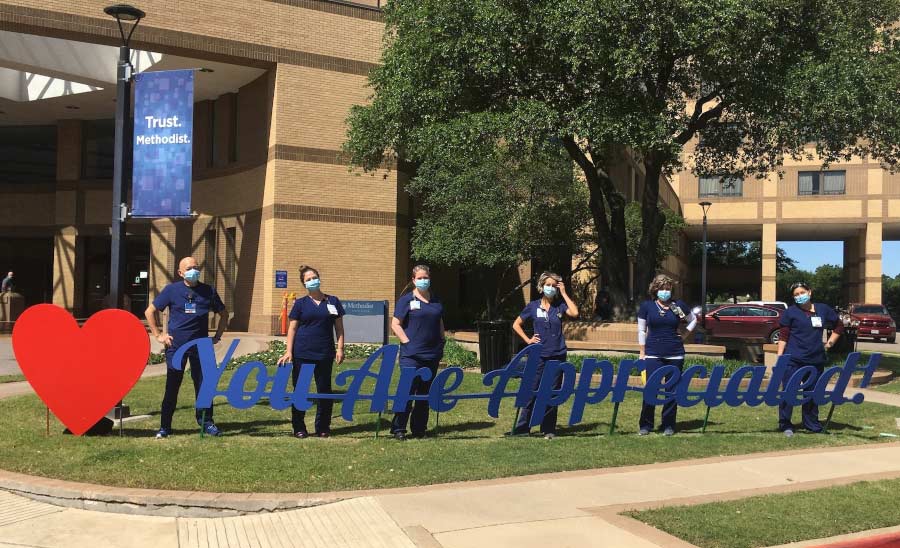 DALLAS, TX – VITAS Healthcare, the nation's leading provider of end-of-life care, showed gratitude for healthcare workers on the COVID-19 front lines at Methodist Dallas Medical Center by organizing a parade featuring several community cornerstones. Additional parades are being scheduled for the other three hospitals in the Methodist Health System: Charlton, Mansfield and Richardson.
Escorted by the Dallas Fire Department and Methodist Health System Police Department, the 25-car "Parade of Thanks" included representatives from VITAS, local religious organizations and a community homecare provider.
"I've worked with Methodist Dallas Medical Center since I've been with VITAS, that's nearly 11 years," said Angelia Moore, a senior representative for VITAS and lead parade planner. "Over the years, I've grown to know the nurses and physicians working on the front line. With everything going on, it's so important that we give back to them."
See other ways we're caring for patients and partners >
Moore coordinated the event's logistics with VITAS and Methodist leadership. Together, they agreed to organize four parades, one for each Methodist campus. Patrick Bullocks, a VITAS admission liaison who works with the local spiritual community, obtained the support of a dozen African American churches. Dallas first responders eagerly agreed to lead the procession.
The first parade kicked off at 11 a.m. on Friday, May 1. Starting at New Mt. Gilead Baptist Church on Morgan Avenue, 25 cars drove to the hospital on North Beckley Avenue and circled the campus twice, flashing signs featuring encouraging messages as honks and cheers filled the air.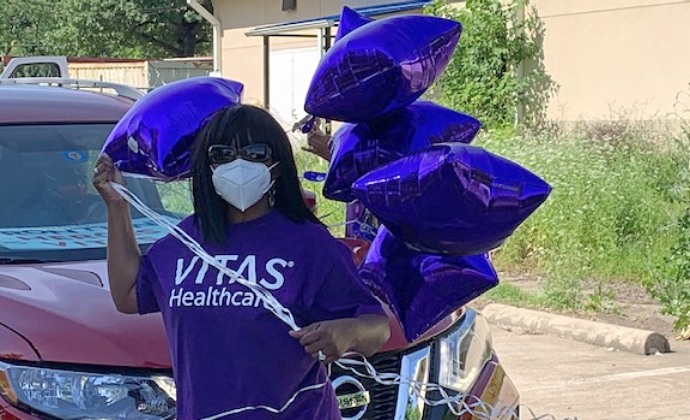 Hospital staff and community members alike were moved by the display, according to Marilyn Conley, general manager of VITAS in Dallas.
"We were crying, they were crying. It was overwhelming," Conley said. "It made everyone's day to see how a simple act of kindness could touch the hearts of so many people. These efforts underscore that we're are more than care providers; we are a resource for the community."
Methodist Health System executives expressed their appreciation for VITAS' ongoing partnership and support of healthcare workers during the COVID-19 pandemic.
"The Methodist Dallas family is grateful for the support of VITAS and our community partners," said Benson Chacko, FACHE, VP of Operations at Methodist Dallas Medical Center. "The challenges facing healthcare during this crisis require care professionals to work together toward integrative solutions. We are proud to work alongside a provider whose actions reflect their mission."
In 2019, VITAS opened a 16-bed inpatient hospice unit at Methodist Dallas Medical Center, a 13,000-square-foot comfortable, home-like environment for patients with advanced illness, estimated to serve 800 patients annually.
For media inquiries: