Serving Florida Since 1978
​
VITAS Healthcare was founded in Florida and has delivered high-quality hospice care to Florida residents for more than 40 years.
Founded in 1978 as Hospice Care Inc., VITAS was one of the nation's first hospices. Our story began in 1976, when Hugh A. Westbrook, an ordained United Methodist minister, and Esther T. Colliflower, a registered nurse, met while teaching at Miami-Dade Community College. They saw a void in the treatment of people with terminal illnesses.
In the four decades since, we have learned that the needs of patients vary across the state, and our hospice services are uniquely designed for each service area and region.
A Respected Hospice Care Provider Across Florida
The VITAS footprint covers almost 70% of the state's population, with hospice services provided in 46 of Florida's 67 counties that stretch from the Keys to Northern Florida to Pensacola.
As of December 2021, VITAS statistics show:
44,697 total patients, for an average daily census of 10,687
3.9 million days of care
4,966 Florida employees, including:

371 physicians, the overwhelming majority of whom are board certified in hospice and palliative medicine, internal medicine, or family medicine
2,051 nurses
1,177 hospice aides
169 social workers
167 chaplains
1,489 active volunteers who have contributed 67,571 volunteer hours

$8.24 million in charity care
Among employees, 596 dedicated personnel provide Intensive Comfort Care®, marked by temporary shifts of 8- to 24-hour care at the bedside, when medically necessary, to resolve patient crises at home and avoid readmission to the hospital or emergency department.
VITAS has successfully started new hospice programs in Florida counties where existing hospice providers had a strong presence. VITAS has repeatedly entered Florida markets, quickly earned the confidence and support of the community and increased access to critical hospice services for all residents.
Our experience in Florida and national leadership allow VITAS to provide care that exceeds regulatory requirements, to meet patients' needs, and to tailor programs for specific populations. In Florida, VITAS has:
Delivered grief and loss counseling, memorial services and other support services for families, loved ones and entire communities affected by tragedy or natural disaster
Increased staff to meet seasonal peaks in patient needs in the winter months. VITAS is also an expert at communicating with family members residing outside Florida.
Entered partnerships with universities and colleges to provide end-of-life care curricula to healthcare students and new graduates
Been a member in good standing and frequently represented on the Board of Directors of the Florida Hospice and Palliative Care Association since its inception in 1982
We Are Proud to Make a Difference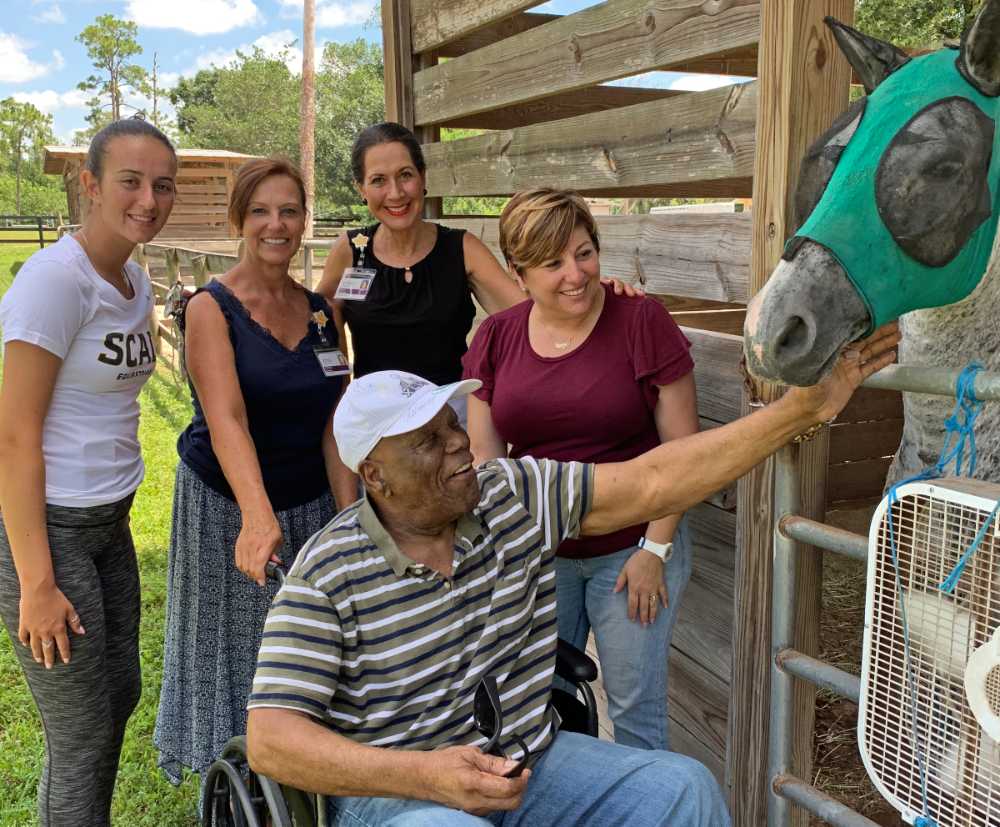 At VITAS, we are defined by the needs of the patients and families we serve. Each of the hundreds of thousands of patients and families we've served has taught us something about compassionate care. As we adapt to the ever-changing healthcare environment, we are guided as always by our VITAS Values.
We're proud to help patients realize their end-of-life wishes with loved ones. Sometimes, that might mean rekindling a love of animals from youth. For others, it's a last fishing trip or visit to the beach.
We meet the unique needs of veterans to ensure those who served our country receive quality care at the end of life.
As families grieve, VITAS offers comfort and helps them cope with their loss.
We support the next generation of healthcare professionals through scholarships and grants.
Response to Natural Disasters
Having operated in Florida for 40 years, VITAS understands the importance of incorporating disaster planning into all of its operations.
"By pooling our impressive resources and skills, VITAS can overcome any challenge."

Nick Westfall, VITAS CEO
VITAS employees approach the challenges and devastation of natural disasters with the same professionalism with which they bring calm and dignity to patients and family members who are facing the anxiety and worry of a life-limiting diagnosis.
As a national company with operations in 14 states and the District of Columbia, VITAS can reposition and move staff members from other programs and states during natural disasters and emergencies, with the ability to stage, host and staff key activities outside of Florida (e.g., technology, IT, communications) for communities or areas affected by power or telecommunications outages.
During Hurricane Irma in 2017, for example, some members of the VITAS Telecare team in Miami moved temporarily to offices in Cincinnati to continue providing live clinical support until power and communications were restored to affected areas.
Before, during and after Hurricane Dorian in 2019, the VITAS emergency preparedness team held 22 national conference calls over seven storm days—a minimum of three calls each day—involving 116 participants at all levels of the company for regular updates on emergency preparations, forecasts and immediate needs.
VITAS stored water and medical supplies out of the storm's path for quick post-storm delivery, provided home-based patients with two-week supplies of medications and equipment, reserved 6,000 gallons of fuel for generators and employee vehicles, and positioned generators at at-risk offices.

VITAS excels at caring in times of crisis and calm. Learn how.
Upon admission to VITAS, each patient is assigned an emergency priority level. During an emergency, care teams work extra hours to maintain contact with patients/families and keep detailed logs for each patient in the path of a storm to indicate:
Whether they are evacuating
What their location and contact information will be during the storm
If they have medical equipment that needs service
If they have enough food, medication and supplies to get through the storm
When necessary, patients in evacuation zones are relocated to VITAS inpatient hospice units or other care facilities to ensure continuity of care, while our 24/7 Telecare staff stays in phone contact with home-based patients and families during events to make sure they are safe.
"The level of dedication and compassion our VITAS teams demonstrated during these devastating storms explains why VITAS is the nation's leading provider of end-of-life care," says VITAS CEO Nick Westfall. "The nationwide assistance of VITAS staff who lent many hands to ensure continuous operations says it all: By pooling our impressive resources and skills, VITAS can overcome any challenge."