Join the VITAS Nursing Team
Nursing is truly a calling. And as a VITAS Healthcare hospice nurse, you can make a meaningful difference in the lives of patients and families every day.
Apply Today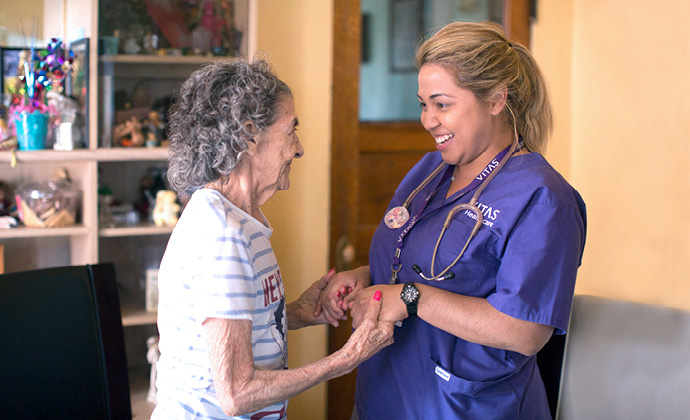 Be a Difference Maker, Earn a Payout.
Registered nurses, licensed practical nurses, and licensed vocational nurses are Difference Makers: They're at the heart of everything we do, providing excellent care at the bedside each and every day with Commitment, Compassion, and a Can-Do Attitude.
That's why, after 12 months of active service, RNs, LPNs, and LPNs working 20 or more hours a week can receive a lump-sum payout in recognition of their support and dedication to our patients and their fellow team members.
Talk to your recruiter today to learn more and see if you qualify.
What's it Like to Be a Nurse at VITAS?
Hospice nurses at VITAS have a unique opportunity to take the lead on patient care, making decisions that directly and positively impact each patient's quality of life while also serving as valuable resources for patients' families.
"VITAS stands by their values and their mission. They stand by us as employees."
Hospice nursing is challenging work. But it is also personally gratifying, professionally rewarding, and conducted with the support of a collaborative interdisciplinary team of experts who are just as passionate about providing patients with the best care possible as you are.
Hospice nurses must have superior clinical and people skills to make an impact at VITAS—an industry-leading company and healthcare provider that puts its people first. We expect the best from our employees while supporting their growth and success.
As a hospice nurse with VITAS, you can expect:
Mentorship and support from an entire team of hospice professionals—physician, aide, social worker, chaplain, bereavement specialist, and volunteer
Control of your patient schedule, so you can see your patients when they need to be seen
A mission-driven, fulfilling career dedicated to making a difference in the lives of patients with advanced illness
A visible, collaborative management team dedicated to furthering your clinical expertise and realizing your career aspirations
A caring culture that supports your professional growth with the resources you need to succeed in a safe, productive environment
Tuition reimbursement to gain new skills or support a career transition to other positions and roles at the nation's leading hospice provider
VITAS Benefits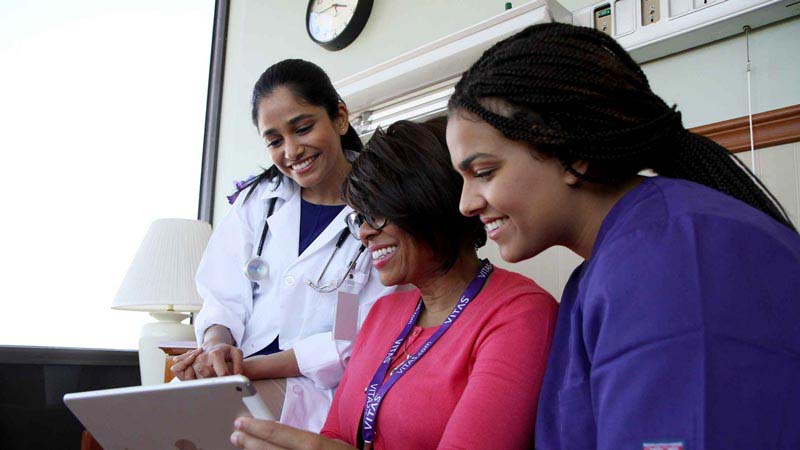 VITAS Benefits
Here are some of the benefits offered to VITAS employees:
Medical/dental/vision
401(k) match
Tuition reimbursement
Life insurance
Roadside assistance
Download Benefits PDF