Home Medical Equipment: Bringing Hospice Home
When you're seriously ill, being at home is the best way to maintain your quality of life. But can you manage? Will you be a burden to those who care for you? Do you need special support, supplies and hospice equipment?
Leave the Hospital with Confidence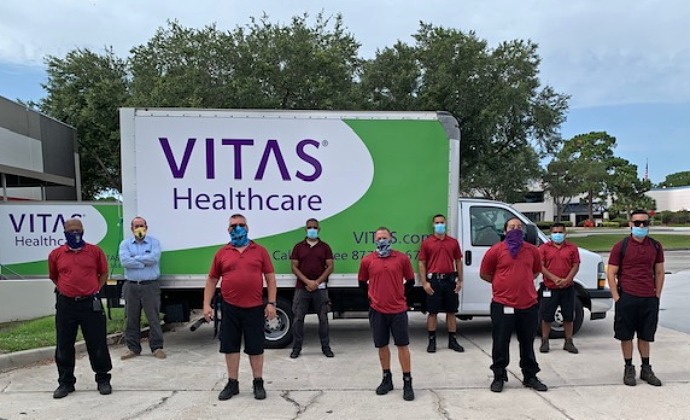 VITAS Healthcare puts the needs of patients and families first. We know you want to return home to the people and places that make you feel most comfortable, and we have the resources to make that happen.
VITAS has everything you need to make your transition from hospital to home as seamless as possible. You'll have the confidence of knowing your home is ready with the home medical equipment and supplies you need.
You can expect hospice equipment that has been carefully inspected, prepped and tested and that adheres to manufacturers' guidelines.
No Waiting for Home Medical Equipment
Because patients in transition from hospital to home should not have to wait, for 80 percent of our locations, VITAS maintains its own home medical equipment (HME), delivery and staff. In places where we do not supply our own medical equipment, we work with local suppliers who meet our exacting standards.
When HME is specified as part of your plan of care, we respond quickly and efficiently.
We have the medical equipment your hospice care plan may call for, which may include:
Oxygen and delivery devices
Nebulizer
CPAP and BiPAP
High-flow oxygen therapy
Hospital bed
Pressure-relief mattress
Wheelchair and other specialty chairs
Trapeze bar and patient lift
Walker, cane, tub seat and bedside commode
Suction equipment
Feeding pump
Meet Your HME Technician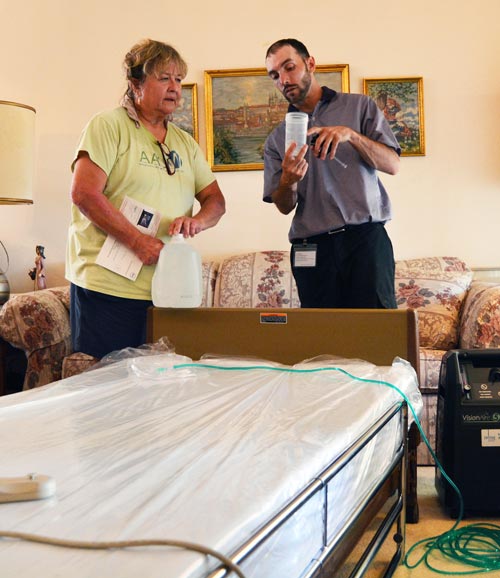 All VITAS patients who have medical equipment delivered to their home get the professional services of a skilled medical service technician. Your technician is considered part of your hospice team and is ready to answer questions, make adjustments and return to your home for service visits, if needed.
Your technician understands your needs, and your family's needs, as you settle into a new routine at home. The technician puts the needed equipment on the truck, delivers it to your home and carefully sets it up according to your wishes. Once everything is in place and functioning properly, the tech gives detailed instructions on how everything works. He or she does not leave until family caregivers and/or patients who will use the equipment feel completely at ease.
Are you looking for a career on our Home Medical Equipment team? View our open positions today.
Call VITAS to learn more about hospice and palliative care options.