Volunteers, Memory Bears, Music Therapy, Paw Pals, Veterans
We are VITAS Strong: Caring for Patients and Partners During the Coronavirus Pandemic
VITAS employees and volunteers have found creative ways to show they care for our patients, families, and partners during the COVID-19 pandemic. We are VITAS Strong.
Here are some examples:
Corona, CA
June 11
The VITAS home medical equipment (HME) team has been a vital part of caring for patients and families during the pandemic. They have the essential role of getting personal protective equipment and sanitizing supplies to teammates caring for patients directly.
The HME team stood up two central supply locations, in Van Nuys and Corona. "This will be an ongoing effort until we get through COVID-19 entirely," says Melissa Connelly, VITAS senior vice president in the HME division.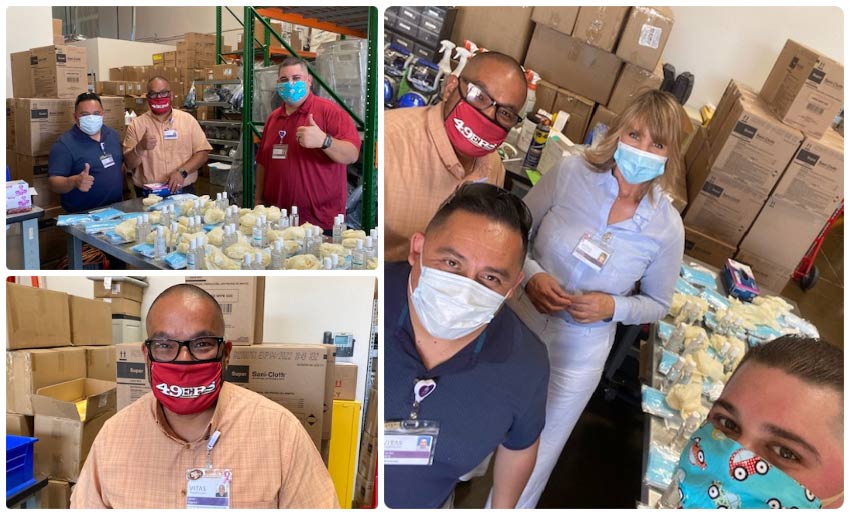 ---
Tarzana, CA
June 9
VITAS volunteer Levi Josefsson performed at a "Courtyard Concert" for residents at Brookdale Gardens of Taranza. After months of social distancing, a private concert (from a safe distance) brought residents a sense of mental well-being.

---
Citrus County, FL
June 7
The VITAS Citrus County team provided an educational blitz for community first responders. VITAS Representative Jessica Velasco led the effort, to help partners know that VITAS can help keep the most vulnerable patients with advanced illnesses out of hospitals.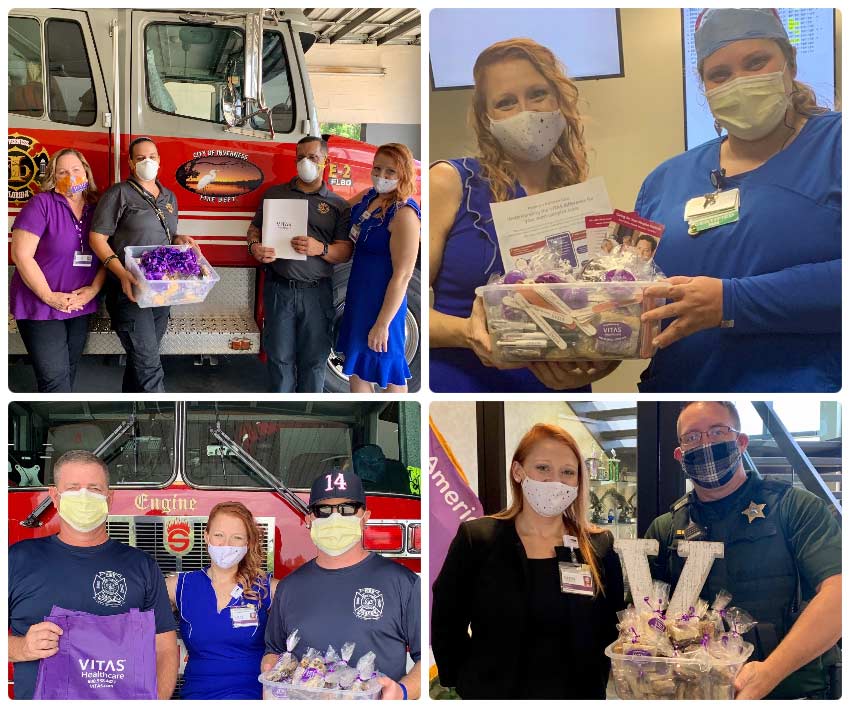 ---
Rockledge, FL
June 6
VITAS honored patient Rowland Smith, a Navy veteran of World War II, to commemorate his service in the D-Day invasion of Normandy, France, on June 6, 1944.
Now 93, Rowland was only 17 when he took part in the largest seaborne landings in history, code-named Operation Neptune. He was injured in the invasion and earned a Purple Heart.
Seventy-six years later, VITAS celebrated Rowland's service with a cake, balloons, flag and memorabilia.
Among those on hand to celebrate: VITAS Representative Louise Petraitis, Associate Medical Director Dr. Lloyd Bennett, Patient Care Administrator John Harrell, Air Force veteran Joe Koren, VITAS Representative Ted Brunger and his son, also Ted.
See how every day is Veterans Day at VITAS >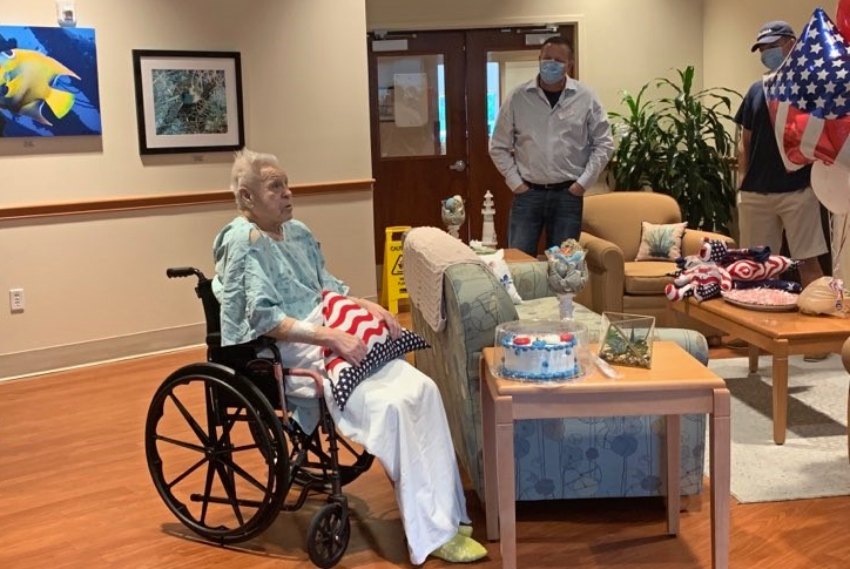 ---
Tamarac, FL
June 2
The VITAS music therapy team in Broward County provided a Memorial Celebration for residents and staff at HarborChase of Tamarac, a senior care facility.
The talented group—Rebecca Rocuant, Charlotte Kuhn, Tom Dalton, Natalie Bondank, Lily Hsu, and Brent Goldsmith— performed on a lanai while wearing facial coverings to ensure safety.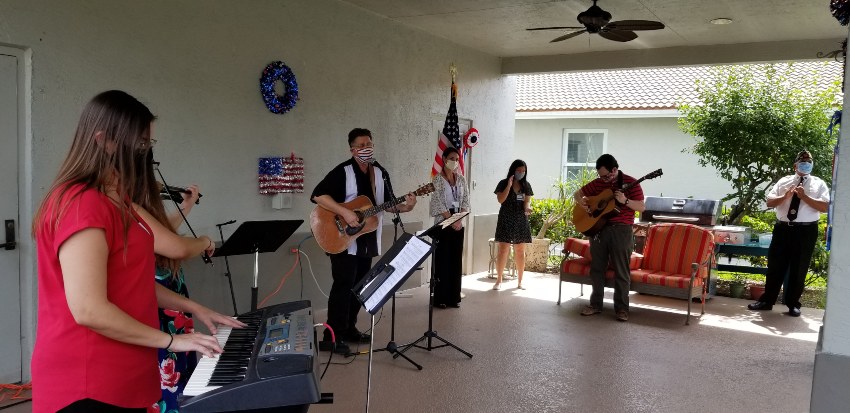 ---
Pittsburgh, PA
June 2
Residents at Harbour Senior Living, a senior care center, enjoyed a tail-wagging surprise on a sunny summer day.
VITAS Representative Joy Paglia partnered with Sit Means Sit, a national dog training company, to bring their clients' pups for a meet-and-greet. VITAS Director of Market Development Kyle Harder and his dog, Tyler, got in on the furry fun, too!

---
Carrollton, TX
June 1
First responders and healthcare workers honored each other during the COVID-19 pandemic with a parade of lights at Carrollton Regional Medical Center. Nearly two dozen public safety vehicles joining VITAS to honor community doctors and nurses on the frontlines of the pandemic. Other staff and patients viewed the parade from windows and displayed their own signs of support.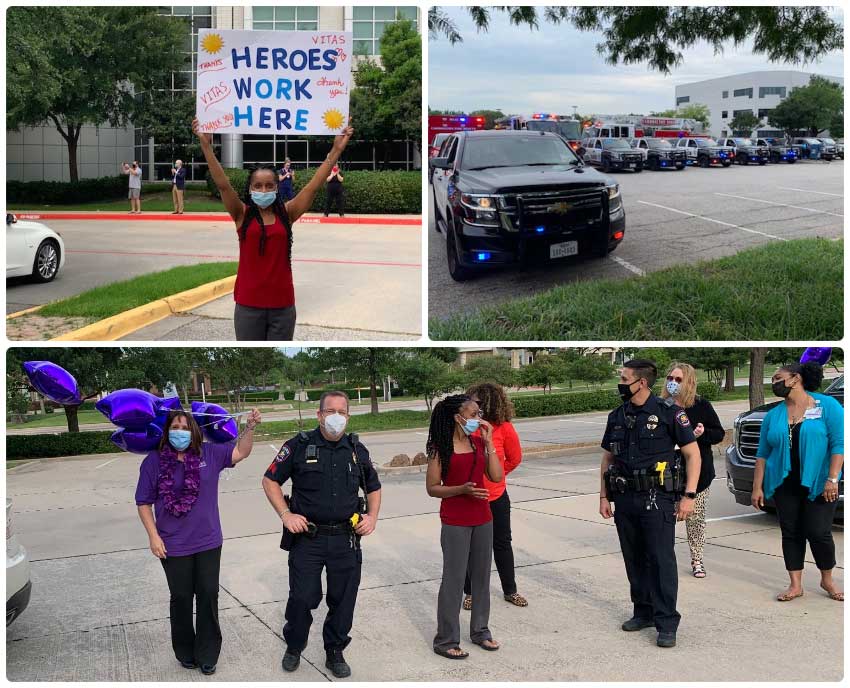 ---
Palm City, FL
June 1
VITAS Representative Kimberly Pierre delivered a Coffee and Conversation luncheon to Palm City Nursing and Rehab Center.
The event included drinks and snacks as a thank-you to healthcare staff, as well as information about how hospice care can help nursing home patients.

---
Orlando, FL
June 1
The VITAS Central Florida team had a memorial remembrance event at Somerby Senior Living Group to honor and thank veterans for their service to our country.
VITAS Social Worker Linda Robinson, Chaplain Victor Rivera, Representative Lydia Zukovski, and Admissions Liaison Fred Robinson took part in the patriotic salute.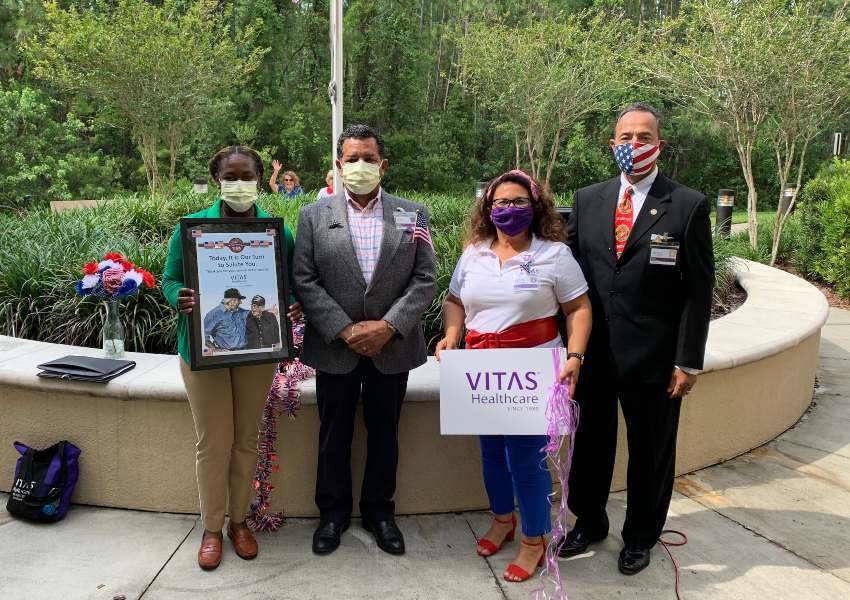 ---
Riviera Beach, FL
May 27
Chen Medical and VITAS partnered to deliver food to the Tabernacle Missionary Baptist Church. The church provides free breakfast every Sunday to the elderly and families who have been heavily impacted by COVID-19.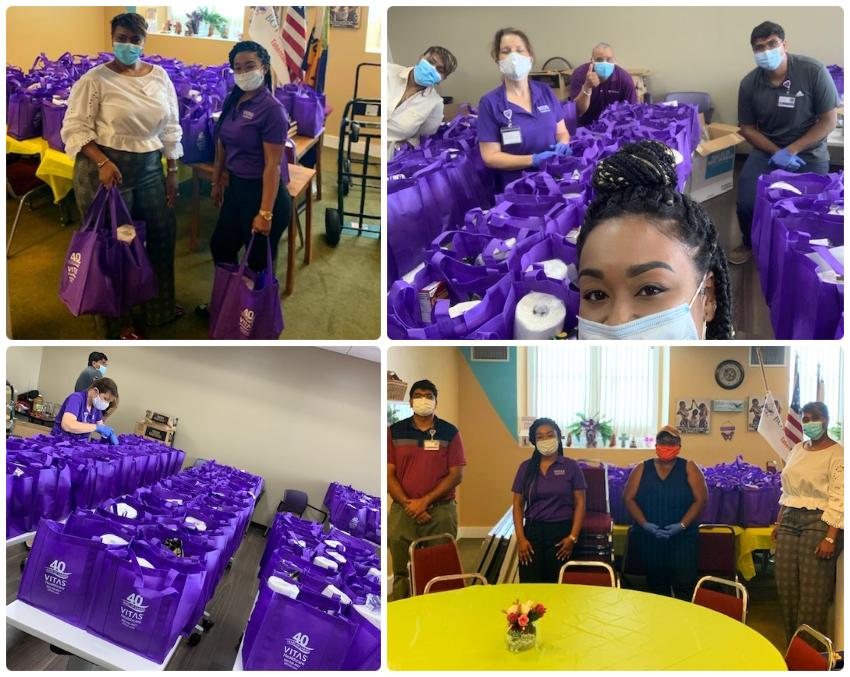 ---
Merritt Island, FL
May 25
VITAS Admissions Liaison Kathryn Ridner honored and remembered veterans on Memorial Day at the Brevard Veterans Memorial Center. She also shared education about caring for veterans near the end of life, and Marc Dobson, "the One Man Band," played patriotic songs.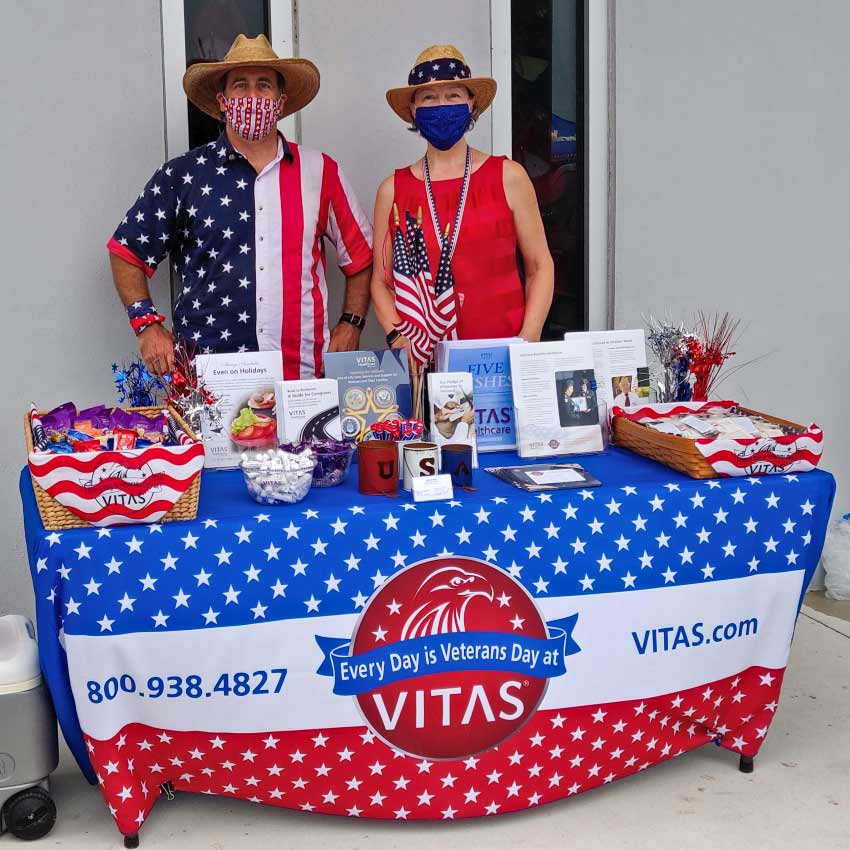 Also in Merritt Island, Senior VITAS Representative Laurie Nichols shared Memorial Day baskets with staff at Solaris Healthcare. The baskets contained US flags, poppy lapel flowers (a symbol commemorating those who have died in the line of duty), snacks, and candy.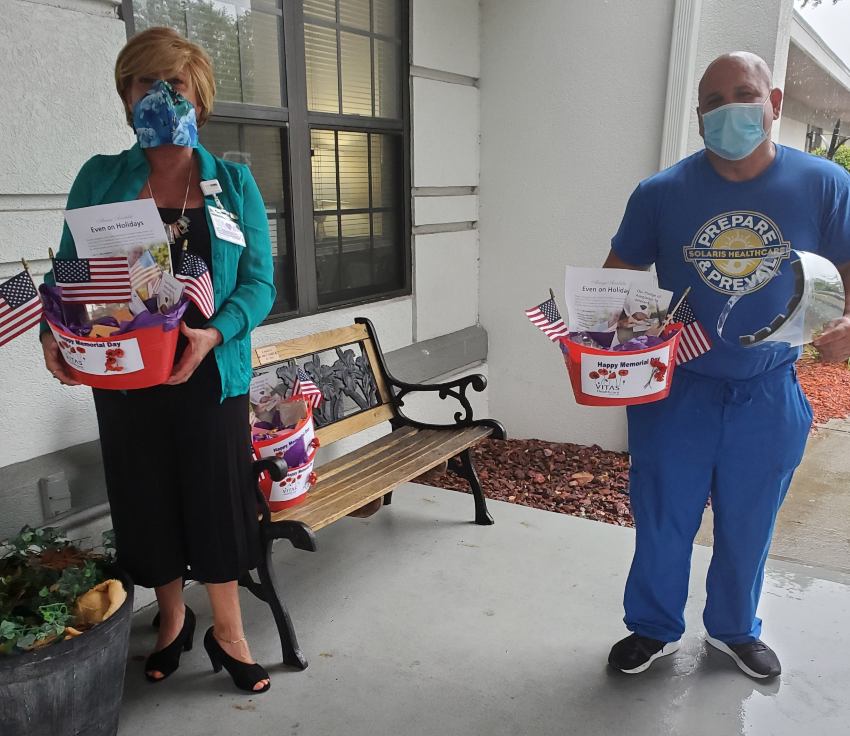 ---
Inverness, FL
May 25
Rain didn't stop staff with VITAS Citrus County from recognizing Memorial Day and honoring veterans through "Coffee with Comrades" at Avante, a skilled nursing facility.
The team led a ceremony that included:
A prayer written by VITAS Representative Jayme Shepherd and read by Tom Green, a VITAS veteran volunteer
"The Star-Spangled Banner," sung by Georgette Bass, life enrichment director at Avante
A heartfelt message from Phil Pasay, a Marine veteran and VITAS volunteer, who thanked each veteran for service and reflected on the significance and sacrifice of what Memorial Day is truly about
Tom Green, veteran volunteer, described the sacrifice his family endured when he served in Korea and Vietnam
Learn more: How VITAS honors veterans every day >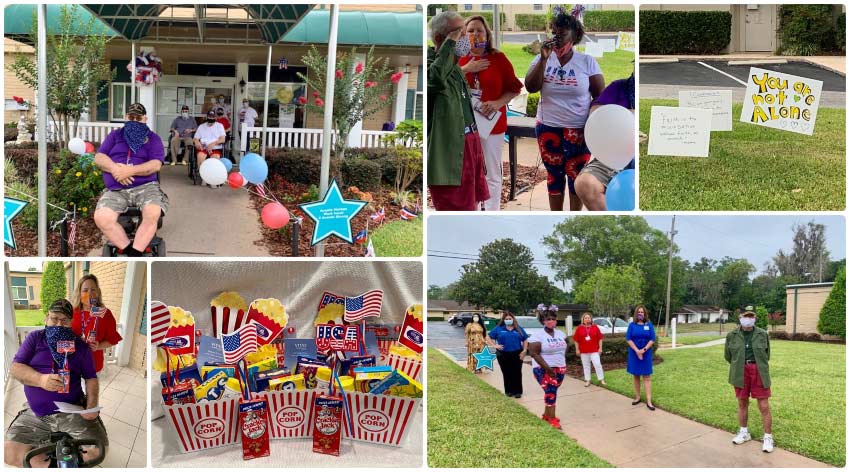 ---
Kissimmee, FL
May 23
VITAS Admissions Liaison Fred Robinson, a US Marine Corps veteran who specializes in outreach to other former service members, took part in a Memorial Day ceremony held at the Museum of Military History as part of our commitment to honoring veterans. U.S. Rep. Darren Soto was the keynote speaker, and the event included the Osceola County Veterans Council Color Guard, Museum of Military History President Don Smith, and Osceola County Vietnam Veterans Club President Vinnie Monitto.
How we continue to honor veterans during COVID-19 >

---
Camarillo, CA
May 20
One VITAS team in San Fernando-Ventura wanted to remember and honor patients who had died during the past few months, so they found a special way to do so: They released butterflies representing the beauty of their patients' spirits, and separation that comes with loss.
The ceremony included a poem that read, in part: "As you release this butterfly in honor of me, know that I'm with you and will always be."
Grief support: We offer phone-in and virtual support groups >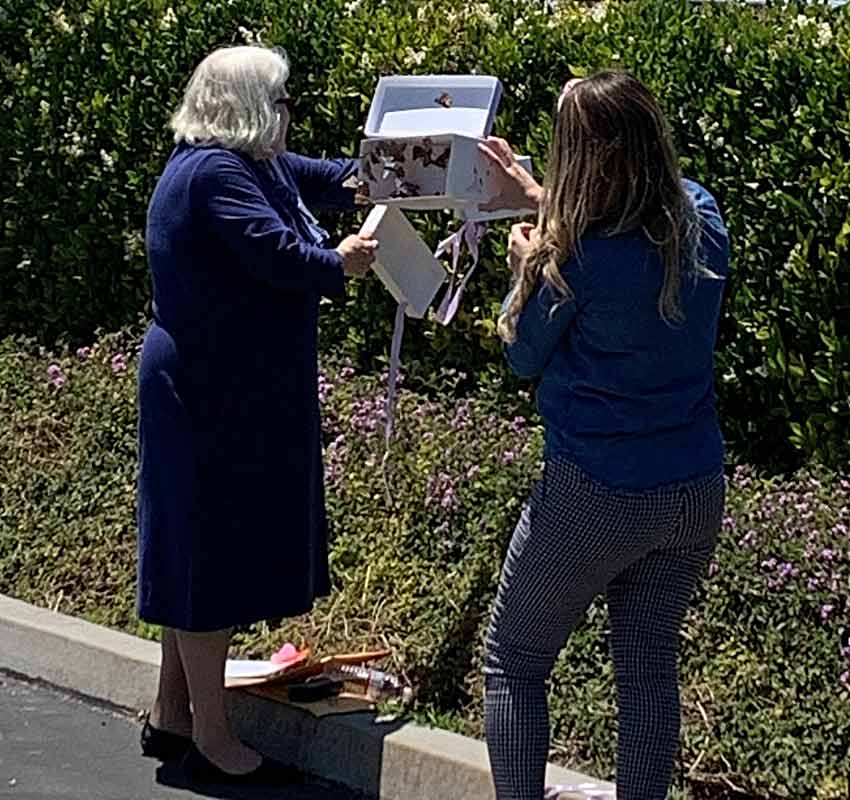 ---
Stuart, FL
May 20
VITAS took part in a parade for residents at a Solaris nursing home and assisted living facility on two separate occasions, May 13 and May 20.
"We went around twice to the cheers of residents and staff!" says Margaret Johnson, field executive secretary for VITAS Treasure Coast.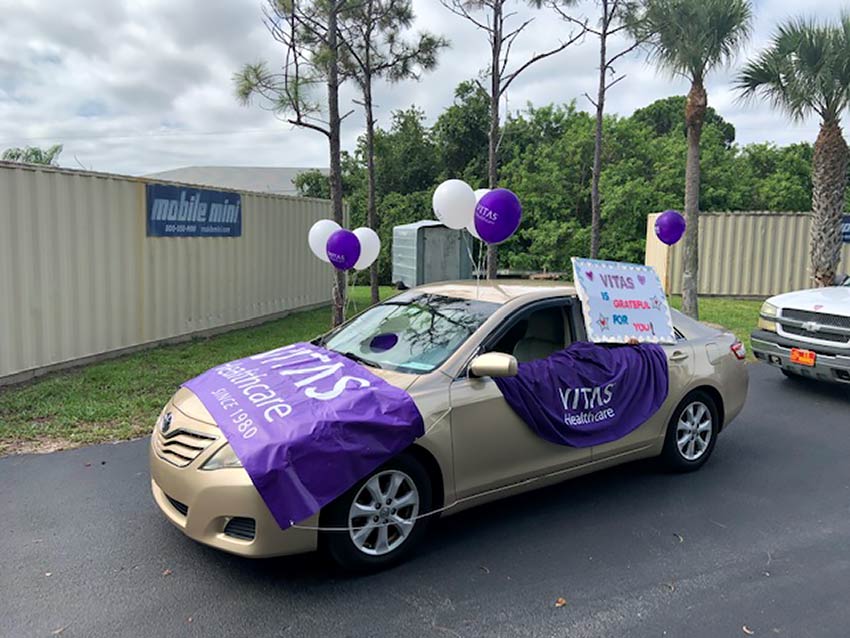 ---
Port St. Lucie, FL
May 20
VITAS Representative Alex Escobedo brought the Mister Softee truck to offer a tasty treat and "thank you" to physicians, nurses, and other front-line healthcare workers—including a four-pawed friend.
Jensen works as a greeter at one physician's office, so VITAS gave him some extra hand sanitizer to offer to visitors. The friendly pup got a chance to "chill out," too.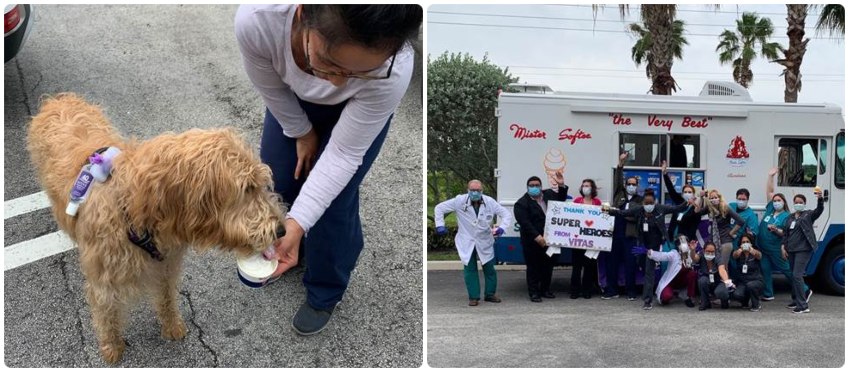 ---
Orlando, FL
May 18
VITAS Admissions Liaison Fred Robinson, a U.S. Marine Corps veteran who specializes in outreach to other former service members, took part in a Memorial Day wreath ceremony to be broadcast locally on May 25 in lieu of ceremonies that have been canceled due to the pandemic.
Participants observed proper social distancing and wore facial coverings except when speaking alone at the podium. Fred is co-chairman of Orange County Mayor Jerry Demings' Veterans Advisory Council, which organized the ceremony.
How we're caring for veterans during the pandemic >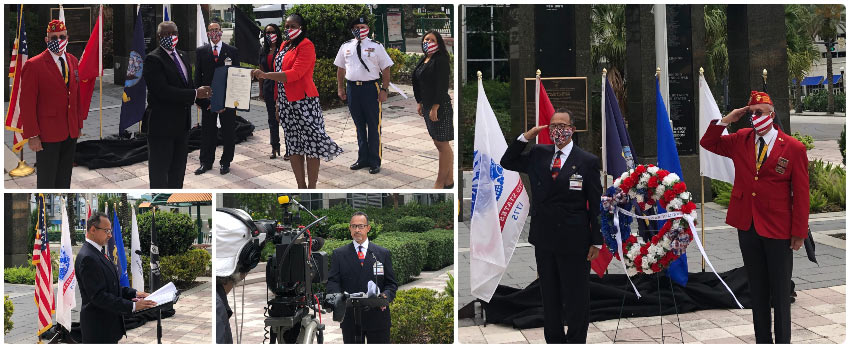 ---
West Palm Beach, FL
May 15
To celebrate nurses in her community, VITAS Representative Shenetria Moore delivered goody bags (including chocolate-covered strawberries) throughout Palm Beach County. Her delivery care carried a simple, heartfelt message: "VITAS CARES!"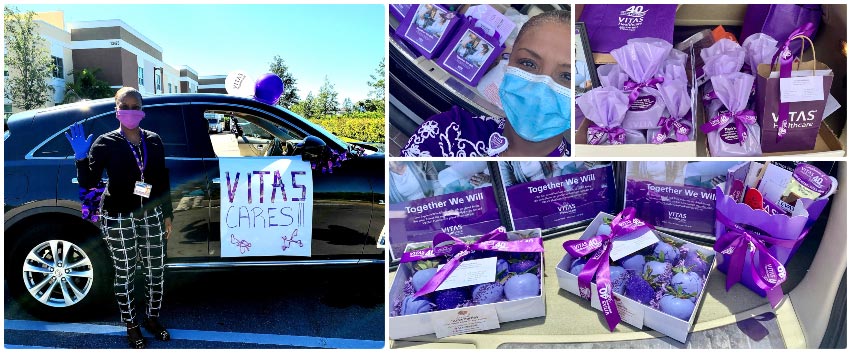 ---
Plano, TX
May 14
During Hospital Week, Medical City Plano hosted a Community Parking Lot Rally for front-line healthcare workers. To show their support, VITAS employees decorated their cars, honked their horns, and held signs for the workers to read from inside the building.
VITAS employees ended the rally by hosting a mini-parade as they left the campus.

---
Sacramento, CA
May 14
VITAS Music Therapist Brad Steiger wrote a clever "parody" of Smashmouth's song "All Star" to celebrate all the nurses who care for patients every day, and especially during the COVID-19 pandemic.
Watch it here:
---
Lewisville, TX
May 14
VITAS sponsored a purple-and-white balloon arch during a red-carpet event at Medical City Lewisville. The arch will stand at the hospital's employee entrance during May to celebrate front-line healthcare workers.
VITAS Representatives Betsy Magness and Tonika Roberson attended the kickoff with the hospital's executive team to greet and support staff as they entered and left.

---
Boynton Beach, FL
May 13
VITAS Representatives Jennifer Faulkner and Julia Silverio hosted a Nurses Week Food Truck Celebration at Barrington Terrace, a skilled nursing and assisted living facility in Palm Beach County. The special menu included wings, Philly cheesesteaks, and quesadillas, along with many messages of thanks for the nurses who work there.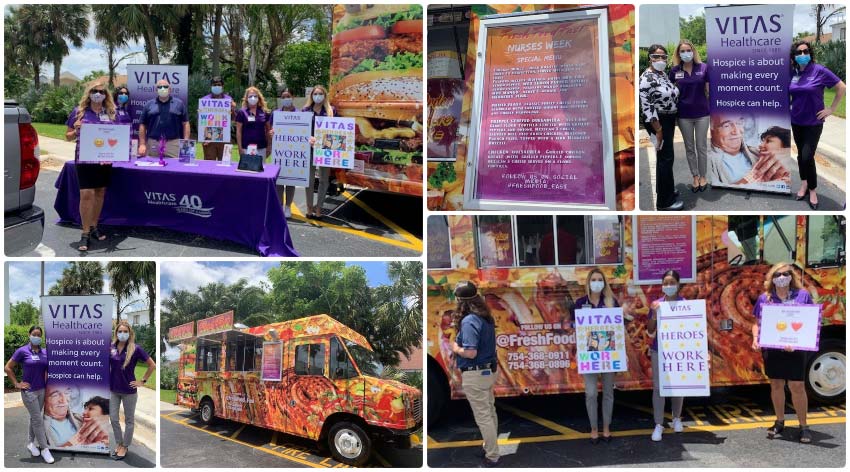 ---
Stuart, FL
May 13
The VITAS Treasure Coast team provided cool treats for nurses from WellMed at South Stuart, a physician practice focused on older adults, to say "thanks" for their work during National Nurses Week.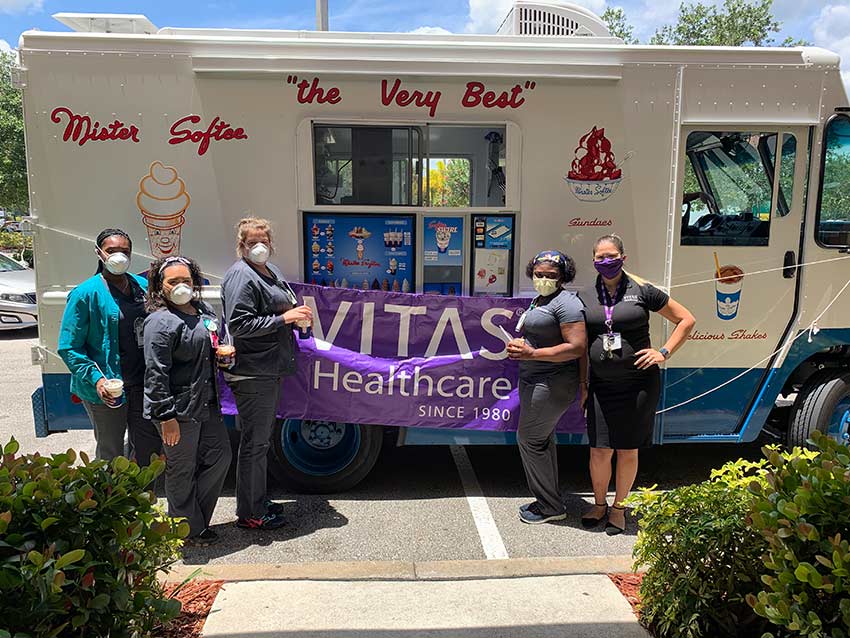 ---
Eustis, FL
May 12
VITAS Representative Julie Watson created goody baskets with essential oils, lotion, memo pads, and more to celebrate community nurses during National Nurses Week.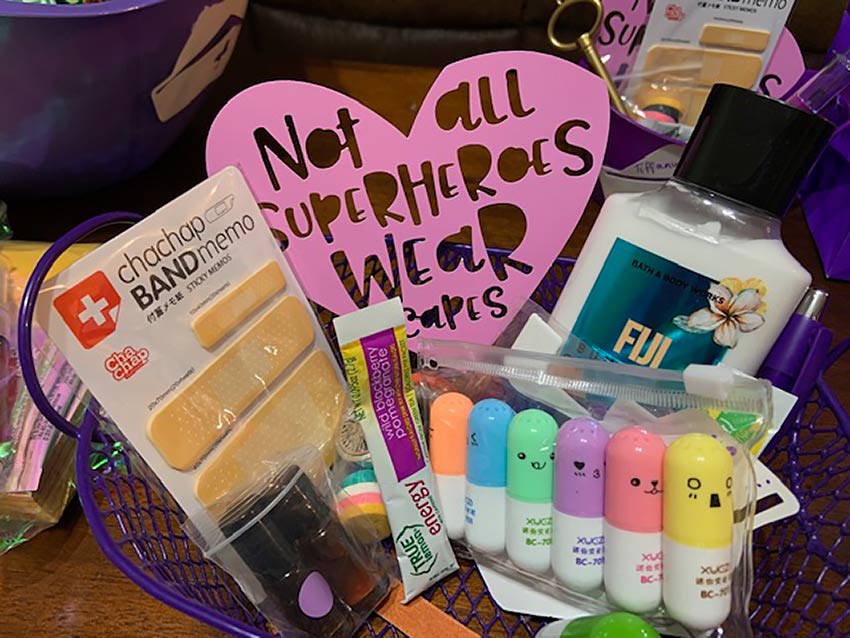 ---
Columbus, OH
May 12
The VITAS team in Columbus posted signs at healthcare facilities around their region, thanking nurses and other healthcare professionals for their daily work caring for those who need it most.
The signs, placed during National Nurses Week and National Nursing Home Week, were part of our ongoing recognition of front-line healthcare workers.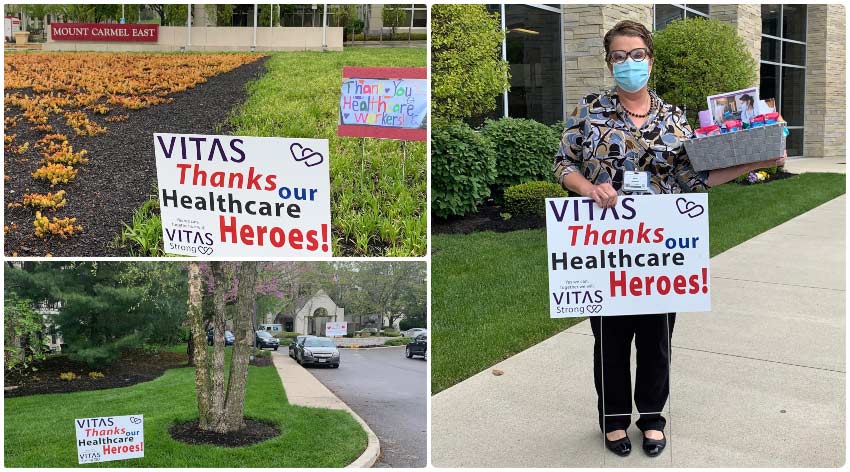 ---
Geneva, IL
May 12
VITAS Hospice Aide Kathy Lewis and Bill Denton, RN, brought a message of "thanks" to the staff at BRIA of Geneva, a rehabilitation and nursing care facility, during National Nurses Week.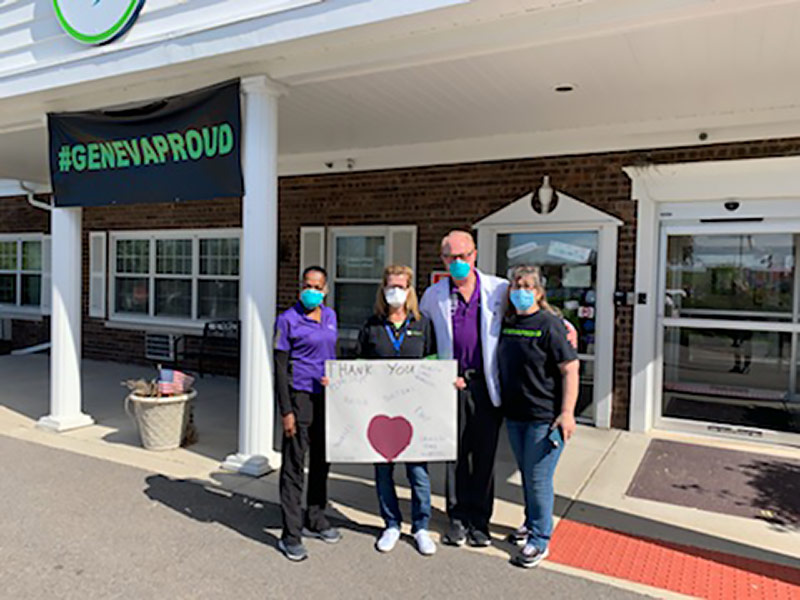 ---
Marseilles, IL
May 12
During National Nurses Week, VITAS Representative Mary Roth provided snacks and other goodies to show appreciation for the staff at Aperion Care Marseilles, a long-term care facility.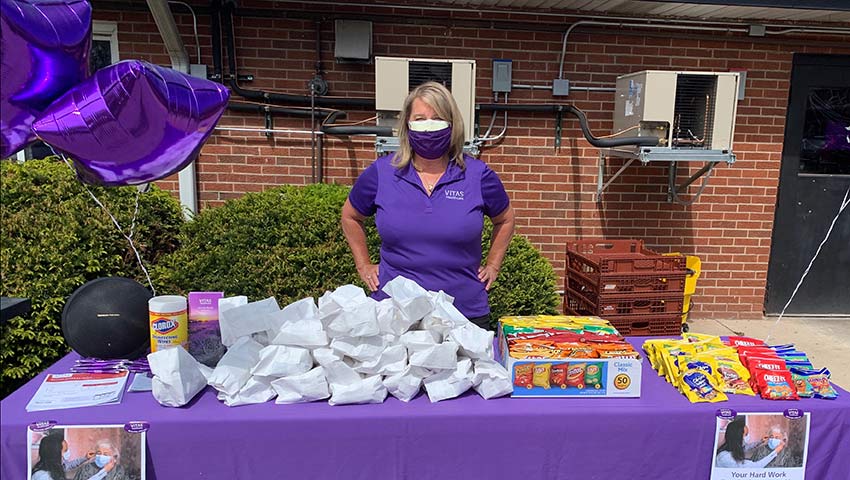 ---
Pittsburgh, PA
May 12
Residents of ManorCare Health Services-Shadyside got a tail-wagging surprise thanks to VITAS Representatives Barb Russman and Meredith Benson, along with Director of Market Development Kyle Harder.
The VITAS team took Paw Pal® pet volunteers Biscuit and Tyler for a socially-distanced visit at the nursing home.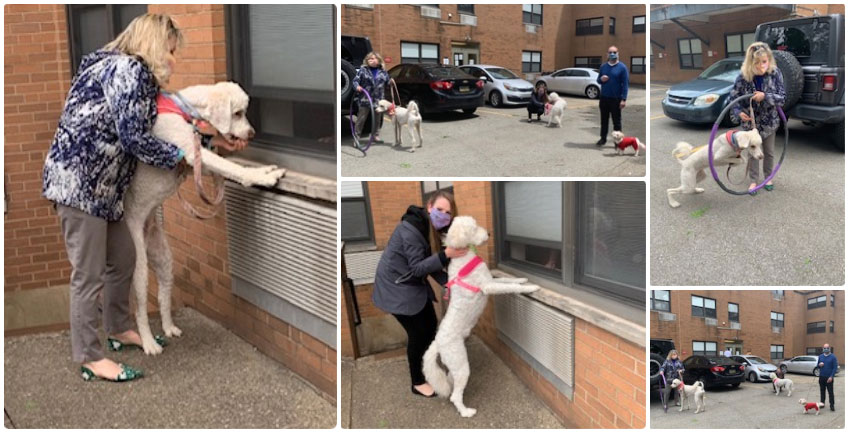 ---
Joliet, IL
May 11
VITAS Representative Timothy Nievera took lunch to the front-line healthcare staff at Rock Run Place, an assisted living community, to show appreciation for the work they are doing during the COVID-19 pandemic.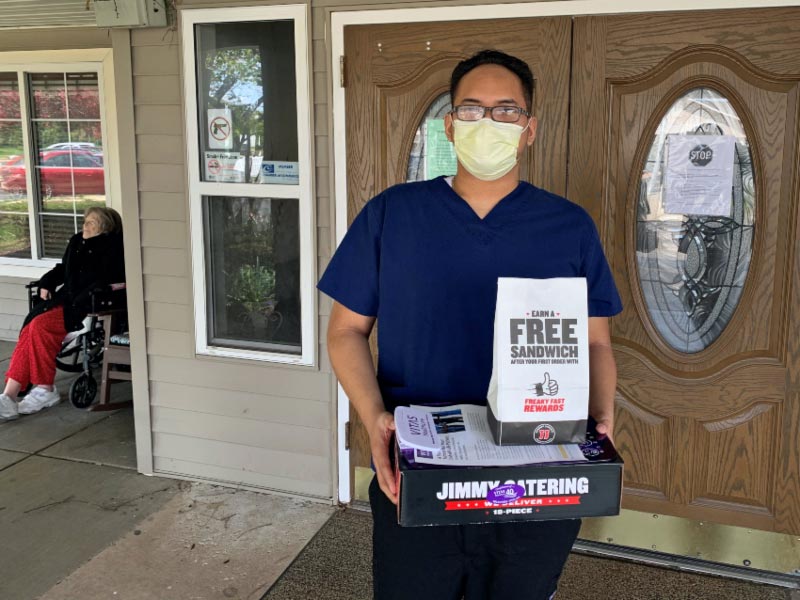 ---
Menomonee Falls, WI
May 11
VITAS Social Worker Kristy Baltutis, Chaplain Debb Honore, Music Therapist Hanna Uchytil, and Representative Mary Droegkamp showed their support for healthcare staff at The Arboretum, an assisted living facility outside Milwaukee.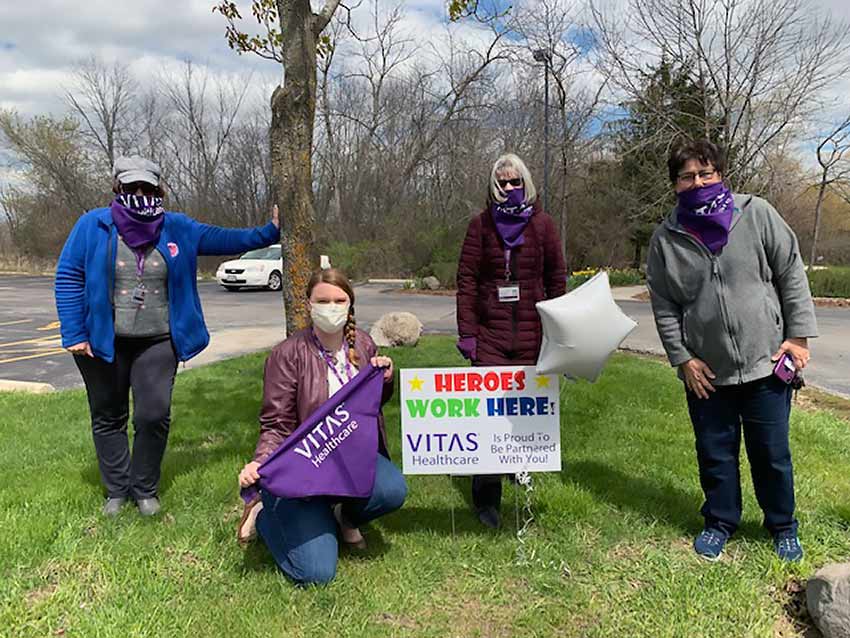 ---
Inverness, FL
May 9
During the evening shift change at Citrus Memorial Hospital, the VITAS team thanked our Citrus Memorial Care partners for being on the front lines during this crisis. Ice pops were provided by Pop Fusions.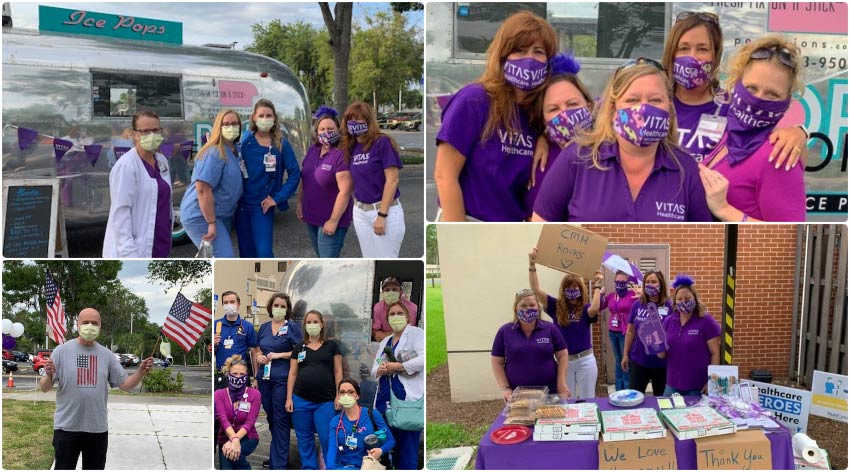 ---
Boca Raton, FL
May 8
VITAS Representative Melissa Graves worked with partners to host a food truck event honoring the front-line healthcare workers at The Encore at Boca Raton, a rehabilitation and nursing center. The event kicked off National Nurses Week for staff there.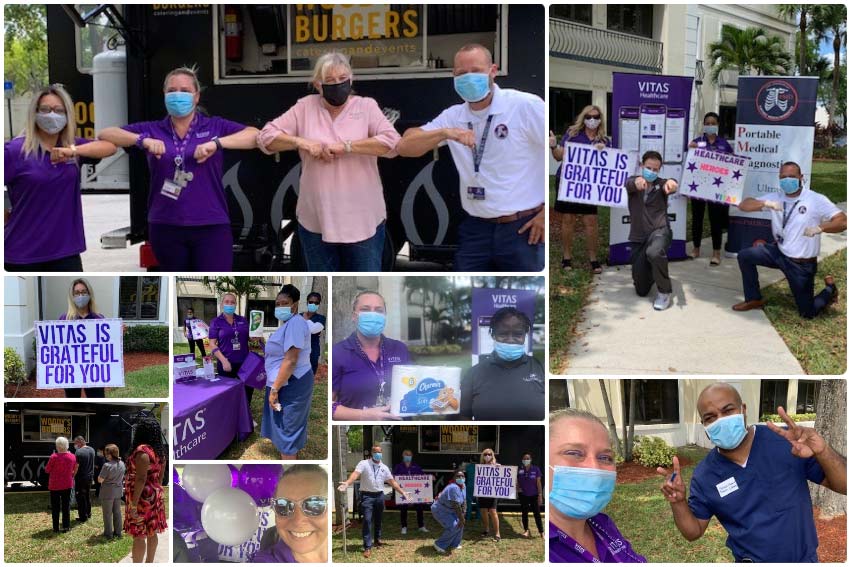 ---
Lake City, FL
May 8
On a sunny Friday, the VITAS team participated in a parade to thank the staff of The Rehabilitation Center of Lake City.
"This was a lot of fun, so glad we were able to be a small part of it," said Crystal Robinson, VITAS director of market development for the Nature Coast.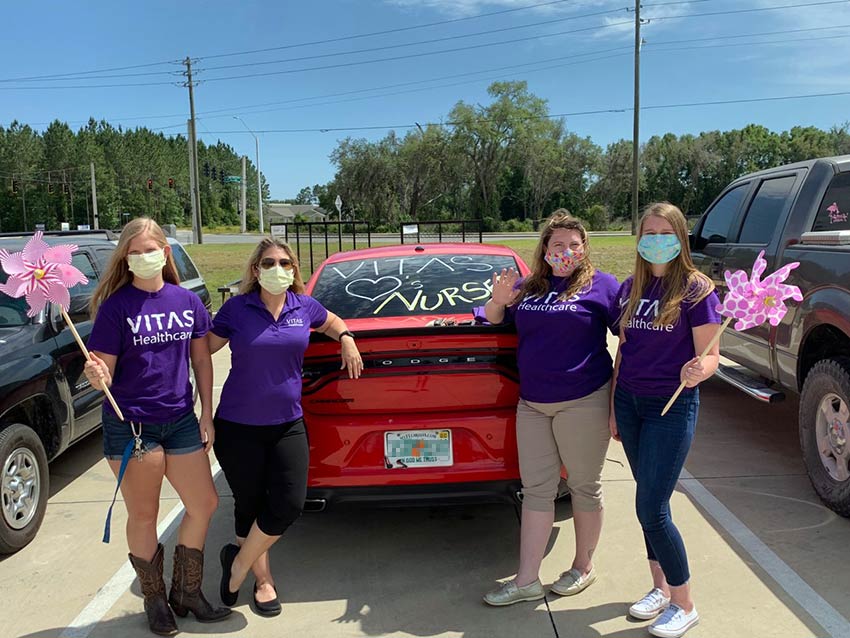 ---
Pompano Beach, FL
May 8
VITAS Representative Rhonda Cabrera took breakfast to the staff at Court of Palm Aire, a senior living and skilled nursing facility in Broward County.
The breakfast was just one small way VITAS said "thank you" to nurses during National Nurses Week.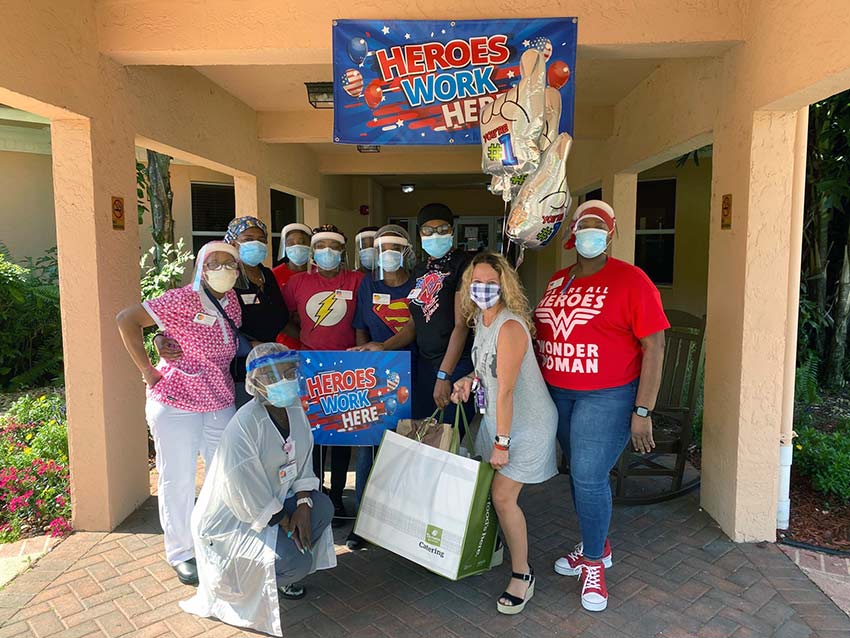 ---
Grove City, OH
May 7
The Naz Of Grove City crochet group has volunteered with VITAS Columbus for nearly three years. During the pandemic, members have continued crafting blankets for patients and families. They've also created "ear connectors" to help reduce the strain of face mask straps on people's ears.
VITAS Volunteer Services Manager Dolores Hickman drove to each volunteer's home to collect items they've been making. One volunteer, Wilma Grubb, made 108 lap blankets and 22 Alzheimer's fidget lap pads since the pandemic began. Wilma's husband is a veteran, and Hickman says she has been "amazing in making red, white and blue blankets to support our veterans."

---
Gainesville, FL
May 7
VITAS team members showed their appreciation for our Nature Coast partners during National Nurses Week by delivering cupcakes to local healthcare facilities.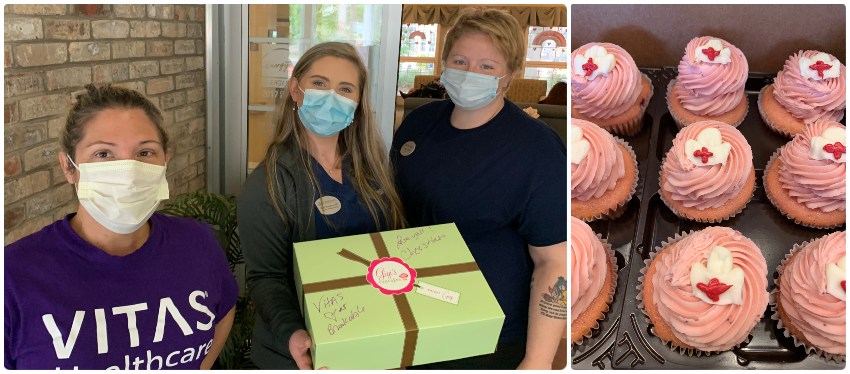 ---
Hamden, CT
May 7
In honor of National Nurses Week, VITAS Representative Wendy Girardi took goody bags to Arden House, a skilled nursing facility. The bags included messages of support and encouragement for front-line healthcare workers.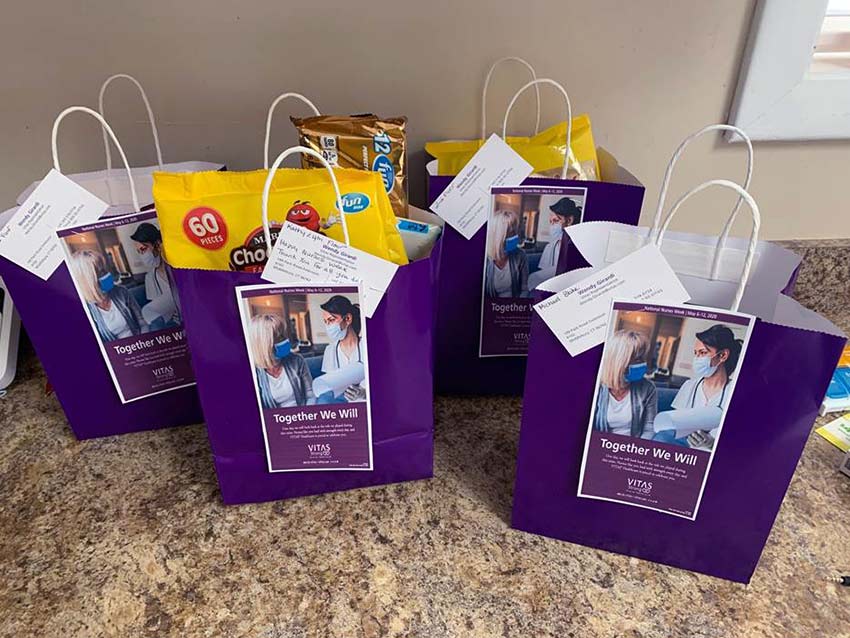 ---
Irvine, CA
May 7
VITAS Representative Barb Mitchell delivered breakfast and See's Candies lollipops to the nurses station at Regents Point Windcrest, a rehabilitation center in Irvine. Barbara noted that the director of nursing was grateful for the VITAS team's support during the COVID-19 crisis.
"Little gestures matter," Barbara says.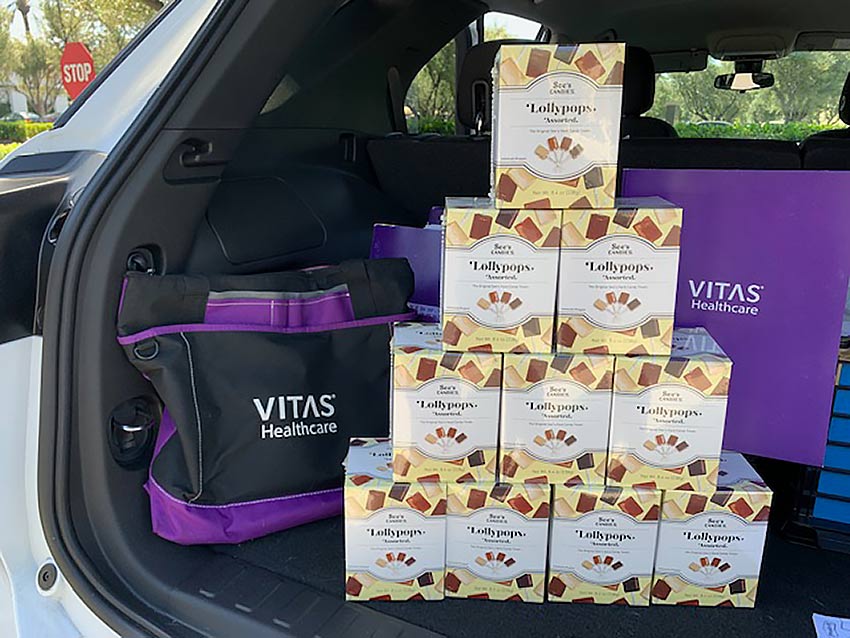 ---
Sanford, FL
May 6
VITAS Representative Christina Tadros coordinated a blessing of the hands for healthcare employees at Central Florida Regional Hospital.
VITAS Chaplain Daniel Wolfe, along with hospital chaplains, reached 130 employees with the blessing ceremonies in the afternoon and evening.
They also provided treats from Jeremiah's Italian Ice, serving nearly 200 hospital employees.
"It really seemed to make everyone's day a little sweeter," Tadros says.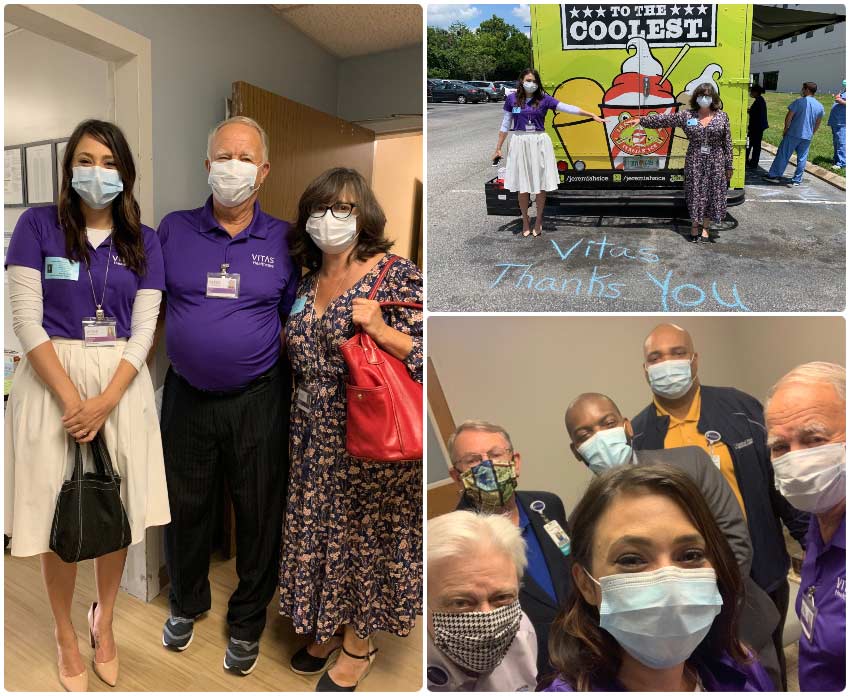 ---
Riverside, CA
May 6
VITAS Representative Gema Goodwin set up a coffee bar at Community Care & Rehabilitation Center, a long-term care facility, to support the front-line staff members there.
Gema says employees at Community Care "have been through a lot and have faced the virus more so than others, so this was much-needed and appreciated!"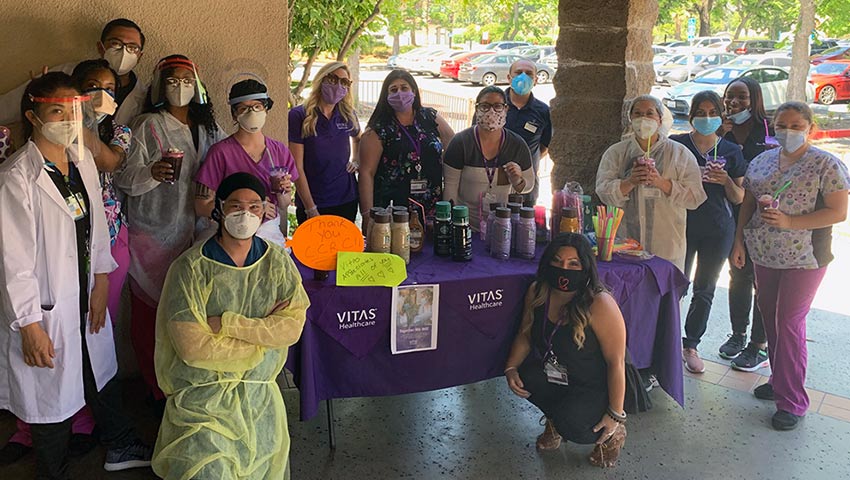 ---
Windsor, CT
May 6
Six VITAS team members participated in a first responders' parade at Kimberly Hall nursing home. The facility called VITAS last month with urgent needs, and the Waterbury VITAS team immediately stepped up. VITAS also offers one-on-one bereavement services for Kimberly Hall's staff members who want emotional support.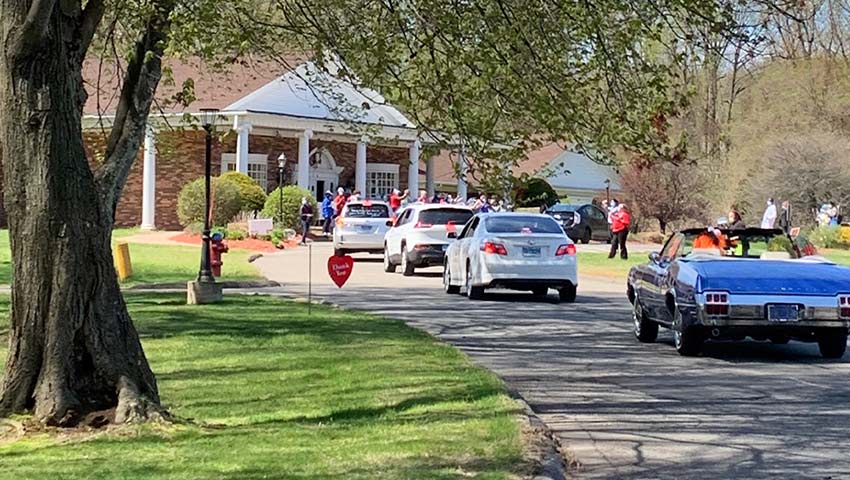 ---
Rockledge, FL
May 5
Louise Petraitis, a VITAS representative in Brevard County, coordinated a blessing of the hands for healthcare workers at Living Southern Style, an assisted living facility. VITAS Chaplain Sol Madlambayan performed the blessing, and VITAS presented each worker with a rose.
"The staff was very appreciative and took a few minutes out of caring for others to rejuvenate in the peaceful surroundings," says VITAS Executive Secretary Rita Terpening.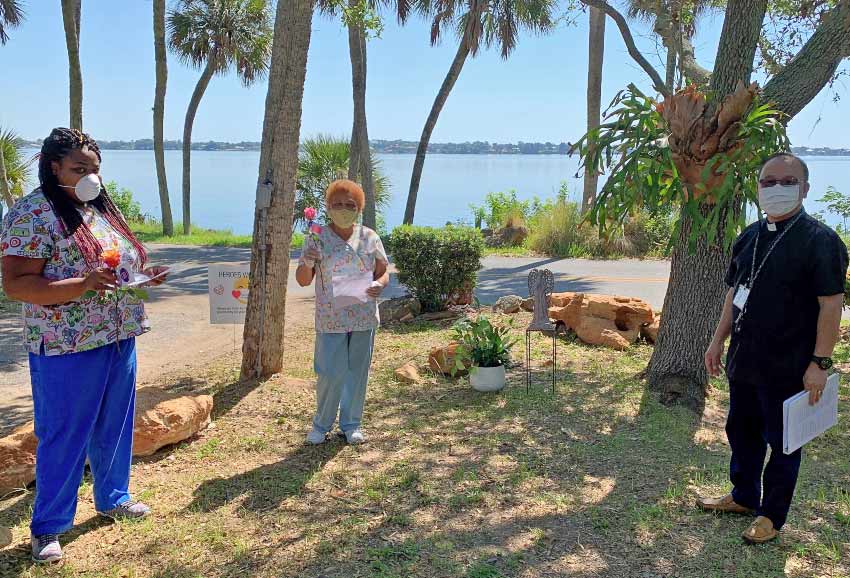 ---
Pensacola
May 5
VITAS took Cinco de Mayo to Jay Hospital today for National Nurses Week. The piñata was stuffed with candies, hospice quick-reference cards, hand sanitizer, VITAS lip balm, and VITAS admission guidelines.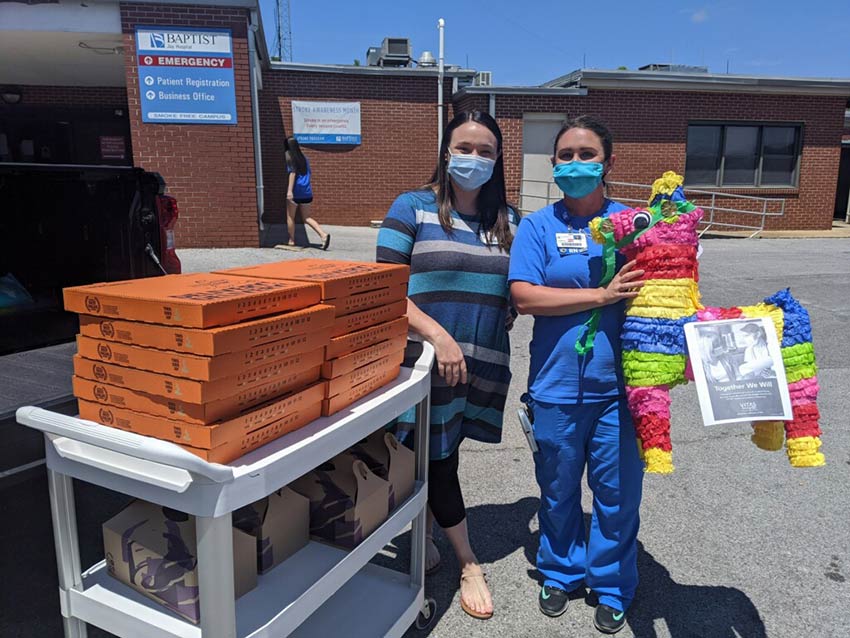 ---
Pittsburgh, PA
May 5
VITAS Representatives Meredith Benson and Barb Russman, and Director of Market Development Kyle Harder, accompanied Paw Pals pet volunteers to a care facility to brighten spirits of people living and working there. They walked the dogs around the outside of the building so that the residents could look out the windows and wave.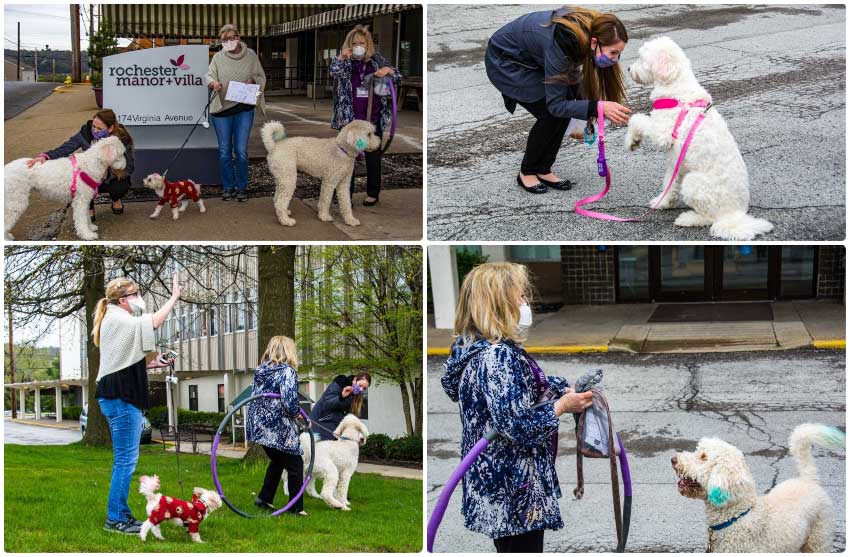 ---
Riverside, CA
May 5
VITAS delivered a Mexican buffet to the staff at The Grove Care and Wellness center in honor of National Nurses Week and Cinco de Mayo.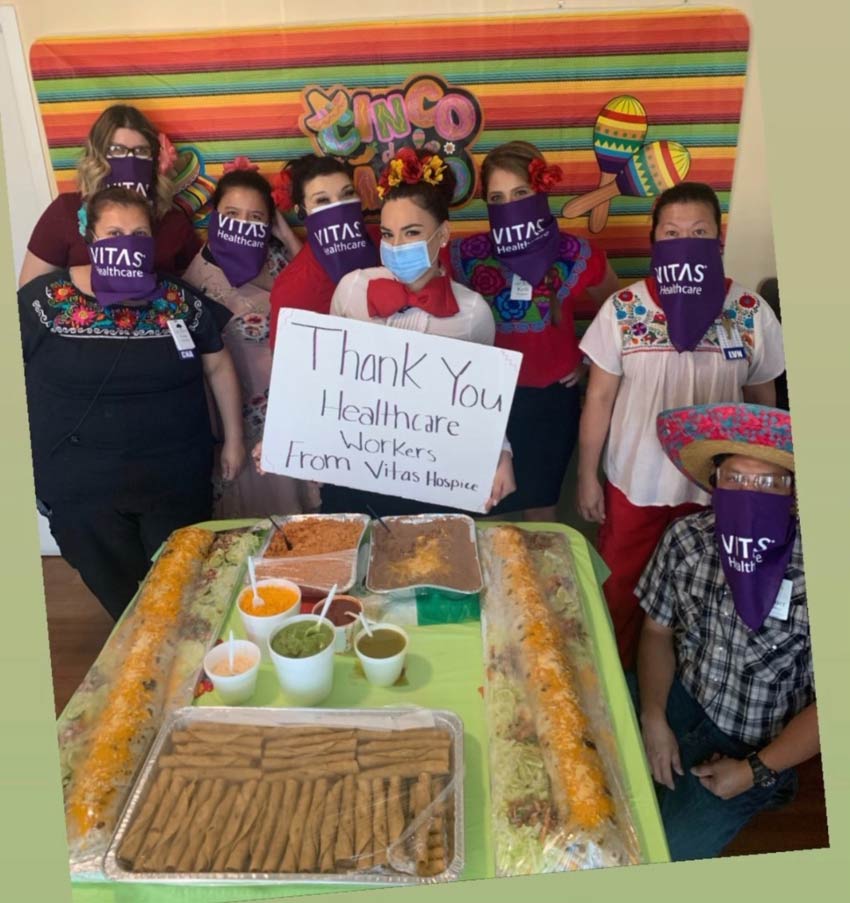 ---
Atlanta, GA
May 4
Larry Robert, bereavement services manager for VITAS in Atlanta, wanted to ensure patient Michael Boiko received proper appreciation for his military service, so he coordinated a veteran recognition ceremony from a safe distance.
Larry presented Michael with a patriotic quilt and a certificate thanking him for his time in the U.S. armed forces.
Learn how VITAS honors veterans at end of life >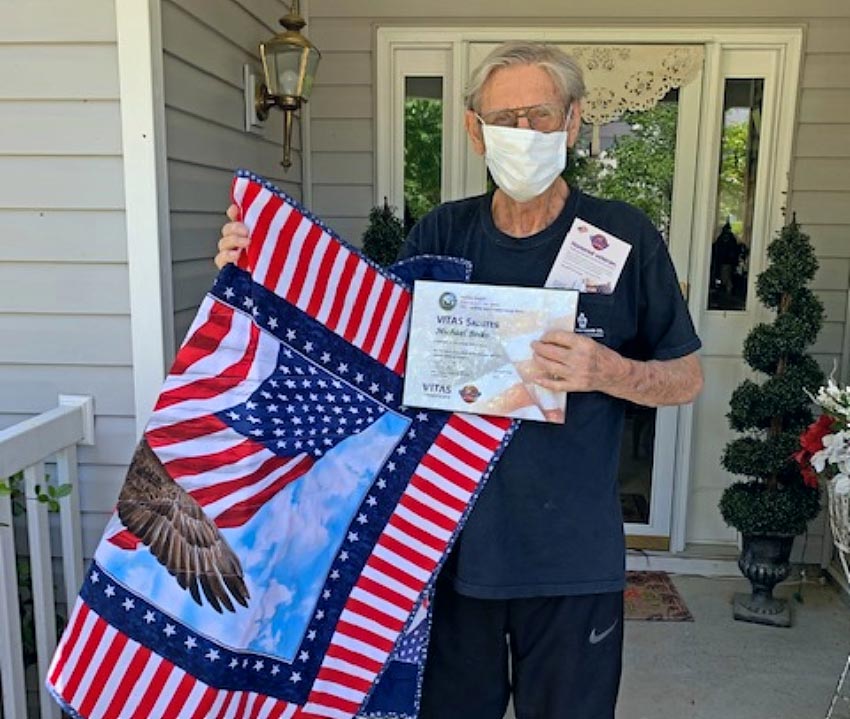 ---
Eustis, FL
May 4
For VITAS Executive Assistant Christine "Tine" Conley, the importance of masks was very personal: Her aunt Patti has Stage IV lung cancer; her mom, Jean Conley, and another aunt, Gerri, are Patti's caregivers. When the pandemic first began, Jean and Gerri were unable to visit Patti or take her to chemotherapy because they did not have masks to protect themselves and others.
VITAS Team Manager Melissa Darrin and her family demonstrated the VITAS value "We take care of each other." They've been making cloth masks—more than 500 in all—and provided some to Jean and Gerri. Thanks to Melissa's contribution, Jean and Gerri were finally able to visit Patti and take her to chemotherapy.
Melissa's 17-year-old niece, Carmella Palumbo, saw the need for masks early on and began making them with her grandmother. They've sent 75 to Lakeview Terrace retirement community, where Carmella works, and the hundreds of others went to VITAS staff and their families, local doctors' offices, and local grocery store workers. They even shipped a box to New York to help those in need.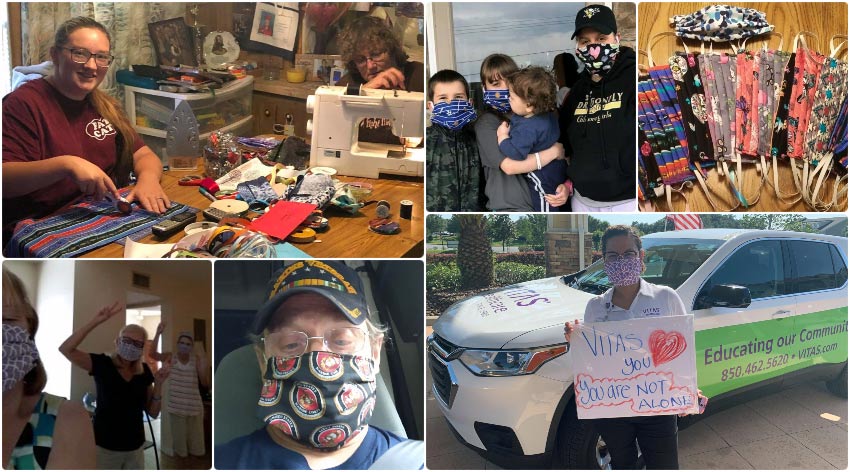 ---
Northern Virginia
May 4
VITAS Music Therapist Cheryl Lynn Olson has found an ingenious way to continue providing a sense of peace, comfort, and joy to her patients during the COVID-19 pandemic: She has been recording individualized playlists on CDs to be delivered by the VITAS RNs during their visits.
"What was incredible expression of kindness that embodies what it truly means to care for others," VITAS Representative Sara Gentry says.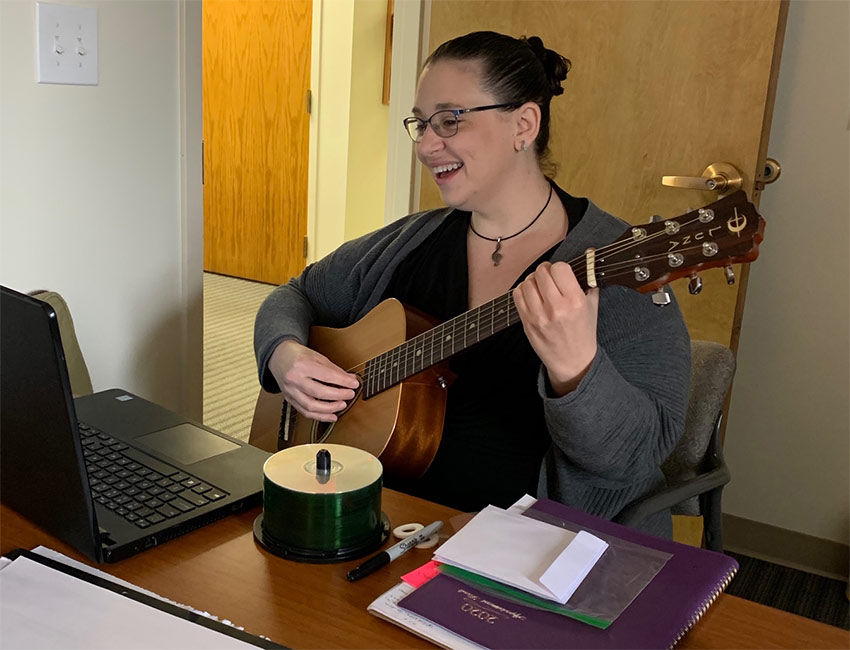 ---
Cincinnati
May 3
VITAS sewing volunteers Kim Ferris and Pat Nowlin ordinarily craft Memory Bears for patients' families, and patriotic Memory Bears for VITAS patients who are veterans.
"Being the special, caring people they are, they are now pitching in and also sewing masks for our staff," VITAS Admissions Liaison Carole Quackenbush says.
Another volunteer, Shannon Knight, crafted patriotic masks for VITAS staff members to wear. She volunteers as a swim coach and used the elastic goggle straps for the masks.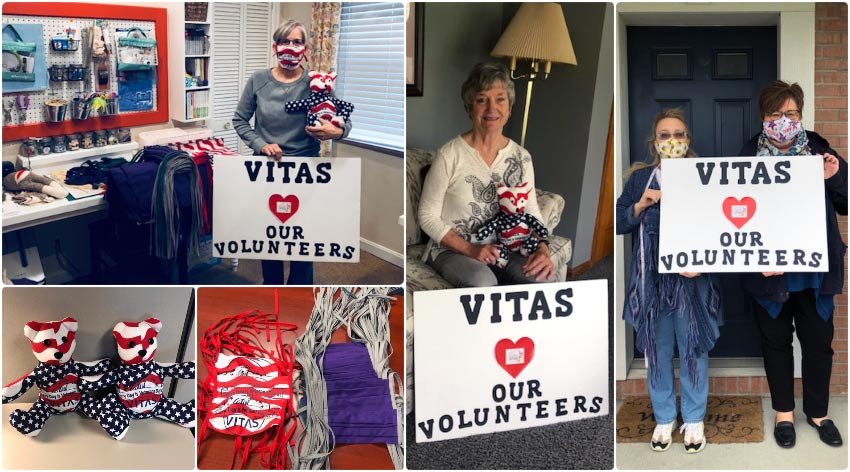 ---
Cincinnati
May 1
VITAS patient Robert Dickman, a World War II veteran, turned 95 and wanted to have a party celebrating his milestone. Robert's family, his assisted living facility and VITAS Admission Liaison Carole Quackenbush made it happen.
The partygoers followed social-distancing guidelines and safety protocols to celebrate Robert's birthday on a sunny, outdoor patio. They had balloons, decorations and a birthday cake—and Robert got his wish of drinking a Budweiser outside, "straight from the can with a straw" as requested. Carole also presented him with a specially labeled, crocheted military blanket and Teddy bear in honor of his service.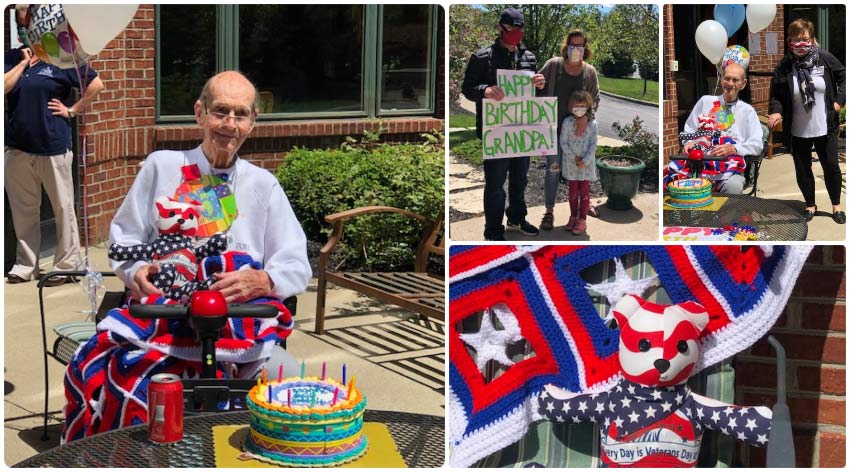 ---
Sacramento, CA
April 30
VITAS music therapists Brad Steiger and Rebekah Steiner have launched a series of "courtyard concerts" at local nursing homes, assisted living facilities, and senior care facilities.
In these interactive sessions, Brad and Rebekah are focused on residents' engagement via group singing, increased self-determination via song choice, and self-expression through group reminiscence and discussion—while still maintaining social distancing for patients, staff, and themselves.
They also are livestreaming their "courtyard concerts" for facilities that may not have an outdoor space for entertainment.
Brad and Rebekah continue to use videoconferencing for one-on-one music therapy sessions with homecare patients and their families.
"It seems that in just a few weeks the world we once knew has drastically altered," Brad writes. "These challenges afford us opportunities for innovative thinking and encourage us to seek out the light."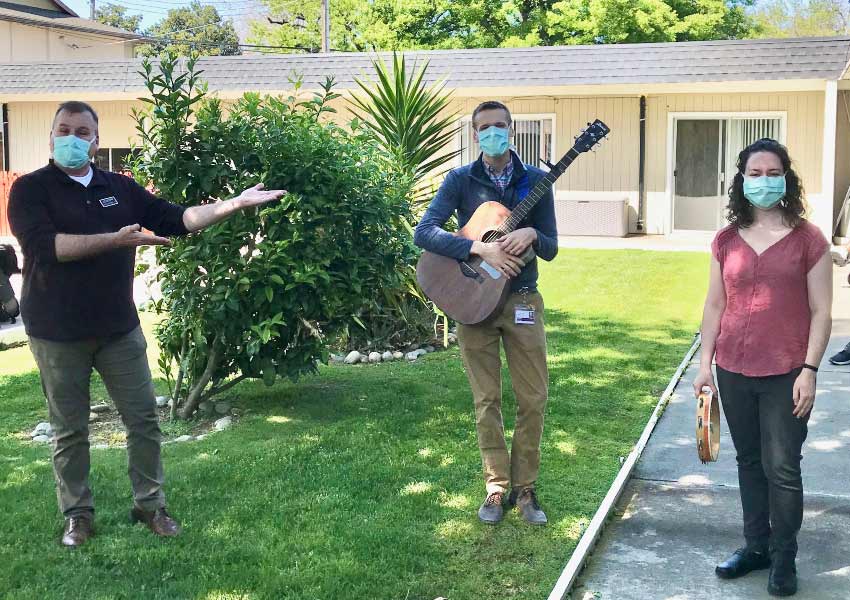 ---
Mason, OH
April 30
As a sign of appreciation, VITAS sent lunch to the staff at Mason Health Care Center, which provides skilled nursing, rehabilitation, assisted living and long-term care.
The facility's hospital liaison sent a letter of thanks, writing, "We are beyond blessed and so very much grateful."
---
Palm Beach County, FL
April 29
VITAS Representative Shenetria Moore sent personalized, handwritten notes thanking partners in the healthcare profession for being on the front lines.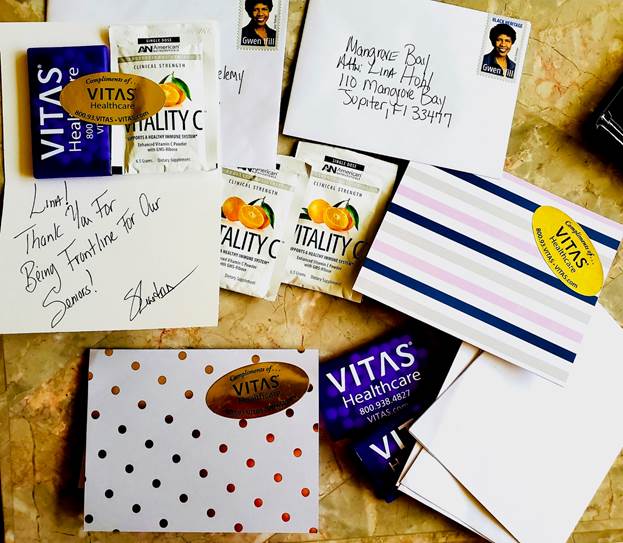 ---
Delray Beach, FL
April 29
Lake View Care Center, a partner nursing home, unexpectedly lost a staff member of 17 years. When Administrator Gilda Anderson was planning the memorial service, she thought of VITAS.
VITAS Chaplain April Alfordharkey assisted in the memorial and provided bereavement services for the staff. VITAS also provided flowers to hang in the courtyard.
"The entire staff at Lake View was very grateful for us being there," VITAS Representative Melissa Graves says.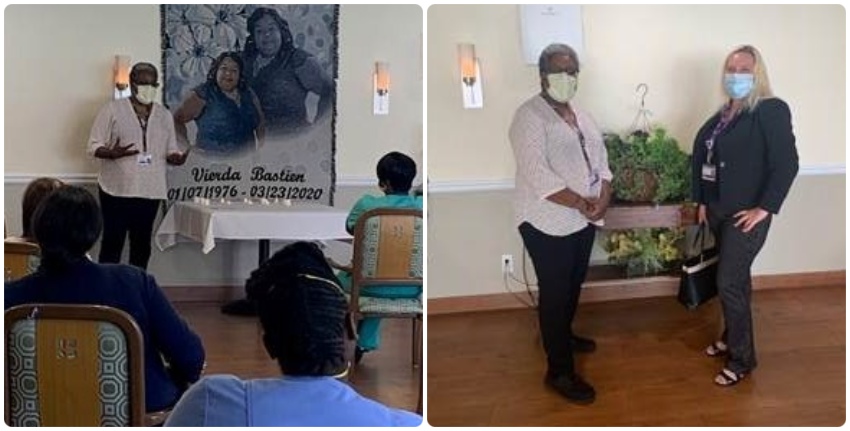 ---
Palm Beach Gardens, FL
April 29
VITAS Representative Michelle Law delivered food to front-line workers in the emergency department at Palm Beach Gardens Medical Center and provided education about end-of-life care.
She also delivered "toilet paper roll" cupcakes to several physician practices, with education on how VITAS can keep their patients from being hospitalized.
"The offices laughed at the cupcakes and loved it," Michelle says.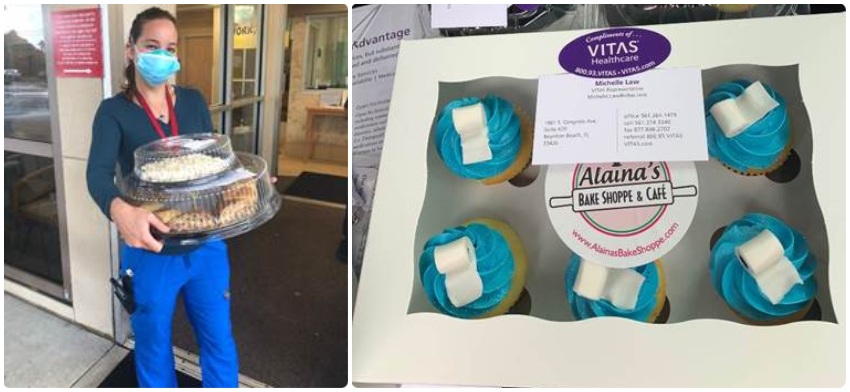 ---
Melbourne, FL
April 29
VITAS chaplains are visiting healthcare facilities, hospitals, and nursing homes throughout Brevard County to encourage and show appreciation for front-line healthcare workers.
On Wednesday, VITAS Chaplain Lambert Mills blessed the staff at Life Care Center of Melbourne, and Chaplain Kyrill Williams read a blessing of the hands over the intercom at Solaris Health so that all could participate.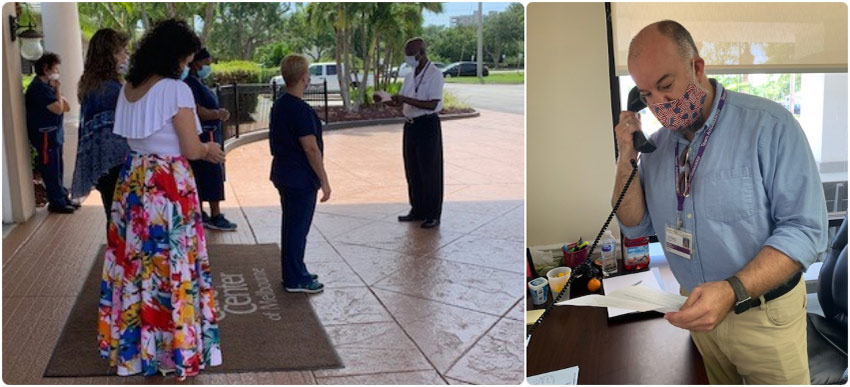 ---
Miami, FL
April 29
While social distancing means many hospice volunteers cannot meet face-to-face with patients, VITAS volunteer Aileen has still been spending quality time with her patient, Dottie.
Like many people who are staying at home, Dottie told Aileen she feels "lonely and bored." The two now chat by phone weekly.
"She likes to talk, has a good sense of humor, and we have some good laughs together," Aileen says. "She has an excellent memory and on each call she shares some of her amazing life story with me."
Cathy Agosti, VITAS volunteer services manager, says Dottie expressed her gratitude for Aileen's calls. "We even put together a life bio with photos she gave to Aileen. Dottie was so delighted to receive this gift of love! That's what is all about!"
Apply to be a VITAS volunteer >
---
Pensacola, FL
April 28
VITAS Representative Elizabeth Walther supported the Baptist Hospital emergency staff in Pensacola, partnering with a local home healthcare company to bring Debbie's Ice Cream Truck to the hospital and give out tasty treats.

---
Port St. Lucie, FL
April 24
Daily Martinez, VITAS volunteer services manager for the Treasure Coast, has kept her three children busy helping patients and families during the COVID-19 pandemic. The three are VITAS Teen Administrative Volunteers, and they have been completing packets and bereavement mailings from home since they cannot go into the office.
VITAS Chaplain James "Jim" Dodds offered words gratitude and encouragement for all VITAS volunteers: "That wonderful, selfless, giving kind of love that comes from your hearts. So thanks to all of you for your works of charity. May you be truly blessed!"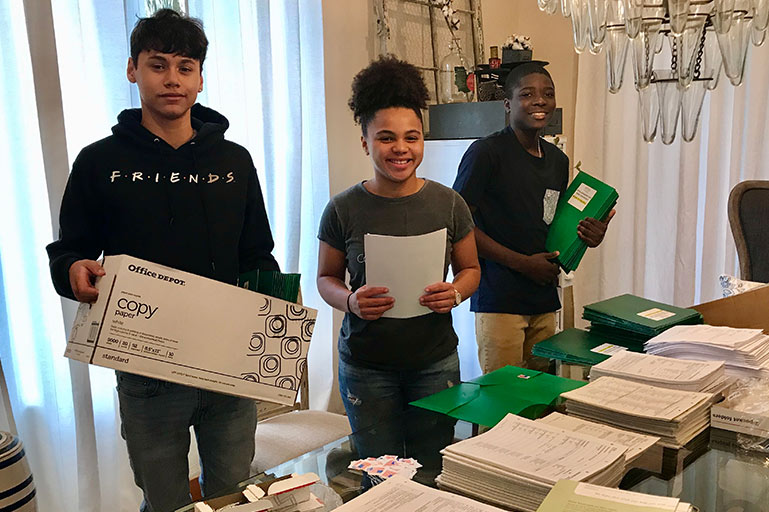 ---
Viera, FL
April 24
As a sign of appreciation for healthcare workers, VITAS Healthcare served up a free smoothie of their choice at Tropical Smoothie Café. The team took orders and served drinks through a drive-through system and plans to have similar events at different Tropical Smoothie locations throughout Brevard County.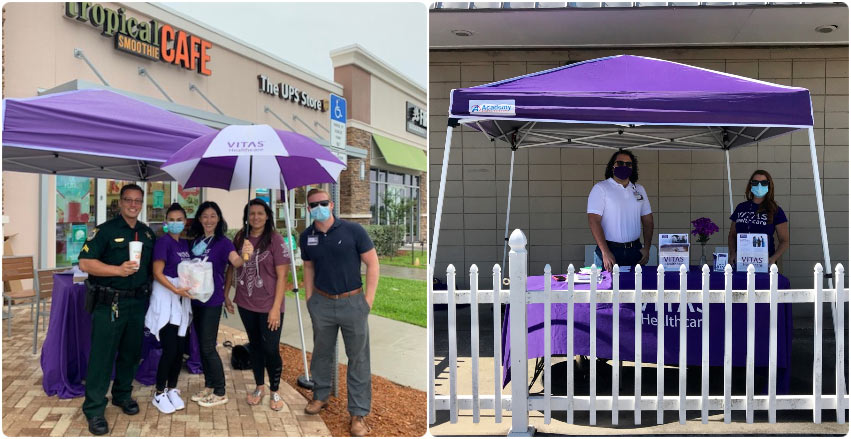 ---
Rockledge and Viera, FL
April 24
For staff at Rockledge Regional Medical Center and The Town Square assisted living facility, VITAS brightened a rainy day with food and drinks from Chick-fil-A and Tropical Smoothie Cafe.
"Thank you for providing these special treats," the hospital says.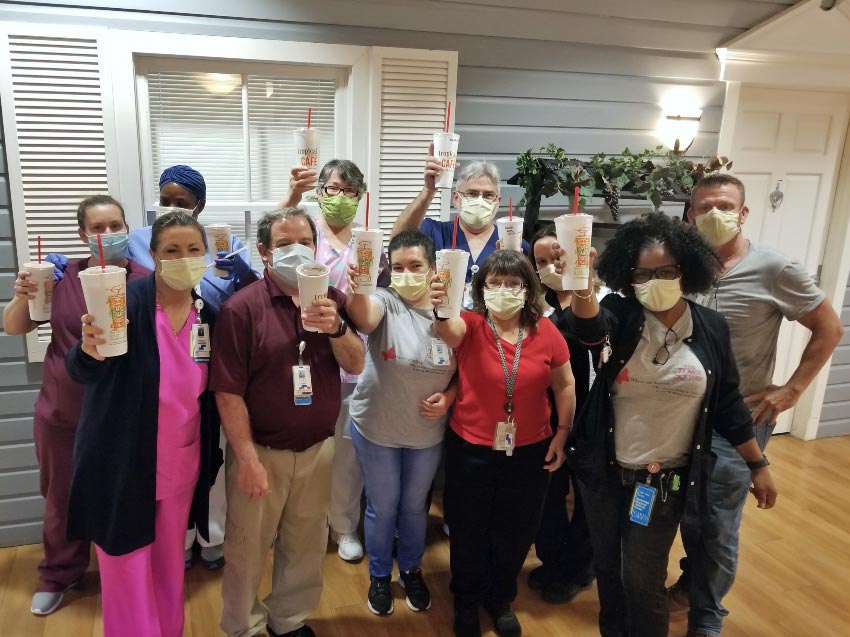 ---
Columbus, OH
April 23
VITAS Nurse Alisa Greene went on leave to help front-line hospital workers dealing with the COVID-19 pandemic in New York City.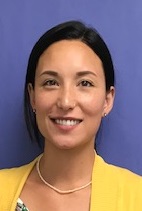 Previously a trauma nurse at Riverside Hospital, Greene spent about three weeks in New York working at Brooklyn's Woodhull Medical and Mental Health Center, in the emergency department and intensive care unit.
VITAS General Manager Mark Knepper said he was not surprised that Alisa wanted to help: "She felt she had a responsibility to help other nurses in need. That was her calling—to be there helping them get through this surge of patients."
Upon returning to Columbus, Alisa is spending two weeks in quarantine before returning to help hospice patients in central Ohio.
Read more about Alisa's commitment to her colleagues and patients >
---
Port St. Lucie, FL
April 23
VITAS General Manager Susan Acocella spent part of the previous weekend sewing face masks for the Treasure Coast community.
Daily Martinez, volunteer manager, says: "She is an amazing leader, always going above and beyond the call of duty. She's created beautiful Memory Bears and now face masks. There's no stopping Susan in meeting the needs of our patients, families and staff."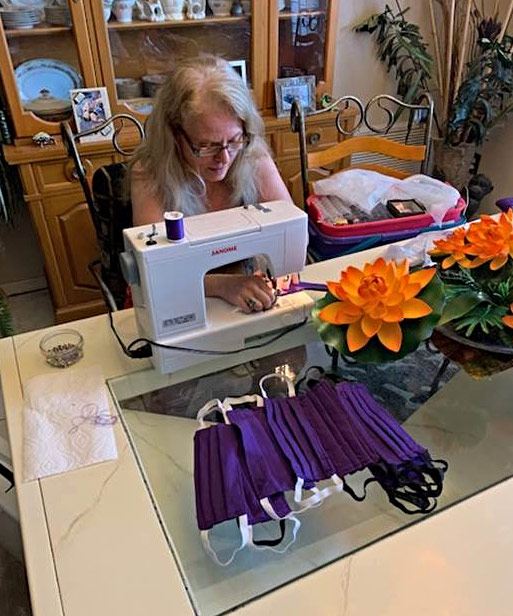 ---
Dallas, TX
April 23
VITAS sewing volunteers already made more than 800 masks and are continuing to make more. Says Volunteer Services Manager Marilyn Hill, "Brad does the cutting with a fancy, time-saving laser machine!"
Several teams, which include volunteers and their family members, have made hundreds of masks each.

---
Melbourne, FL
April 22
VITAS Representative Sandra laska delivered special gift bags to the new nurse orientation class at Melbourne Regional Medical Center, reminding them that VITAS is always available—even during these unprecedented times.
She's also spreading a smile at Kindred Hospital with her clever baskets, which include relevant COVID-19 education.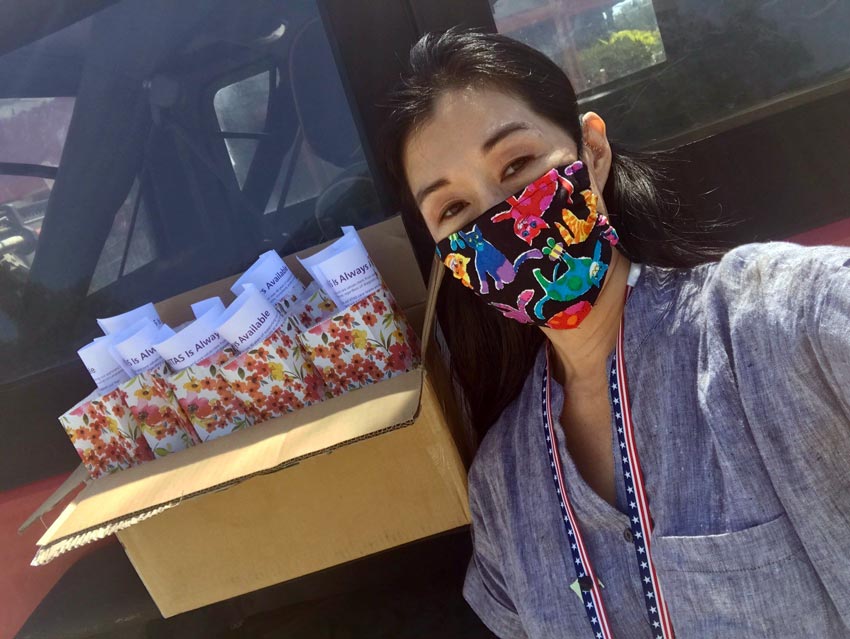 ---
Chicago
April 20
VITAS Music Therapist Mia Iliopoulo performed outside a window for her patient, who was watching from inside. They heard each other over the phone, thanks to collaboration from a long-term care facility.
Mia says, "Our patients in long-term care need us now more than ever and it's a privilege to do this work."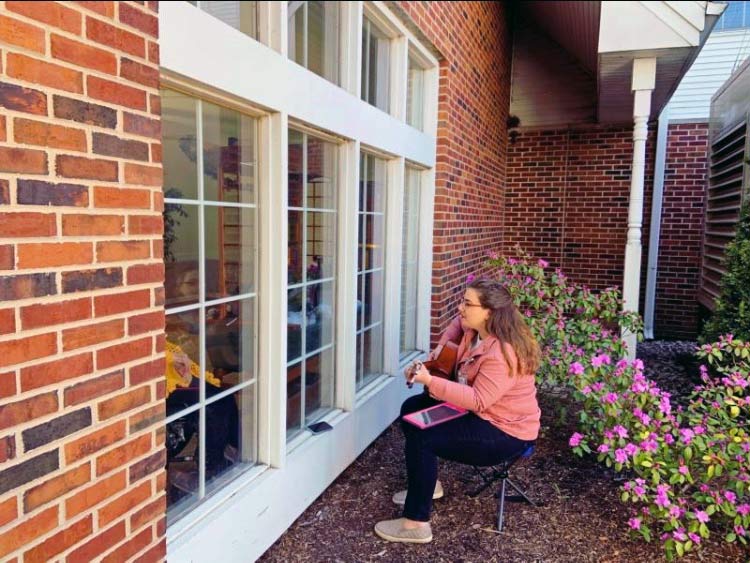 ---
Melbourne, FL
April 20
VITAS Representative Tonya Cheskey delivered baskets with snacks, art supplies, and goodies for the residents of The Brookshire, an assisted living facility. COVID-19 educational information is included to help keep everyone safe.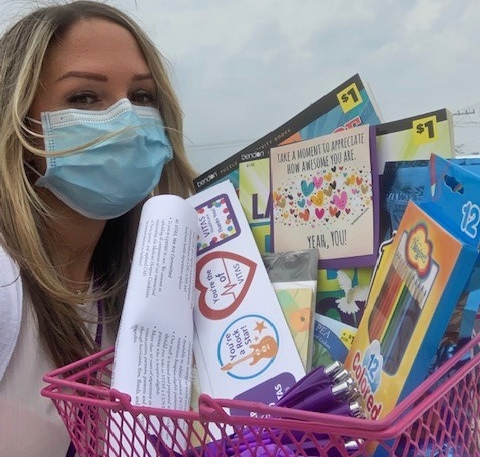 ---
Daytona Beach, FL
April 17
VITAS coordinated with Ritter's Frozen Custard to provide treats to the staff at The Gardens Health and Rehabilitation Center. It's our way of letting them know we appreciate the work they do and that we're available 24/7 to support them and their patients.

---
Port St. Lucie, FL
April 17
VITAS Representative Chad Adcock brought Mister Softee as a treat for staff at Tiffany Hall Nursing Home and Tiffany Suites. Staff were thrilled and grateful for the gesture of appreciation for their work.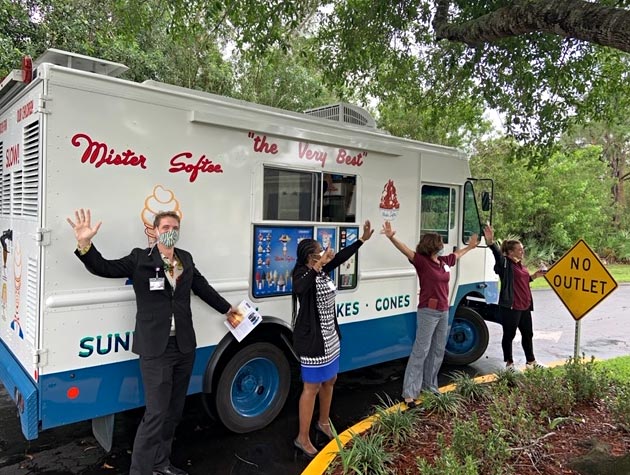 ---
Lake and Sumter Counties, FL
April 17
To honor Lake County first responders and front-line healthcare workers, the VITAS team coordinated a parade with local fire departments and the sheriff's office. They circled a local hospital, AdventHealth Waterman, with signs and sirens, and hospital staff came out with signs showing mutual thanks for VITAS and first responders.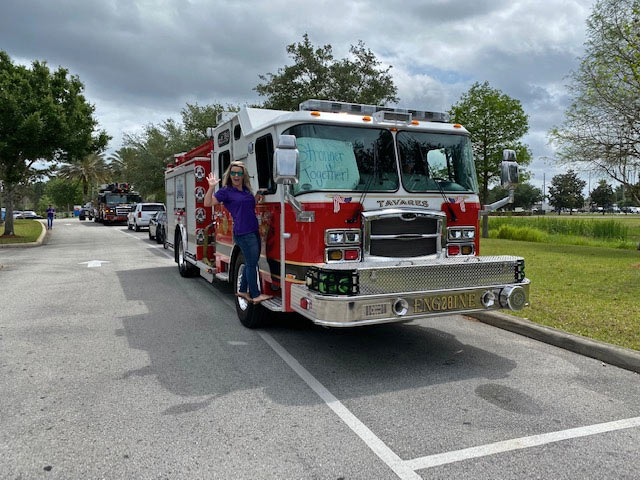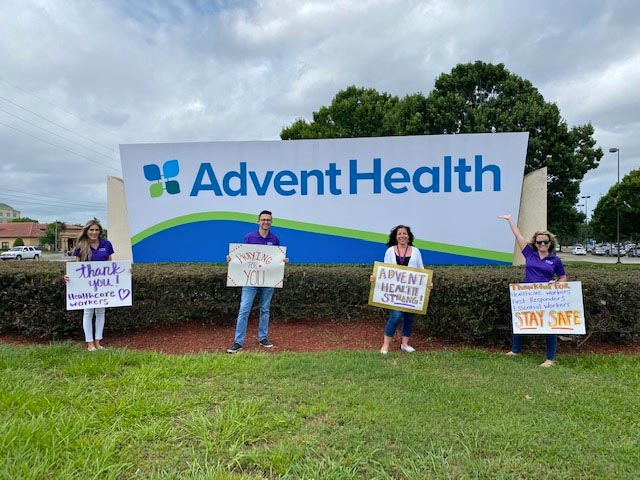 ---
Naples, FL
April 16-17
In partnership with the Kona Ice Truck, VITAS employees helped to keep the staff of local assisted living facilities and nursing homes cool during the hot days of COVID-19. VITAS representatives educated others on how VITAS is responding to the COVID-19 pandemic to support our partners in care.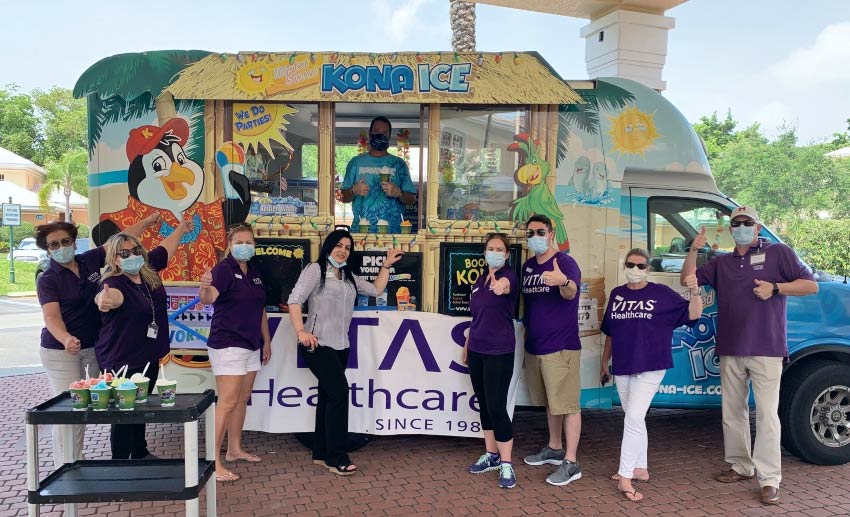 ---
Melbourne, FL
April 16
VITAS delivered Uno's pizza to multiple shifts of the hospital staff and shared education on COVID-19. They also handed out homemade soap, with the message, "We are soaping you're staying safe and healthy!"
The next day, VITAS Representative Sandra Laska (right) delivered education and good wishes to the DOCCS Clinic, along with a welcome treat of donuts.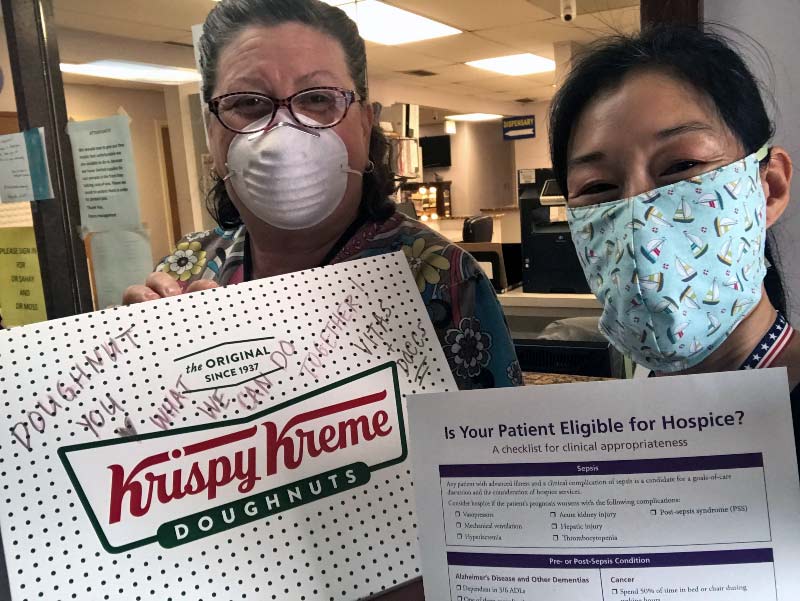 ---
Miami, FL
April 15
When she learned patient Joseph Delerme would be arriving soon at a VITAS inpatient unit, Admissions Nurse Ismari Zaila made sure the entire staff knew he was a veteran.
"(Ismari) knows that, even during these times, bedside salutes are very medicinal and therapeutic," Nurse Navigator Nancy Auster says.
Nancy noticed Joseph was near death and wanted to provide him with a bedside salute before he passed. Patient Care Secretary Kettly and Nancy presented Joseph and his wife with his Marine Certificate of Appreciation and commemorative Vietnam beads. They then sang "God Bless America" and noticed his eyes open a bit.
Even during the COVID-19 pandemic, Nancy reflects on how VITAS remains committed to those who served our country.
"The entire hospice team, across every discipline, has the care and recognition of our veterans as their main priorities," Nancy says.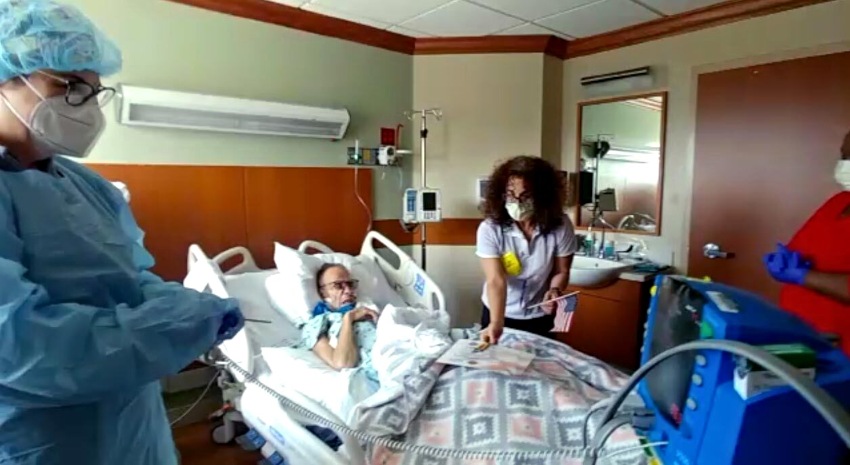 ---
Shawnee, KS
April 14
VITAS employees are standing outside local assisted living facilities and other healthcare locations to cheer on the facilities' staff during shift change. They also are handing out treats and bottled water to the staff.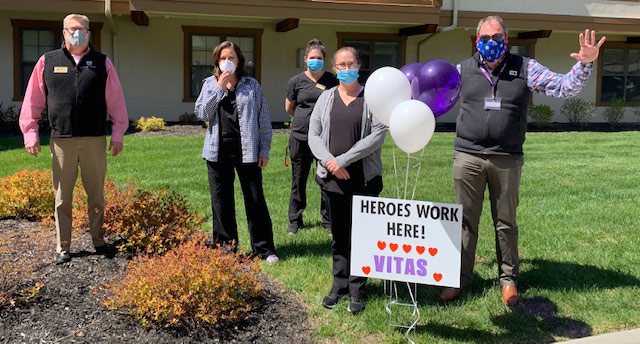 ---
Winter Garden, FL
April 12
Paw Pals® pet visit volunteer Phoebe and her dog Betsy made Easter Sunday "window visits" at the VITAS Inpatient Hospice Unit at Quality Healthcare.
Volunteer Services Manager Robert Bacon says, "We are proud of the dedication and ambition that our volunteers continue to have—everything from sewing volunteers continuing to make Memory Bears with curbside pickup and drop-offs, and soon-to-be mask-making, in addition to sending cards, letters and making calls to patients and families, and, of course, our Paw Pals."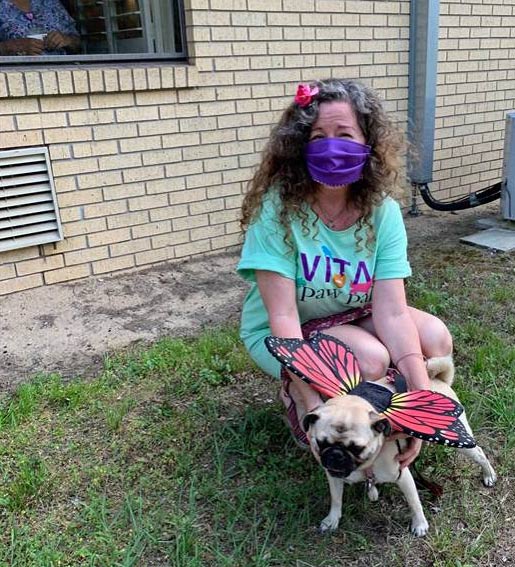 ---
Jacksonville, FL
April 12
VITAS Paw Pals® volunteers Heidi Sotzen and Ash visited patients at Brookdale Southpoint, an assisted living facility, over Easter weekend. Heidi threw Ash's bone so the residents could enjoy watching Ash run! Ash also delighted residents by wearing an Easter bunny costume.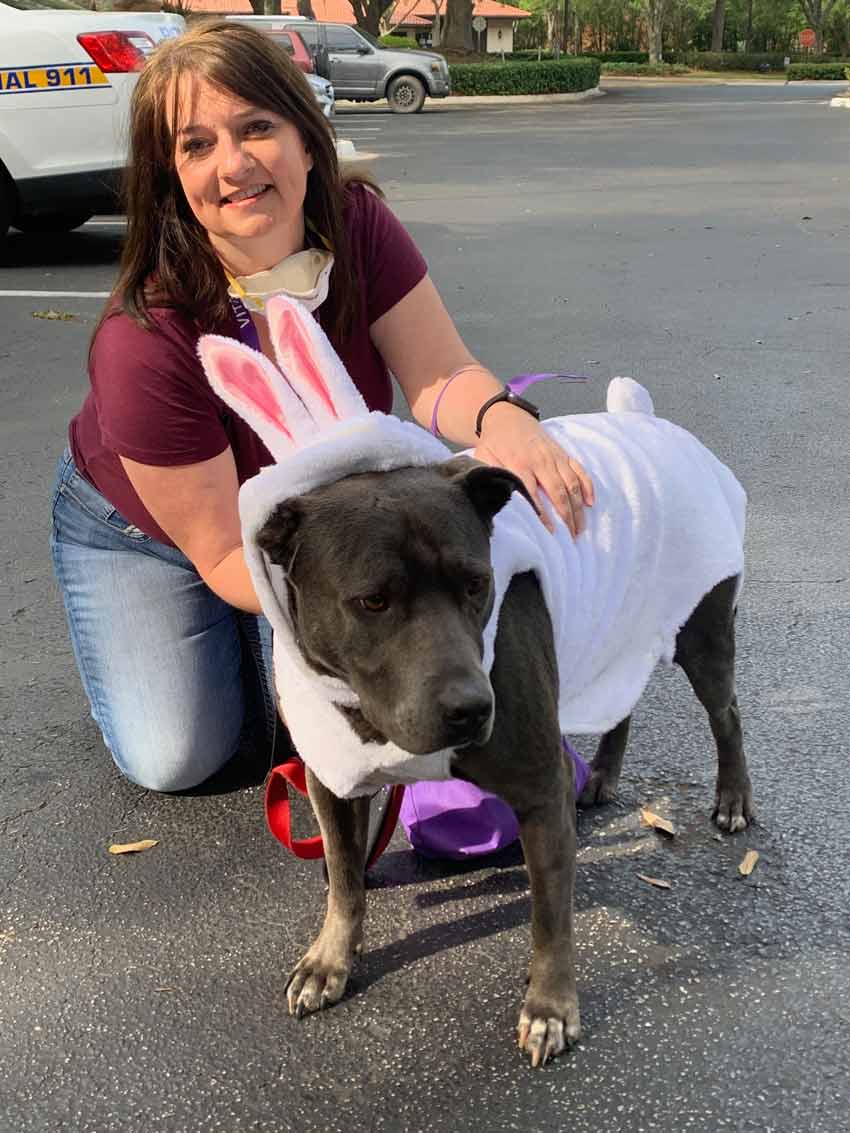 ---
Collier County, FL
Ongoing
VITAS volunteers Marva Sutt, Lynn Felpel, and Nancy Ruggels are sewing masks with love to share with family members who may be visiting hospice patients at the VITAS inpatient unit.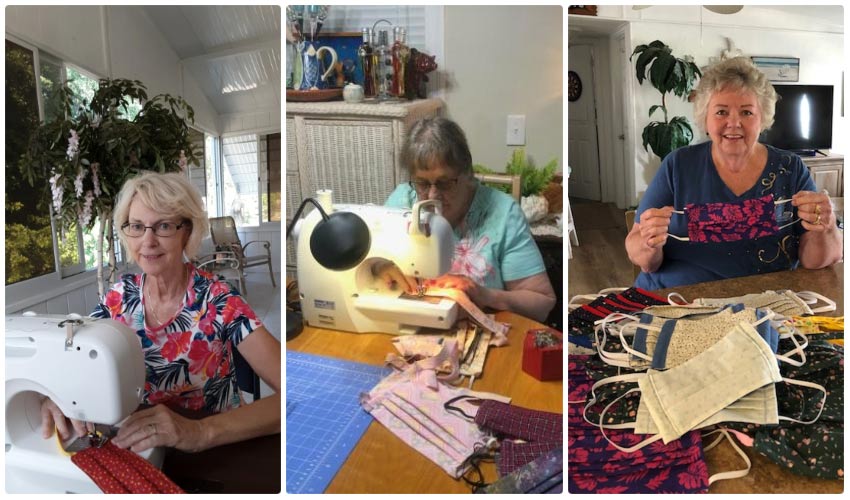 ---
Murrieta, CA
April 10
VITAS Representative Melissa Dominguez took lunch to emergency department staff at Loma Linda University Medical Center in Murrieta. She worked with a small business and provided 29 employees with an individual bagged lunch filled with a sub, chips, and a cookie.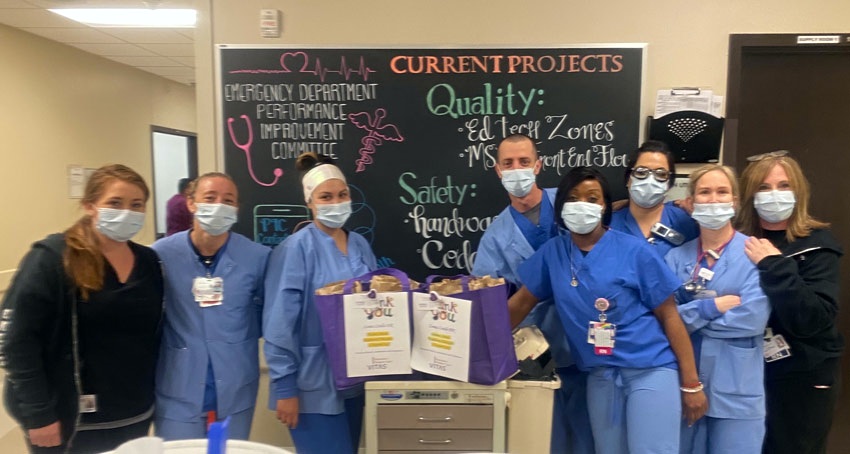 ---
Chicago
April 10
Mia Iliopoulos, VITAS music therapist, played for patients at a nursing home window. The temperature was a chilly 40° F while Mia performed for them outside, at a safe distance.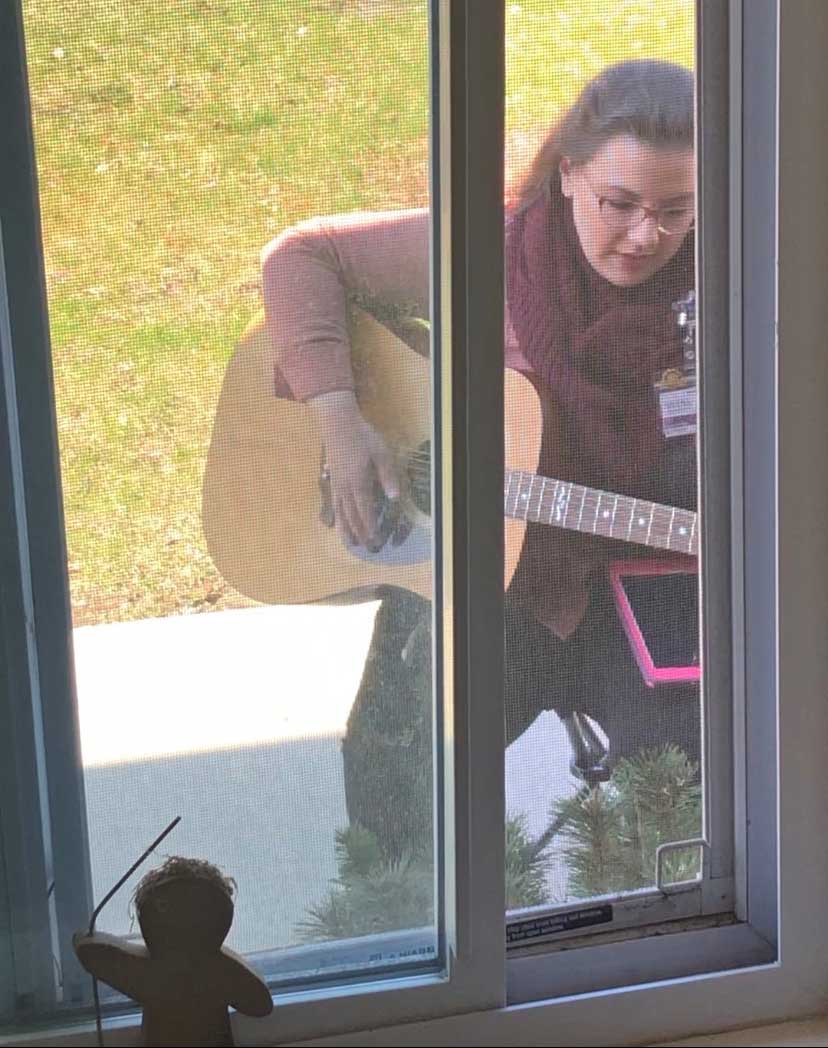 ---
West Palm Beach, FL
April 7
VITAS delivered lunch to front-line workers in the intensive care unit staff at Good Samaritan Medical Center.

---
Brevard and Broward Counties, FL
Ongoing
VITAS volunteers have been sewing cloth face masks, which are being sent to VITAS inpatient hospice units around the country for visitors to wear.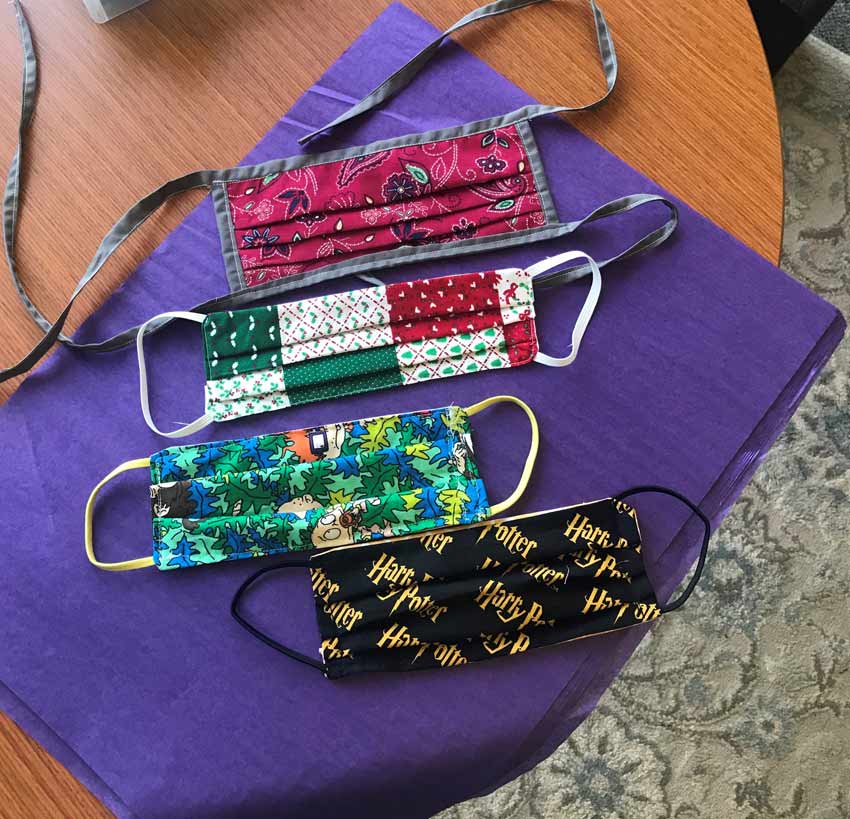 ---
Fernandina Beach, FL
April 6
Paw Pals® volunteer Julie took her dogs Kermit and Buster to a partner assisted living facility, Lakeside at Amelia Island. To brighten spirits from a safe distance, Julie set up an exhibition in the garden so residents and staff could view the cute, costumed pups (one a banana split, the other a racehorse) through a window.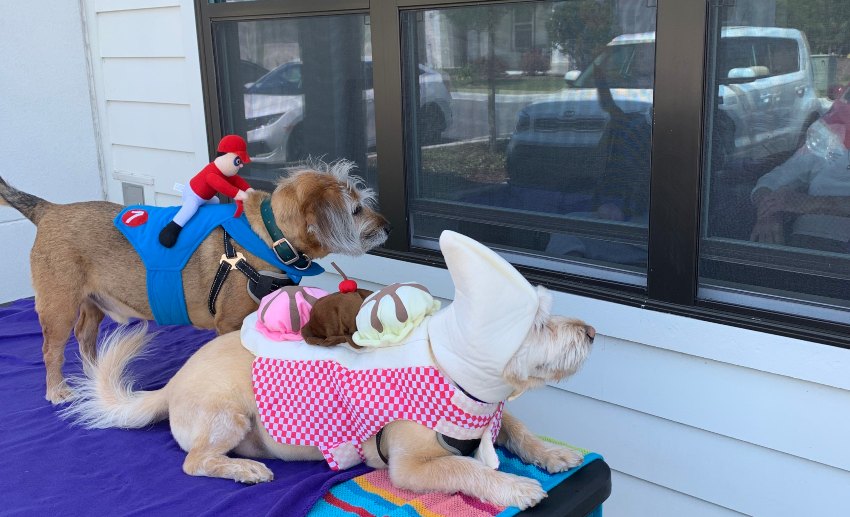 ---
Wolcott, CT
March 31
VITAS Representative Lisa Gould and six other members of the Waterbury team held a doggie parade at Wolcott View Manor Nursing Home, a partner assisted living facility. Spacing themselves at least six feet apart, the group circled the facility parking lot, coordinating via walkie-talkie with staff inside to direct residents to their windows in time for the best views. About 40 residents, including several VITAS patients, were able to enjoy the parade, waving and snapping pictures each time the dogs and their humans came into view.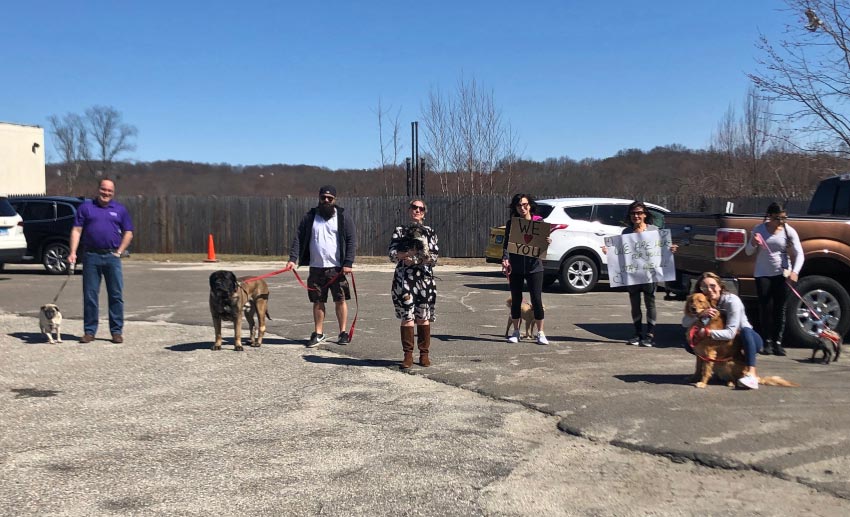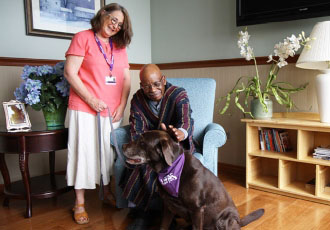 Volunteer with VITAS
Because hospice patients have unique end-of-life needs, VITAS seeks volunteers from all backgrounds, experiences and cultures.
Apply To Volunteer Today