Rachal's Recovery Relief Accepts $10,000 Donation
April 5, 2022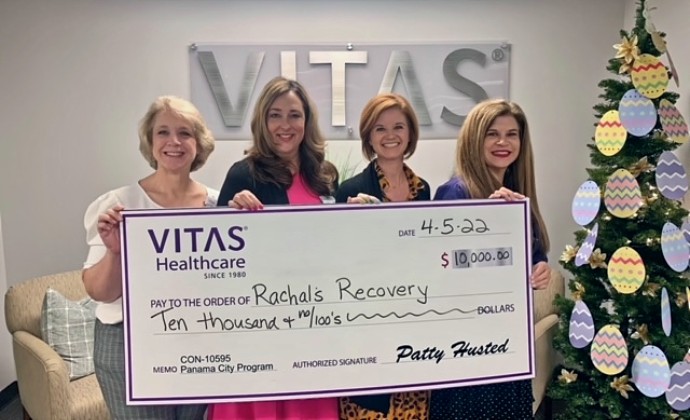 Panama City, FL—To provide Florida Panhandle residents with assistance in recovering from Hurricane Michael, VITAS Healthcare donated $10,000 to Rachal's Recovery Relief. This nonprofit offers long-term assistance in the form of food, housing, clothing, school supplies and more to those affected by the Category 5 tropical storm.

"In October 2018, when Hurricane Michael made landfall, it caused destruction from Mexico Beach to Panama City," said Jennifer Phillips, general manager for VITAS in Panama City. "As residents of this community, we continue to advance efforts to recover from the devastation, relieve the physical needs of those impacted and restore the vitality of our people."

As an organization, VITAS is committed to supporting those in the communities it serves. With a significant presence in Florida, the nation's leading provider of hospice and palliative care is dedicated to enhancing the quality of life for all of those within its footprint. Once needed, VITAS provides patients and families with access to clinical, spiritual and psychosocial care through hospice services.

Since 2019, VITAS has offered high-quality hospice care for residents of Bay, Calhoun, Gulf, Holmes, Jackson and Washington counties, operating out of offices in Panama City and Marianna. When patients need symptom control beyond what can be provided at home, interdisciplinary teams offer inpatient hospice care in a home-like setting at the VITAS Suites at Community Health and Rehabilitation Center.
For media inquiries: