Wisconsin Senator Dale Kooyenga Visits VITAS Healthcare Hospice Unit in West Allis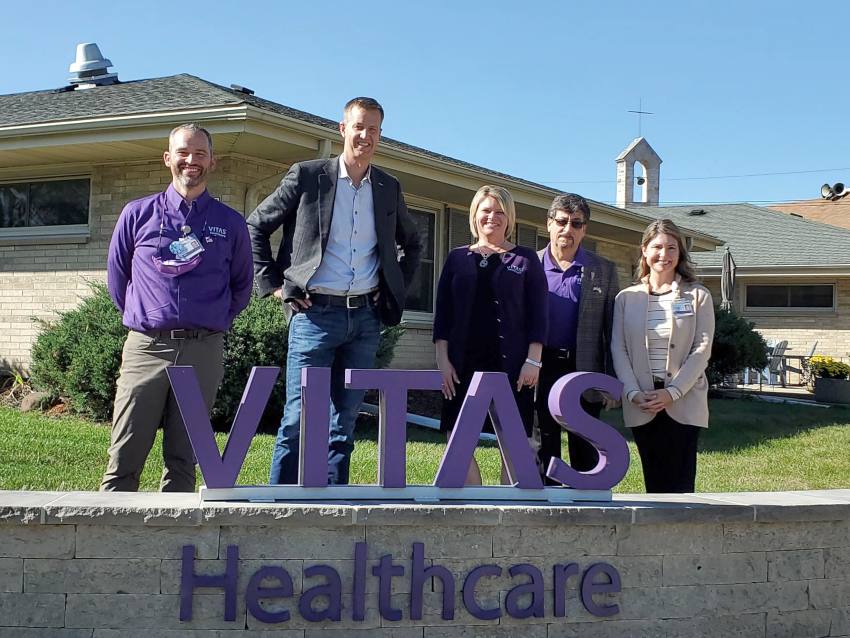 Kimberly, WI – Wisconsin Sen. Dale Kooyenga (R-Brookfield) recently visited the VITAS Healthcare Inpatient Unit at Ruth Hospice in West Allis, WI. Kooyenga's visit was part of a larger effort by the Wisconsin Hospice and Palliative Care Association (WiHPCA) to connect association members with their local state legislators to educate them about the many benefits of hospice and palliative care for patients and their families, including pain and symptom management, emotional support and spiritual well-being.
"It was an honor to host Sen. Kooyenga at our West Allis inpatient unit where patients may be admitted 24 hours a day from any setting—hospital, doctor's office, home or nursing home. We appreciated his interest in the critical role hospice care plays in meeting the wide-ranging needs of terminally ill patients and their families," said Carrie Schepp, general manager at VITAS Healthcare and a WiHPCA member. "It was a tremendous opportunity for VITAS and WiHPCA to have Sen. Kooyenga witness the hard work of our multidisciplinary team of professional staff."
While the tour of the hospice unit was limited to common spaces and did not interfere with patient privacy or safety, Kooyenga visited a vacant private hospice suite and met with VITAS staff to better understand how they provide compassionate end-of-life-care.
Kooyenga was first elected to the Wisconsin Senate in 2018 after serving four terms in the state Assembly. He represents the 5th Senate District, which includes the City of Brookfield and portions of the cities of Wauwatosa and West Allis.
"Thank you to all the caregivers and staff at VITAS and all the other hospice and palliative care facilities in Wisconsin. Their compassion in a challenging role is essential for patients and families and very much appreciated," said Kooyenga, who serves on the Legislature's Joint Finance Committee and as Vice-Chair of the Senate Health Committee. "It was great to tour VITAS, and I will continue to be an advocate in the legislature."
Founded in 1978, VITAS Healthcare is the nation's leading provider of end-of-life care. VITAS provides hospice care wherever patients call home, primarily in a private residence, and also in the company's 28 inpatient hospice units as well as in hospitals, nursing homes and assisted living communities/residential care facilities for the elderly. VITAS works with hospitals and health systems, physician practices, skilled care facilities, insurers and community-based organizations to ensure that patients with advanced illness and their families have ready access to expert and compassionate end-of-life care. Approximately 11,000 VITAS professionals provide care to over 18,000 patients daily throughout 14 U.S. states, including Wisconsin, and the District of Columbia.