St. Andrew Community Food Pantry Receives $30,000 to Continue Support of Low-Income Families in Bay County
December 17, 2020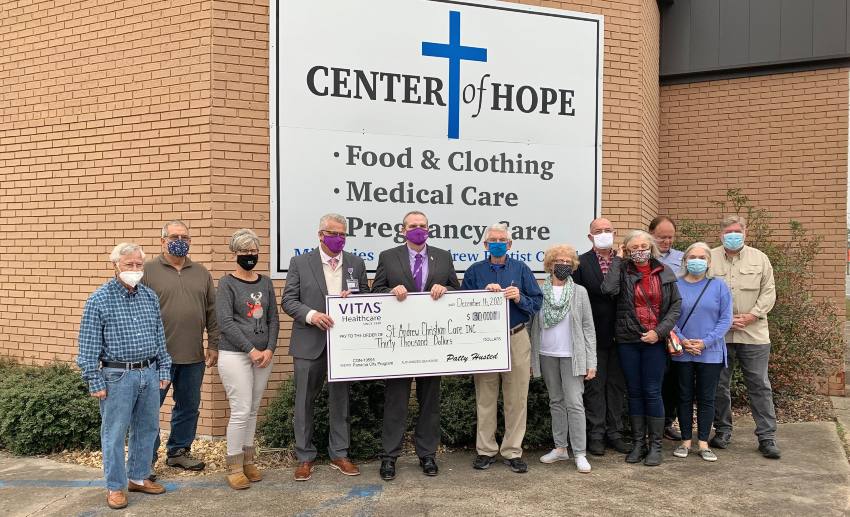 PANAMA CITY, FL — VITAS Healthcare donated funds to the St. Andrew Christian Care Center (SACCC) food pantry to support food security for low-income families and individuals throughout Bay County.
The VITAS team in Panama City presented the $30,000 check on December 16, 2020, at the St. Andrew Center of Hope. In October, VITAS presented a $25,000 donation to the partnering St. Andrew Community Medical Center, a volunteer and donor-supported clinic caring for Bay County residents facing economic disadvantages.
"Our volunteers are overjoyed with the blessing VITAS has provided our ministry."

-John Dye, SACCC vice president
"In the short time that VITAS has served Panama City and the Panhandle community, we've been fortunate to partner with several organizations who share our commitment to caring for our neighbors, regardless of their economic status," said Terry Holecek, vice president of operations for VITAS. "We're proud to follow up our grant to the medical clinic with a donation to the food pantry, providing much-needed support for individuals in this region who are facing additional pressure during the COVID-19 pandemic."
The SACCC is a nonprofit organization consisting of 12 churches united in their mission to care for the community through food and clothing donations, pregnancy and maternal support, and ministry. SACCC is entirely operated on a volunteer basis.
"Our volunteers are overjoyed with the blessing VITAS has provided our ministry, especially as it arrives in the holiday season," said John Dye, vice president of SACCC. "Their continued charity and expertise in end-of-life care help ensure people in Bay County can receive appropriate care at every stage of life, even when facing financial hardship. We look forward to a long and productive partnership that elevates our community."
Since July, VITAS has provided interdisciplinary hospice care to patients and families in Bay, Calhoun, Gulf, Holmes, Jackson and Washington counties.
For media inquiries: