Today in Times Square: Hospice Leaders Celebrate Former President Carter
Aug. 17, 2023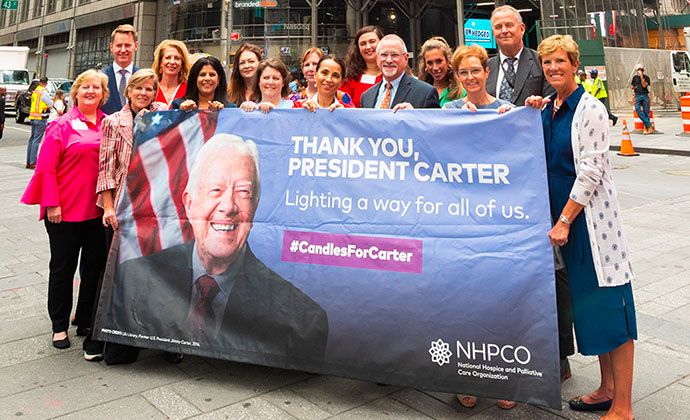 NEW YORK CITY, NY—On the 180th day since Former President Jimmy Carter entered hospice care, VITAS Healthcare and other hospice providers from across the US joined for a special celebration in Times Square in New York City to honor the life and continued legacy of America's 39th president. The event, hosted by the National Hospice and Palliative Care Organization (NHPCO), commemorated Carter's remarkable six-month milestone journey in hospice care at home.
Times Square, known for its iconic billboards and vibrant atmosphere, served as the backdrop for this heartfelt milestone celebration as the world-famous Nasdaq screen displayed a message of thanks to the former president. More than a dozen hospice community leaders paid tribute to his commitment to public service and his unwavering advocacy for healthcare advancement.
"As the nation's leading hospice provider, VITAS is honored to join NHPCO and its member organizations in recognizing the impact that Former President Carter's end-of-life journey has had on our country," said Nick Westfall, President and Chief Executive Officer for VITAS. "Our hope is that his legacy continues to inspire people to discuss end-of-life care options more openly and encourages earlier referrals to hospice when appropriate."
As per Medicare hospice eligibility guidelines, patients qualify for end-of-life care with a prognosis of six months or less, based on the expected course of the terminal disease. Carter's journey emphasizes the unpredictability of illnesses and underscores the value of prioritizing quality of life.
Carter's decision to receive hospice care after a cancer diagnosis has brought significant attention to the importance of this specialized form of care. His journey has raised awareness about the benefits of hospice care and the comprehensive support it provides to patients and their families.
The celebration in the heart of New York City served as a reminder of the positive impact that hospice care can have on individuals facing serious illness and the importance of expanding access to these services nationwide. New research published earlier this year indicates that earlier enrollment and longer lengths of stay, like Carter's, help patients—and their loved ones—maximize the benefits of hospice.
The Carter family's transparency in sharing his end-of-life journey is an inspiration for hospice champions around the world. As one of the nation's oldest end-of-life care providers, VITAS remains committed to providing high-quality care to patients and families in need, and continues to advocate for earlier and easier access for all Americans.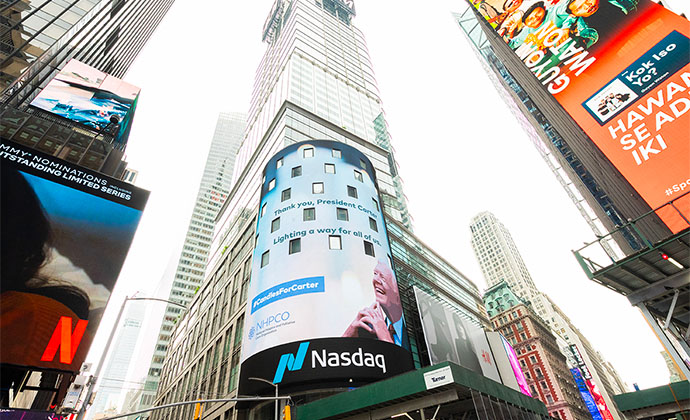 For media inquiries: