St. Andrew Community Medical Clinic Receives $25,000 to Continue Free Healthcare Services
October 29, 2020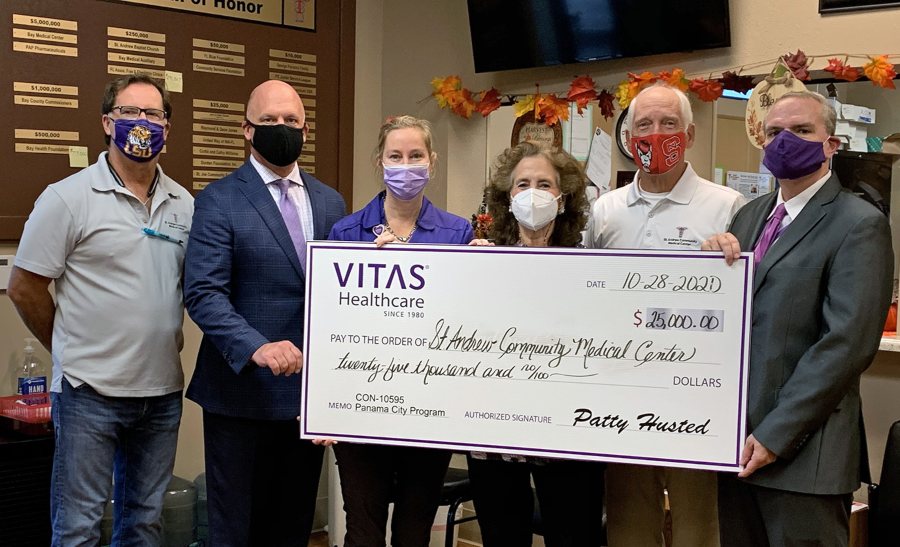 PANAMA CITY, FL — A VITAS Healthcare donation of $25,000 to St. Andrew Community Medical Clinic (SACMC) is supporting the clinic's mission to provide general primary care and ongoing care for chronic illnesses to people facing economic disadvantages in Bay County, Florida.
As a volunteer and donor-supported medical clinic, SACMC relies on volunteer clinicians and public donations to deliver care that meets patients' physical and spiritual needs. The VITAS grant assists these efforts.
VITAS opened its office in downtown Panama City in July, providing new opportunities for end-of-life care in any setting from an expert team of hospice professionals. The grant to SACMC is part of the company's commitment to help rebuild the community and improve the quality of life for local residents. Working with established organizations with existing aid infrastructure enables VITAS to provide support quickly and where it is needed most.
"We are proud of our commitment to Panama City and Panhandle communities to ensure high-quality care is available at every stage of the healthcare journey, especially for patients and families who struggle economically," said Kenn Wallace, VITAS general manager in Panama City. "Forging strong relationships with local providers like St. Andrew Community Medical Clinic helps connect patients with comfort-focused hospice and palliative services when they are needed."
VITAS began providing hospice care to patients and families in the six counties surrounding Panama City in July 2020. In addition to Bay, Calhoun and Gulf counties, VITAS also brings compassionate end-of-life care to residents in Holmes, Jackson and Washington counties.
"We admire VITAS as a community partner and greatly appreciate their support of our mission to serve patients physically and spiritually through professional, Christ-centered volunteer healthcare," said Carole Summey, clinic director for SACMC. "Together, we're making Bay County a healthier, safer place to live for people of any socioeconomic status."
SACMC has offered free care to medically uninsured and economically disadvantaged residents of Bay County since 2004. Volunteer physicians, nurse practitioners, nurses, pharmacists, and other clinical professionals serve in part-time roles to deliver care.
For media inquiries: