VITAS is Bringing Hospice Care to Panama City, Now Hiring Management Positions
April 21, 2020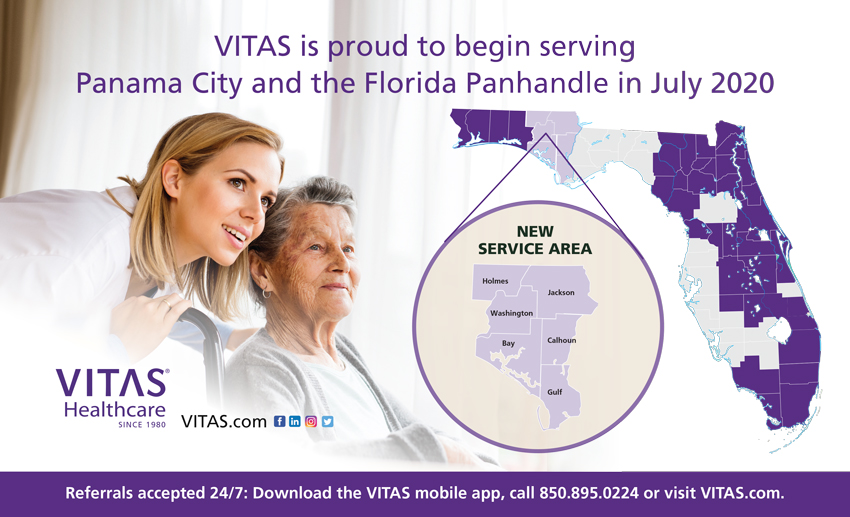 PANAMA CITY, FL – Residents in Florida's Panhandle will soon have improved access to hospice care through VITAS Healthcare. The nation's leading provider of end-of-life care was recently awarded a certificate of need by the state's Agency for Health Care Administration (AHCA), expanding its service area to include Bay, Calhoun, Gulf, Holmes, Jackson, and Washington counties in Northwest Florida.
At VITAS.com/PanamaCity, VITAS is currently seeking qualified healthcare professionals with management experience who can apply for the following positions: director of nursing, healthcare marketing and sales manager, physician, and more. Additional openings for healthcare professionals including registered nurses, licensed practical nurses, certified nursing assistants, social workers, respiratory therapists, chaplains, and administrative professionals will also be posted.
Since its founding more than 40 years ago in Florida, VITAS provides innovative hospice services to patients, their families and caregivers by delivering comfort-focused care to patients with advanced illness in their homes, wherever they call home.
VITAS is committed to providing several key community benefits:
$450,000 in grants to local programs focused on food, housing and medical assistance, as well as caregiver education and support, and scholarship opportunities
Improved access to care for over 32,000 veterans, who comprise nearly 30% of the region's population aged 65+
42 new full-time employment positions currently open across a wide range of disciplines
Volunteer opportunities equivalent to at least 5% of all direct-care hours
"VITAS is proud to be welcomed by Panama City and areas of Florida's Panhandle, and we are committed to providing excellent care to patients and their families while serving as a resource to clinicians and the community at large," says Patty Husted, VITAS executive vice president of operations. "We are prepared to meet the region's growing need for clinical, psychosocial and spiritual support at the end of life."
Husted oversees VITAS' growth throughout Florida and brings more than 30 years of experience in hospice nursing, clinical and patient services, operations and management. Since joining VITAS in 1989 as a hospice nurse, she has served in more than a dozen leadership roles including director of patient services, and director and vice president of clinical services.
VITAS services for hospice-eligible Panama City and Florida Panhandle patients include:
Additional therapies and patient-focused programs include:
Lavender Touch, a gentle hand massage administered by trained volunteers that offers comfort, support and one-on-one attention
Massage therapy administered by a certified massage therapist
Music Memories visits by a certified music therapist with the goal of meeting physical, emotional, cognitive, social and spiritual needs through music
Paw Pals® visits from loving animals and their volunteer owners to provide comfort
Specialty bereavement services for children coping with grief
Life Bio: A written, audio or video biography of a hospice patient, provided by specially trained volunteers
Since its founding over 40 years ago in Florida, VITAS has cared for more than 1.5 million patients nationally. As the number of seniors in Florida continues to grow, VITAS is committed to entering new markets to provide access to communities in need of high-quality hospice services.
Today, VITAS employs more than 6,690 healthcare and corporate professionals in Florida who care for 10,000 patients daily.
Call VITAS to learn more about hospice and palliative care options.