Enhance Your Career as a VITAS Hospice Medical Director
As a VITAS hospice medical director, you are part of a dynamic team that includes individuals as passionate about this important work as you are.
Apply Now
Be at the Forefront of Hospice & Palliative Care
A people-focused company, VITAS Healthcare invests in the careers of our valued leadership. We also invest in the resources necessary to stay ahead of the curve and remain an industry leader.
At VITAS, you are part of a dynamic, interdisciplinary team that includes individuals as passionate about this important work as you are. You tackle every challenge with your can-do attitude and commitment.
What's the Job Description for a Hospice Medical Director?
As a hospice medical director at VITAS, you will live your purpose each day, overseeing the medical care of VITAS patients in their homes, nursing homes, assisted living communities, and personal care homes.
You will consult with patients' attending physicians, supervise VITAS team physicians, guide staff and volunteers, and serve as a resource to practicing physicians and other healthcare professionals on the benefits of hospice and palliative care for patients and their families.
Hospice may be a good fit for you if you are passionate about:
Evidence-based pain and symptom management
Team building
Community outreach
Opportunities to lecture at local, regional, and national meetings
Leadership that effects change
Now is your opportunity to join one of our teams. We're hiring compassionate, skilled hospice medical directors throughout the U.S.
What would a VITAS medical director tell you? Here's Monique Williams, MD, MSCI:
Hospice is rewarding because you spend impactful time with patients and their families. I can't think of many specialties that allow that kind of involvement and time commitment for each patient and family. VITAS Healthcare is a great, committed environment. We have phenomenal marketing, innovative community outreach, and an excellent clinical team. There's a positive VITAS culture that nurtures people's development. It's very obvious—and unusual in a big company.
VITAS Benefits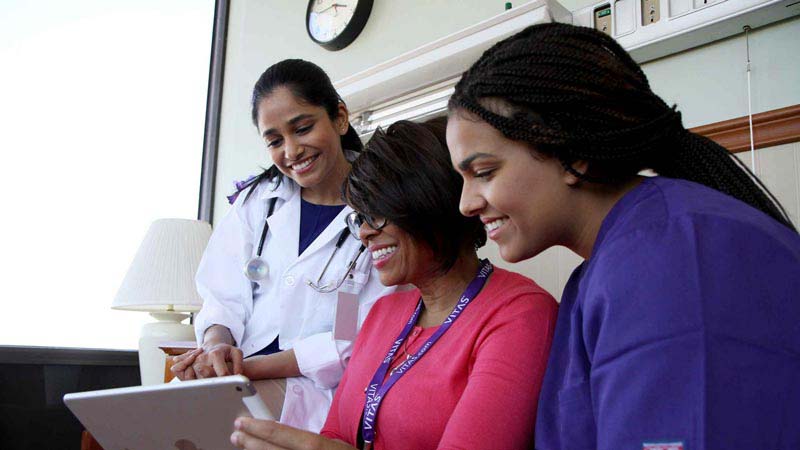 VITAS Benefits
Here are some of the benefits offered to VITAS employees:
Medical/dental/vision
401(k) match
Tuition reimbursement
Life insurance
Roadside assistance
Download Benefits PDF