Make a Difference as a VITAS Representative
When you join VITAS Healthcare as a representative, you help patients access hospice care when they need it most.
Apply now
What Do VITAS Representatives Do?
As a VITAS representative, you can do work that matters, educating healthcare professionals about hospice and how, when, and why it can benefit patients.
Representatives become trusted resources for health care clinicians and their patients, and families, receiving extensive training that enables them to become subject-matter experts on hospice and how patients can access hospice care.
They help ensure patients get timely access to their Medicare hospice benefit while also receiving patient-centered, interdisciplinary care from a team of VITAS professionals.
Our advanced customer relationship management tool provides representatives with up-to-date information we can share with physicians, keeping them posted on how a patient is doing. It's not about numbers—it's about caring for people.
Why VITAS?
As the nation's leading provider of end-of-life care, VITAS offers the resources, opportunities, and flexibility to do meaningful work you love with a company that supports you.
At VITAS, our representatives can expect:
A wealth of resources to help educate, gain access, and be seen as a resource to your accounts
Leadership that encourages new ideas and constructive feedback
Support from a team of equally passionate peers, clinical subject matter experts, and leaders
Robust, continually updated training programs, including our Evolution Sales Training Program
An incentive compensation plan that includes monthly, quarterly, and annual components
Autonomy and flexibility in schedule
With locations in 14 states and the District of Columbia, there are opportunities to work closer to family or experience a new city for the first time.
Possibilities for Career Growth
VITAS puts its people first and supports the advancement and promotion of employees from within.
Our present, approachable leaders empower you to reach your professional goals through:
Individualized mentoring
Leadership development
Advanced sales opportunities
There are hundreds of examples of VITAS representatives achieving exceptional career growth by becoming team managers, general managers, vice presidents, and more.
Opportunities for advancement include:
Senior Sales Representative: At this level, representatives help manage a territory, mentor other representatives, and take on larger projects.
Director Market Development (DMD): The DMD develops and leads a team of representatives.
General Manager (GM): For representatives interested in focusing on operations, this role is an opportunity to lead a region.
Regional Director Market Development: For representatives who want to advance their careers in sales, this is an opportunity to drive regional business development with key partners while providing support to directors and teams.
No matter what role you take on, working at VITAS means being part of the patient's journey. We support patients and their families in their most vulnerable time. Without us, hospice-eligible patients may not get the care they deserve. This work builds a bridge between physicians and hospice, ensuring every qualifying patient has access to support, compassion, and dignity at the end of life.
VITAS Benefits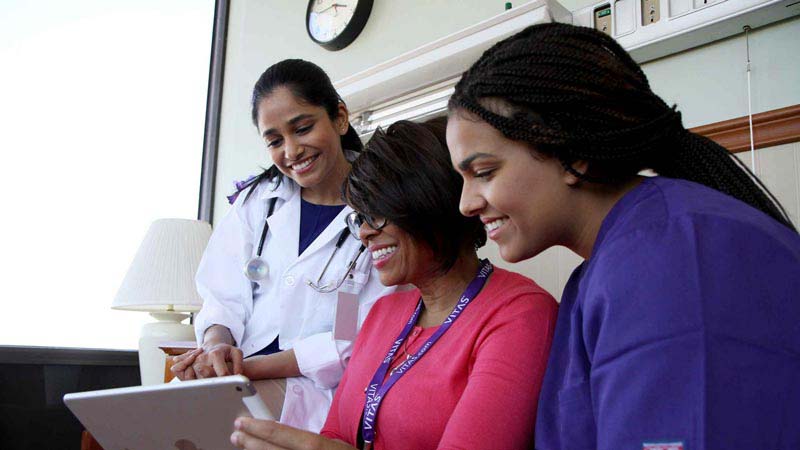 VITAS Benefits
Here are some of the benefits offered to VITAS employees:
Medical/dental/vision
401(k) match
Tuition reimbursement
Life insurance
Roadside assistance
Download Benefits PDF