VITAS Healthcare Donations Support Treasure Coast Healthcare and Medical Student Education
July 23, 2020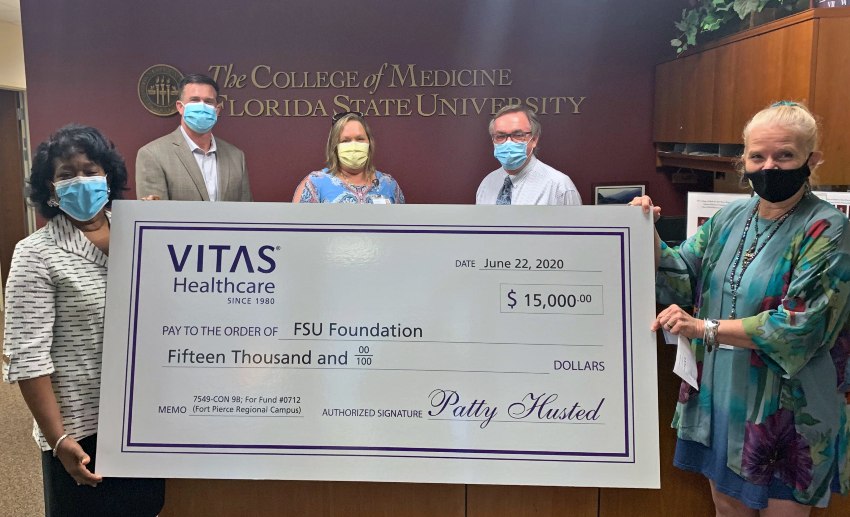 FORT PIERCE, FL — Two recent donations by VITAS Healthcare of the Treasure Coast are providing healthcare to medically underserved patients in St. Lucie County and supporting the education of Florida State University (FSU) College of Medicine students.
Representatives from VITAS, the nation's leading provider of end of-life care, presented $25,000 to HANDS of St. Lucie County, a non-profit, volunteer clinic in Fort Pierce that offers affordable healthcare and dental services to qualified, low-income, medically uninsured adults. The funds have helped the clinic resume dental services that were discontinued during COVID-19 shut-downs.
A donation of $15,000 to the FSU College of Medicine will fund an educational grant supporting medical students at the Fort Pierce Regional Campus who gain palliative care experience and go on to practice geriatrics, family and internal medicine.
"Communities thrive when healthcare services are made available to underserved patients. They flourish when we invest in medical education to train new generations of healthcare professionals," said Susan Acocella, VITAS general manager. "We are honored to be able to improve access to much-needed medical care for our neighbors and to help aspiring healthcare professionals reach their goals in an important, growing medical specialty."
VITAS provides hospice care to Treasure Coast patients and families throughout St. Lucie, Martin and Okeechobee counties from its offices in Stuart and Port St. Lucie.
For media inquiries: