End of Life Wishes
Teamwork Helps Fulfill Hospice Patient's Wish to See the Sea Once More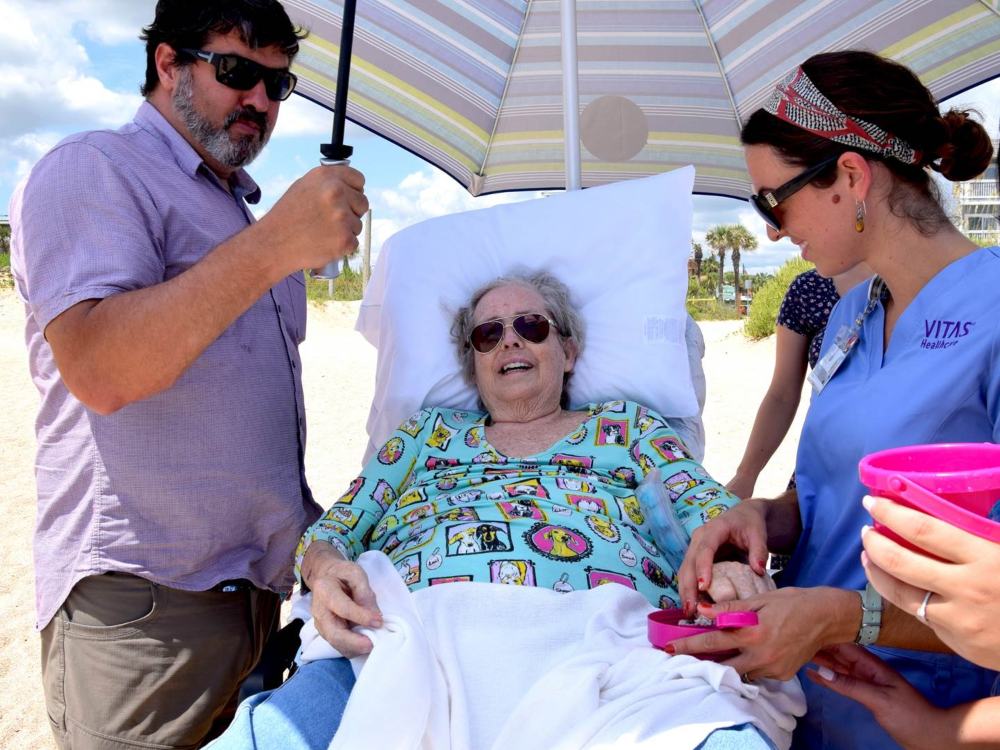 08/22/2019
When VITAS hospice patient Deirdre Hands of Penney Farms, Florida, realized she was approaching the end of life, a simple wish rose to the top of her list: She wanted to go to the beach one more time.
Ms. Hands, 78, confided her wish to a close friend, who passed it along to our nurse responsible for Ms. Hands' hospice care, Alyssa Woodbury.
Before long, the entire interdisciplinary team – helmed by team manager Joshua Decker – was helping run her fingers through the sand and surf. Parks employees and passersby even joined in the teamwork.
"The entire trip came together beautifully, even down to the weather," Joshua says.
Teamwork Makes a Hospice Wish Come True
Early on the morning of July 23, VITAS hospice aide Claudia Russi arrived at Ms. Hands' nursing home to help her bathe and dress for her beach trip. Soon Alyssa and VITAS representative Carmen Tosca arrived to assist, followed by Ms. Hands' nephew.
"We collectively decided that we weren't going to let some sand stop us from getting her as close to the water as possible."
The nearest beach access was about an hour from Ms. Hands' home, and the team had some concerns that she wouldn't be able to handle the ride. With the help of JAX CARE – a local patient transport company – and Ms. Hands' nephew, the trip went smoothly.
Our chaplain Robert Hooker and social workers Rosemary Randazzo and Kathleen Peek were waiting at the beach with bottled water and umbrella in hand when Ms. Hands and her entourage arrived at the beach access point.
Immediately, they faced an obstacle: How to get their patient with limited mobility down through the sand to the waves.
"Ms. Hands was no longer strong enough to sit in a wheelchair, so we were limited in our options," Joshua says. "We collectively decided that we weren't going to let some sand stop us from getting her as close to the water as possible."
Related: At VITAS, Patients and Families Come First
The team arranged for the St. John's County Ocean Rescue and Parks and Recreation departments to open access to the beach. Four team members each grabbed a corner of Ms. Hands' gurney and carried her across the difficult-to-maneuver beach and as near to the water as possible.
Feeling the Sea and Sand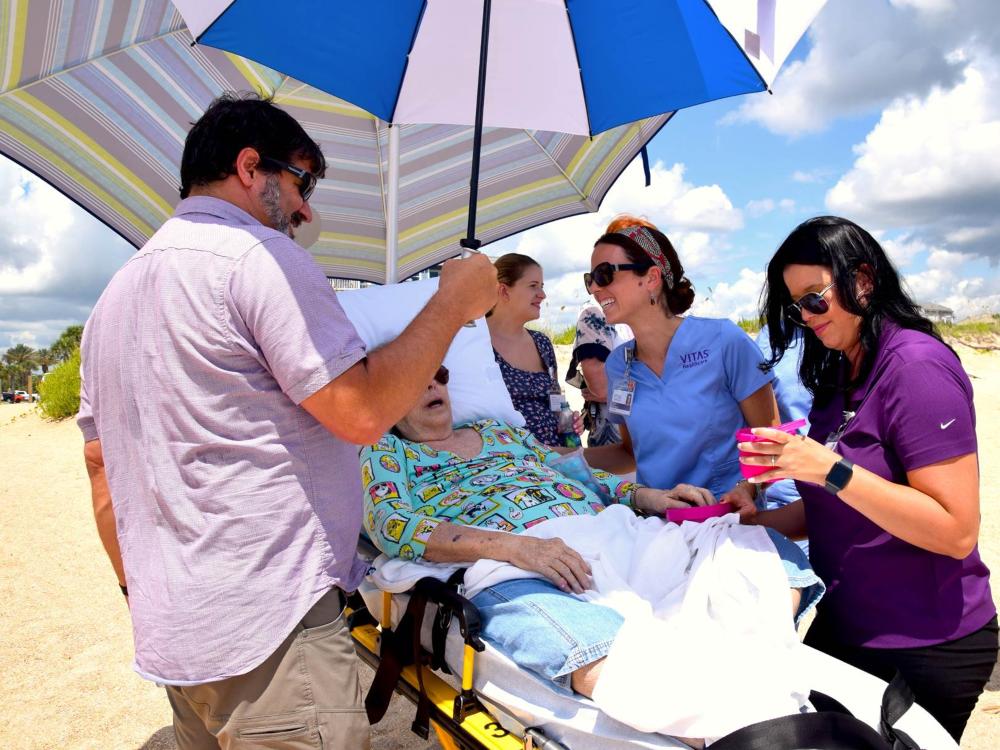 So close and yet so far away; Ms. Hands was a few feet from the ocean but still couldn't reach down and touch it herself. Alyssa and Carmen scooped up water and sand in pails and brought them to their patient.
As Ms. Hands ran her fingers through, her face brightened. She found what she came for.
The group stayed at the beach for more than an hour, leaving Ms. Hands and her nephew to enjoy each other's company and take in the sea breeze.
The day went better than Joshua could have imagined.
"The family was greeted with support by passersby on the beach, and it was an enriching experience for the staff, Ms. Hands and her family." he says. "Everyone involved, including the drivers from JAX CARE, was instrumental in making this happen."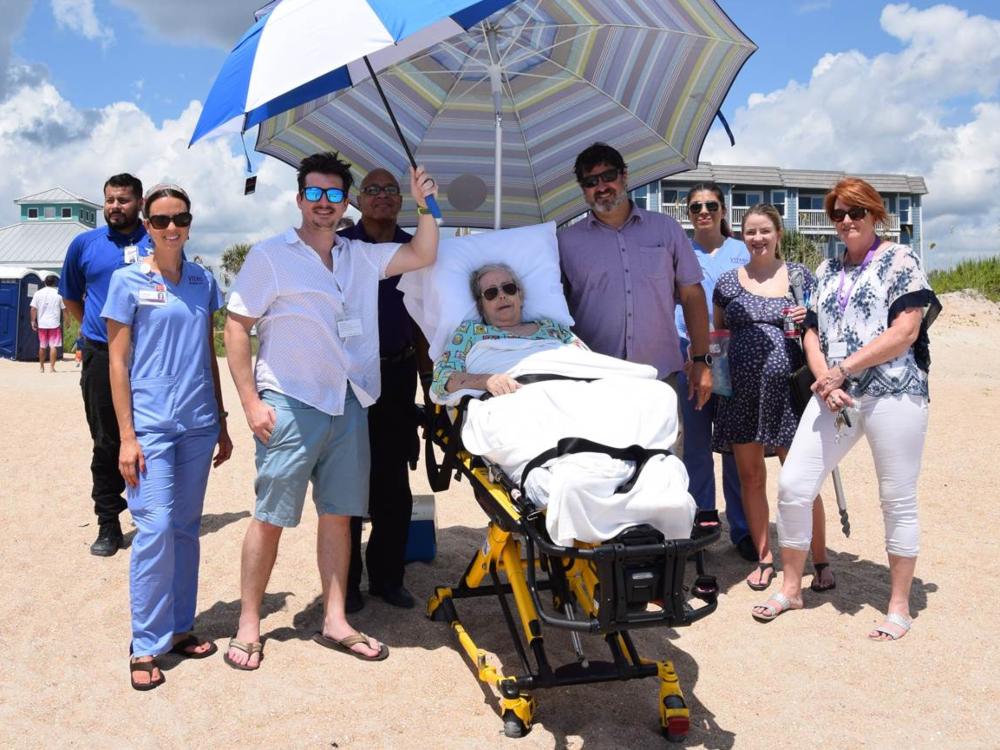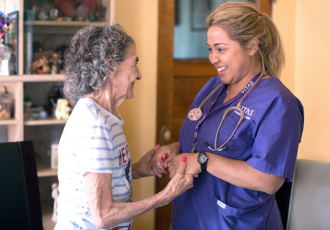 Choose a Career with VITAS
We offer a variety of full-time, part-time and per-diem employment opportunities. Employees earn competitive salaries and have the flexibility to choose a benefits package suitable to their own needs and lifestyle.
See Current Opportunities