VITAS Donates $25,000 to Help Florida Veterans
August 28, 2020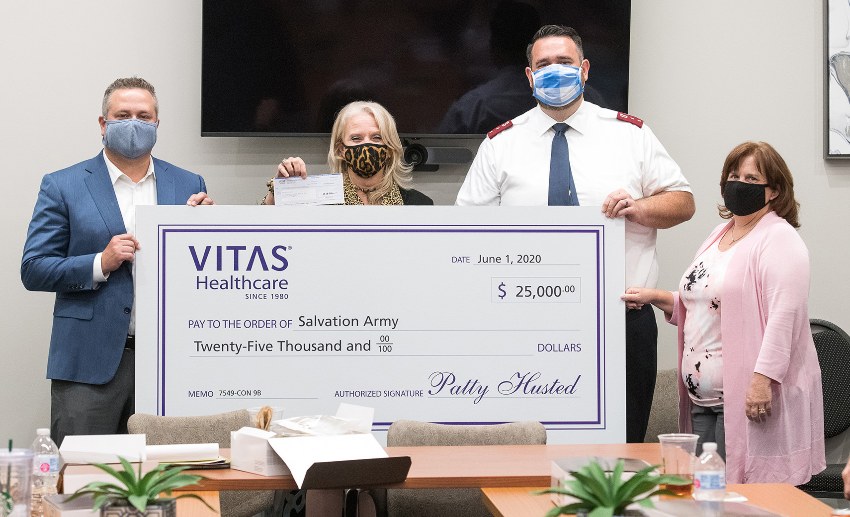 PORT ST. LUCIE, FL – With an overall poverty rate of 24.6%, many residents of Florida's Okeechobee County face economic hardships that make homelessness a difficult reality. The rural county's large veteran population is not immune to these challenges. Now, thanks to a donation by VITAS® Healthcare, they can continue to receive support from the local Salvation Army branch.
VITAS, the nation's leading provider of end-of-life care and a Treasure Coast hospice provider since mid-2019, donated $25,000 to the local Salvation Army for housing assistance supporting veterans residing in Okeechobee County. Susan Acocella, general manager for VITAS, presented the check on Wednesday, June 24 to Salvation Army Captain Jeff Marquis, supported in attendance by VITAS President and CEO Nick Westfall and Executive Vice President of Operations Patty Husted.
"At VITAS, we believe in supporting all veterans under our care and within the communities we serve," Acocella said. "In rural areas like Okeechobee County, homelessness is often less visible and under-reported compared to urban regions. Veterans and other people experiencing homelessness still face immense day-to-day challenges. With this donation, we hope to ensure that our local veterans always have a safe place to live after putting their lives on the line for their fellow citizens."
The Salvation Army is an international movement and ministry dedicated to helping people in need access food and basic toiletries. Donations like the one from VITAS enable the organization to provide emergency financial assistance to individuals for rent or utilities.
"We're so appreciative of this donation kindly provided by VITAS Healthcare," Marquis said. "Because of donations like these, the Salvation Army can go above and beyond in our mission to meet human need wherever and however it manifests. We're proud to work alongside VITAS to help our nation's heroes."
VITAS provides care to hospice patients and families in their homes throughout St. Lucie, Martin, and Okeechobee counties. The Salvation Army supports people in need throughout the same three Treasure Coast counties by covering costs of living, distributing food, delivering Christmas gifts, and housing women and children
For media inquiries: