Three VITAS Healthcare Medical Directors Earn Fellow Status From AAHPM
March 14, 2023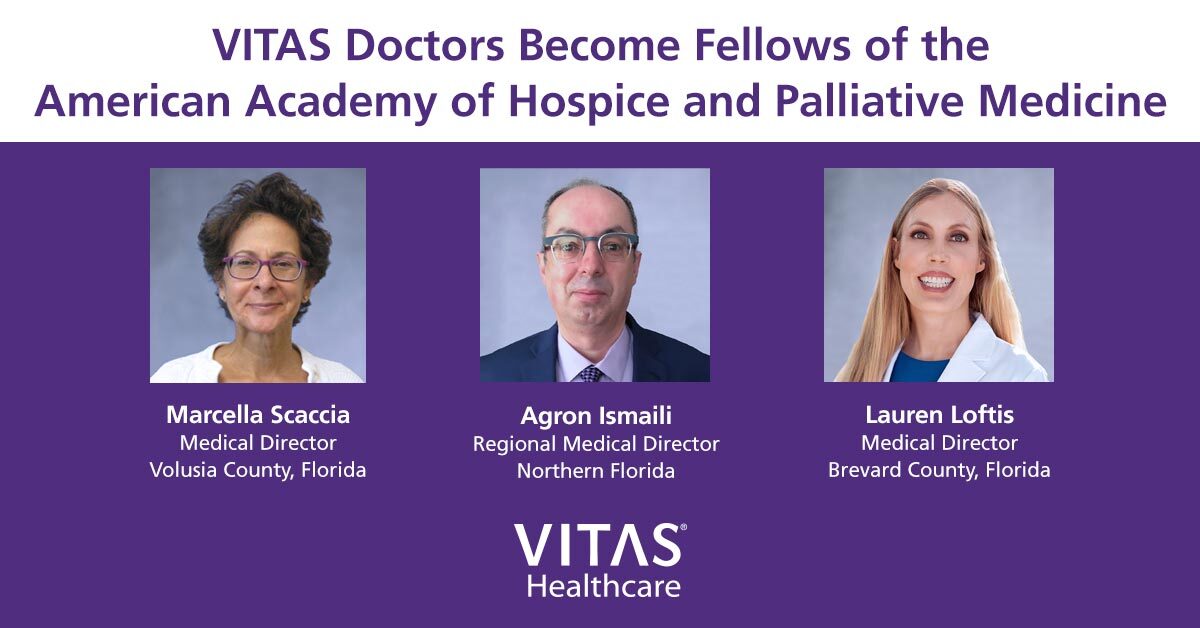 MIAMI, FL—Of the 67 new Fellows of the American Academy of Hospice and Palliative Medicine, or FAAHPM, VITAS Healthcare is proud to be the employer of three:
Agron Ismaili, MD, MBA, FACP, FAAHPM, FASAM, DABPM, CMD, regional medical director for VITAS in Northern Florida
Lauren Loftis, MD, FAAHPM, ABFM, HMDC, medical director for VITAS in Brevard County, Florida
Marcella Scaccia, MD, FAAHPM, medical director for VITAS in Volusia, Flagler and Putnam counties, Florida
As one of the highest honors for physician members, fellowship reflects professional activity devoted to the practice of hospice and palliative medicine, as well as active membership for seven years. Fellowship status is bestowed after evaluation by their peers based on personal integrity, field knowledge, professional accomplishment and demonstrated scholarship, according to AAHPM.
Each physician will be recognized during the Saturday, March 25, Plenary session at the Annual Assembly of Hospice and Palliative Care in Montréal, Canada.
"The exemplary work these individuals have done in the field of hospice and palliative care is a true testament to our commitment and values at VITAS," says Joseph Shega, MD, VITAS executive vice president and chief medical officer. "The impact that our clinicians make on a daily basis in the lives of patients and families is inspiring, and I'm grateful that it's noticed at this national level."
As a sponsor of the Annual Assembly, March 22-25, 2023, VITAS representatives will be on-site throughout the week at Booth #1206 in the exhibit hall. A physician recruiter will be available to discuss employment opportunities at the nation's leading provider of end-of-life care.
VITAS Physicians
Dr. Ismaili joined VITAS in 2008 as a team physician in Milwaukee, Wisconsin, and was promoted to medical director. Since 2022, he has been serving as regional medical director over Northern Florida, including Citrus County and the Nature Coast, Pensacola, Panama City and Jacksonville. He earned his medical degrees at the University of Sarajevo in Bosnia and Herzegovina and the University of Kosovo-Pristina in Kosovo.
Dr. Loftis joined VITAS in 2022 and serves as medical director in Brevard County. She earned her medical degree at the University of Texas Southwestern Medical Center in Dallas, Texas.
Dr. Scaccia joined VITAS in 2011 as a team physician and was promoted to associate medical director. Since 2020, she has served as medical director for Volusia, Flagler and Putnam counties. She earned her medical degree from Sapienza University of Rome in Italy after completing her first year of medical school at New York Medical College in Valhalla, New York.
For media inquiries: