With VITAS, Caregivers are Never Alone
11/04/2019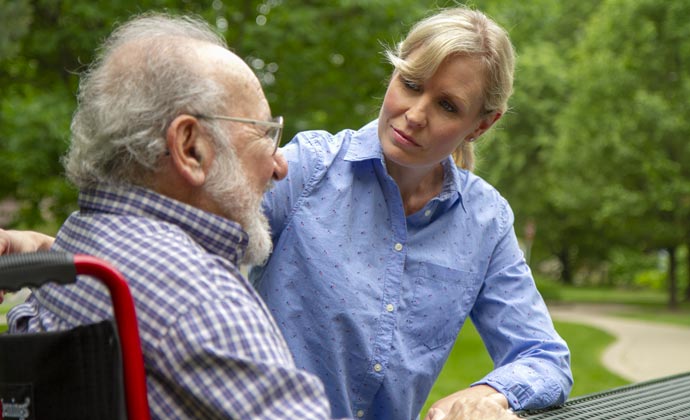 Nothing is more frightening than things that go bump in the night. That is especially true for caregivers, whose "bump" could be a new symptom or a sudden sense of panic in the person they love and care for—24 hours a day.
The routine complaint you take in stride at two in the afternoon can feel like a matter of life and death at two in the morning.
November is National Caregivers Month, this year honoring "Caregiving Around the Clock."
VITAS Healthcare knows that, while setting aside 30 days to acknowledge the nation's caregivers is richly deserved, the job is 24/7 and leaves caregivers feeling all too alone—especially in the wee hours, when support seems limited to the emergency room. "Do I call an ambulance?" "Will this pass in a few minutes?" "Are they as uncomfortable as they seem?"
When the patient has a chronic or terminal illness that is in decline, caregivers add death to their list of frightening possibilities. Is it any wonder that organizations like the Caregiver Action Network list education and support as ways to acknowledge caregivers in November? For appropriate patients, VITAS lists one more: hospice.
With VITAS, a caregiver is never alone—24/7/365. There is always a hospice professional—never a machine—a phone call away, with access to the patient's records. They advise a concerned caregiver on what to do; if a member of the interdisciplinary team is needed, they are dispatched to the home immediately, day or night.
Not every "bump" is clinical. Sometimes the caregiver (or the patient) is kept awake with worry. Or has a question about medication. Or just needs to vent. VITAS is there for them, too.
Day or night, VITAS patients and families can reach someone who understands the disease process and the hospice philosophy, who has walked the journey with a family member, answered their questions and eased their worries.
Caregiving is around the clock—especially for end-of-life illness. That's why VITAS is always available.
Resources for Caregivers
Find out if hospice care could help your loved one.