Dr. King's Legacy Reminds Us to Serve With Dignity and Respect
January 20, 2019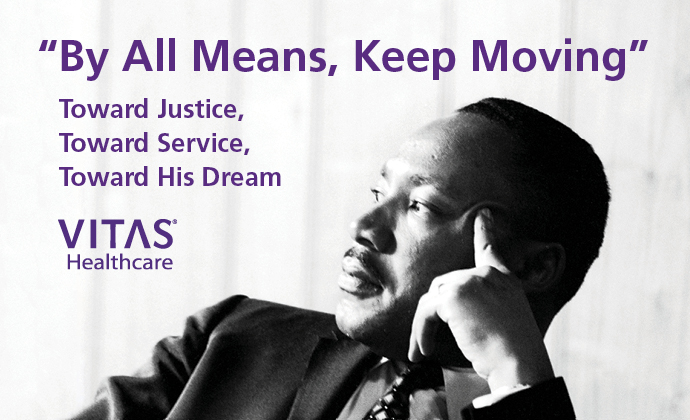 Many famous and memorable quotes are linked to the Rev. Martin Luther King Jr., whose legacy is celebrated nationwide on January 20. His "I Have a Dream" speech continues to inspire 57 years after it was first delivered, as does this simple directive: "By all means, keep moving."
Each year, VITAS honors Martin Luther King Jr. Day to remind our employees, patients, families and healthcare partners of the civil rights activist's message, commitment and impact. This year, we honor his "keep moving" message and its particular relevance to the healthcare profession. It reminds us to keep moving toward justice, toward service to others and toward his dream of tolerance and acceptance.
VITAS staff members undergo training to ensure that the compassionate, end-of-life care they provide—the vast majority of it in our patients' homes, nursing homes, assisted living centers and communities—honors our patients' and families' culture, traditions, faith and values.
Regardless of our patients' ethnicity, orientation or religious beliefs, we keep Dr. King's words close to our hearts to make sure that the hospice care we provide honors the values that our patients hold dear and offers them the dignity and respect they deserve.
Working with VITAS is a rewarding choice.