VITAS Sewing Volunteers Create Thousands of Memories—One Personalized, Cuddly Bear at a Time
04/08/2019
April 7-13 is National Volunteer Week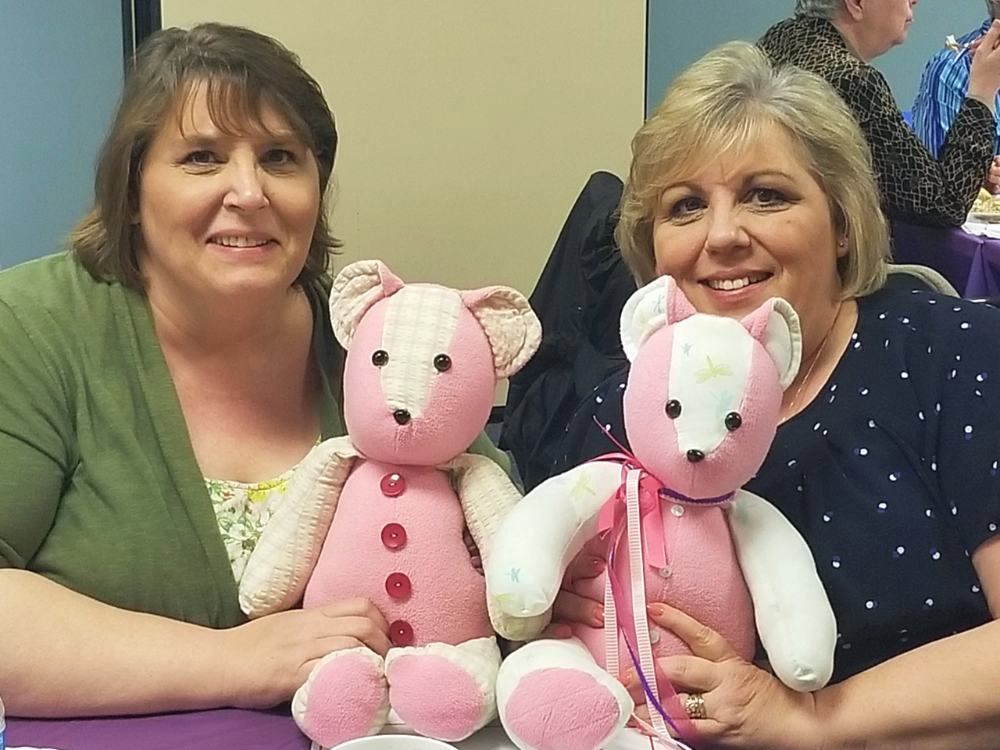 Something bear-y wonderful keeps happening among the VITAS sewing volunteers who serve hospice patients and their families.
Memory Bears, that is. Twelve volunteers in southern metropolitan Chicago crafted 1,322 Memory Bears in 2018—a record number among the 9,652 personalized bears created by VITAS sewing volunteers in 14 states across the country.
National Volunteer Week (April 7–13, 2019) is an ideal time to highlight the contributions of all VITAS volunteers, who served 321,157 hours last year to help and bring comfort to 7,744 patients.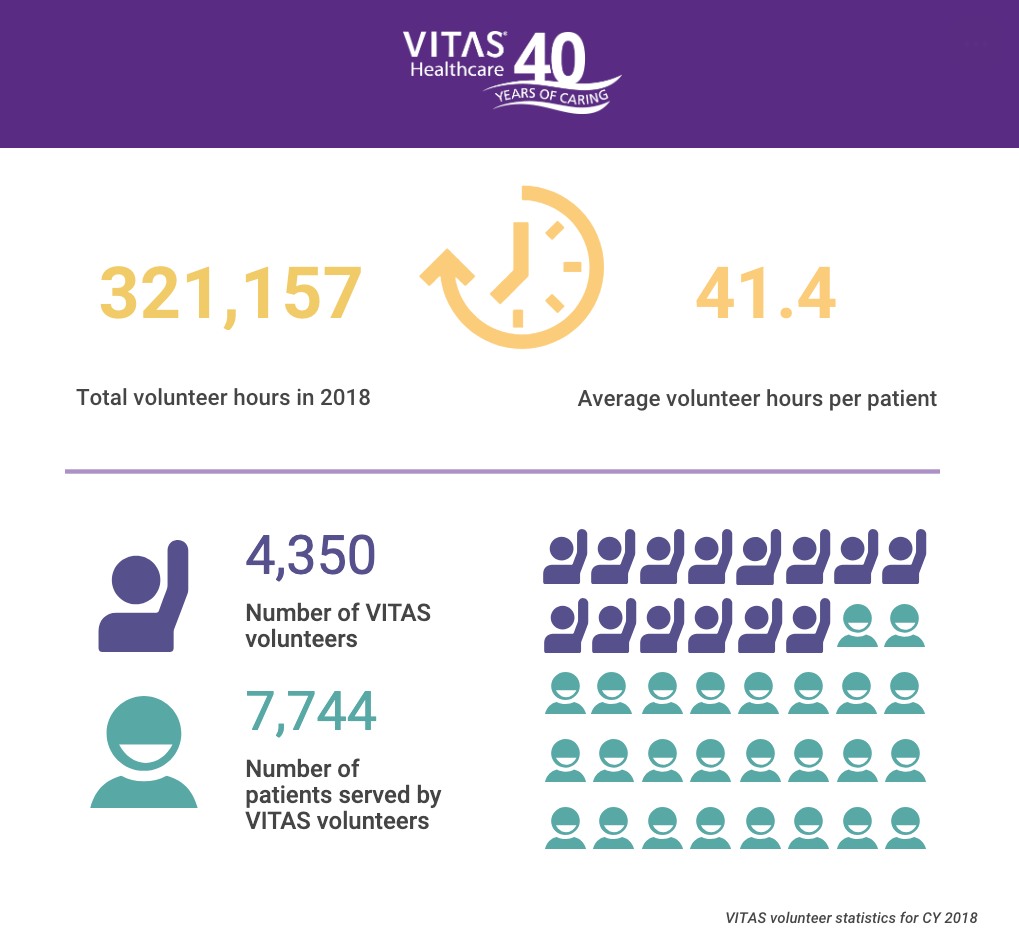 Our volunteers' dedication to patient-centered care breathes life into important VITAS initiatives, include facilitating Paw Pals® pet visits and taking patients near the end of life on outings, from their backyard to grocery shopping to a baseball game. VITAS volunteers also perform clerical activities, check on patients by phone and join patients in reminiscing.
Not to mention sewing thousands of Memory Bears.
Making a Memory You Can Hold
Why are the personalized bears so satisfying to make and so meaningful to families who receive them?
Pat Krolik, 78, is one of the reasons for Chicagoland South's success.
"I'm giving families what they need to help with their grief and recovery."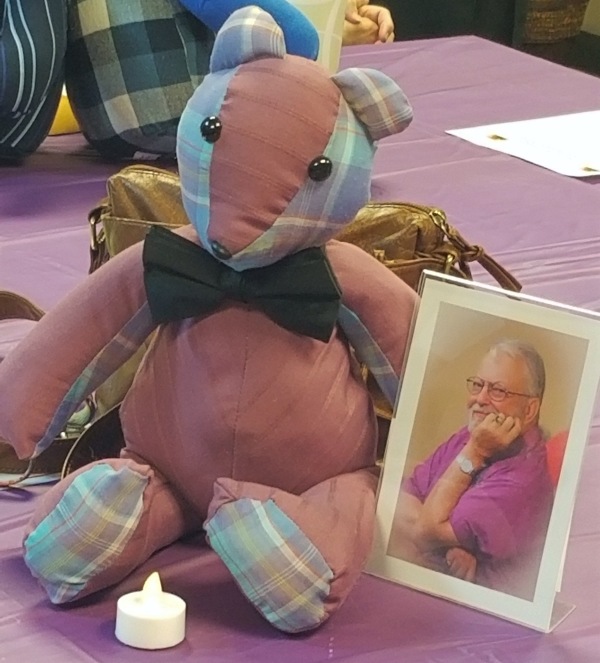 A VITAS volunteer since 2015, Pat relies on her trusty 34-year-old sewing machine to create about 200 Memory Bears a year.
Each one is personalized from favorite pieces of clothing or fabric provided by the family of a VITAS patient who has passed away.
"It's fun, it's relaxing and I enjoy it because I'm making beautiful things and memories for our families," says Pat. "I always see if there's something of significance in the clothing or fabric to become the focal point of the bear, because that's what defines the memories our families have."
"I want to maintain the picture that's presented by whatever the family gives me," she says. "It's a challenge for me, and it gives me satisfaction knowing I'm giving them what they need to help with their grief and recovery."
Here are the some of the custom bears Pat has created:
A bear for a police officer's family featuring his duty pins and police department insignia
A bear for a veteran, crafted from a fatigue jacket, with sleeve stripes indicating rank
A bear for a racetrack fan, sewn from a horse blanket
White Sox- or Cubs-themed bears for Chicago baseball fans
Talented VITAS Volunteers Make the Difference
"The work my sewing volunteers do is stunning," says Volunteer Manager Joanna Vorhees, who frequently scours her Illinois communities for volunteers who sew, crochet and knit. "They add pockets, little frills, tiny little bows, special buttons and personal touches. They take a few pieces of clothing and create bears that are sensational and meaningful. I'm very lucky to have these volunteers."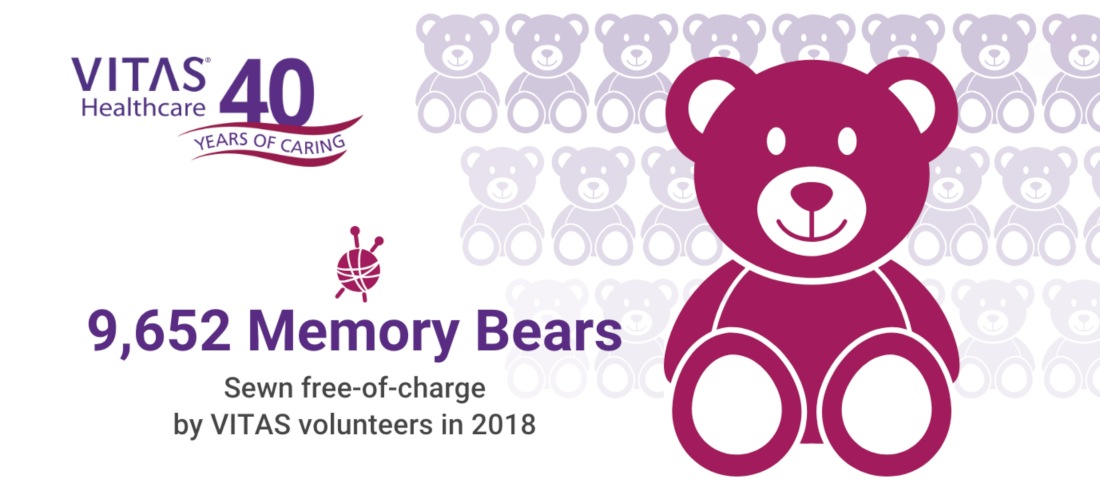 The Chicagoland South's 1,322 bears crafted by 12 volunteers ranked first among VITAS offices, followed by Central Florida (998 bears) and San Antonio (826 bears).
Become a hospice volunteer.
Memory Bear Reunions
Like many VITAS offices, Chicagoland South hosts Memory Bear reunions, and General Manager Cathy Carlson, RN, pointed out at the March 25 reunion that survivors look forward to the opportunity to meet and personally thank the volunteers who made their Memory Bears.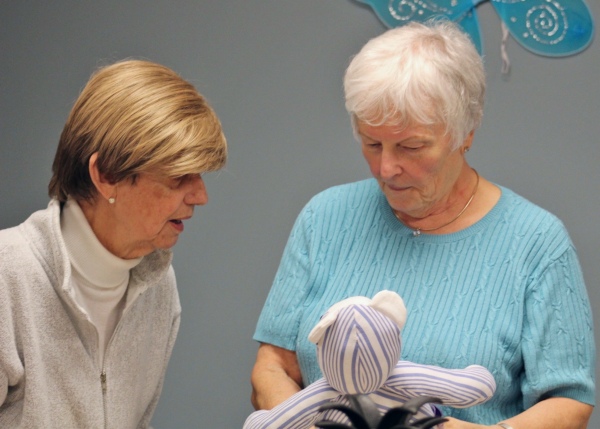 "It is always engaging to hear stories of how these precious volunteers have helped our families, how the volunteers found this avenue for service and how they approach the preparation of each bear," Cathy said. "They are the reason we do this … and we thank them for helping us extend compassion to our patients' families."
Says Pat of her bear-making skills: "I'll keep doing this as long as I can. It passes the time of day for me, and it gives someone else pleasure, knowing that they still have their family member with them."