VITAS Healthcare Sets Out on Community Support Tour Ahead of Hurricane Michael's Five-Year Anniversary
May 5, 2023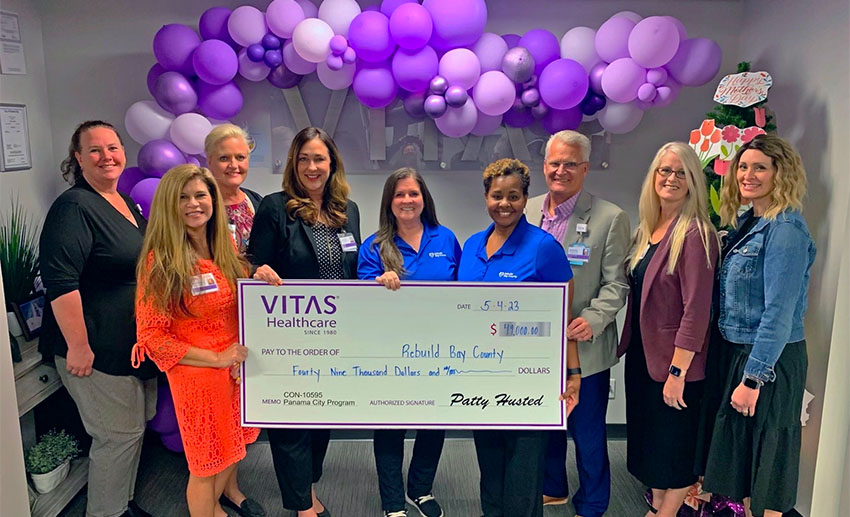 PANAMA CITY, FL—Nearly five years after tragedy struck Florida's Panhandle by way of Category 5 Hurricane Michael, the Panama City community continues to rebuild from the devastation. Much of the essential relief has come through area nonprofit organizations, and VITAS Healthcare is committed to ensuring their continued success through a community support tour.
Leaders from the local hospice provider will visit and extend grants to six area nonprofits, each serving a critical role in helping residents with resources and support to restore their future.
The first stop on the tour is Rebuild Bay County, an entity formed in response to the hurricane and its $25 billion worth of damage, uniting more than 70 nonprofit and faith-based organizations in coordinating case management for affected residents.
One of our values at VITAS is that we take care of each other.

-Jennifer Phillips, VITAS general manager
Rebuild Bay County and VITAS share a mission to support the resilience and quality of life of the Bay County community and beyond. Donated funds will help community members continue to repair and reestablish their lives.
"One of our values at VITAS is that we take care of each other. Three years ago, the Panama City community welcomed us with open arms, and we are here to help the continued growth since the hurricane's destruction," said VITAS General Manager Jennifer Phillips. "Our goal is to make access to quality healthcare easier for all of our families, friends and neighbors by offering comfortable end-of-life care, creating meaningful job opportunities and supporting valuable community partners."
Throughout the month, VITAS will meet with other local organizations that provided critical aid following the catastrophic event, such as The Salvation Army, Panama City Rescue Mission and St. Andrew Christian Care Center. Additional stops include foundations for Chipola College and Tom P. Haney Technical College to invest in the continued education of the area's future healthcare heroes.
For more than 40 years, Florida patients and their families have chosen VITAS for their compassionate end-of-life care. Since 2019, the nation's leading hospice provider has expanded its services to residents of Bay, Calhoun, Gulf, Holmes, Jackson and Washington counties. Operating from offices in Panama City, Marianna and Port St. Joe, VITAS teams care for seriously ill patients at home, wherever they call home, and in home-like settings such as the VITAS Suites at Community Health and Rehabilitation Center.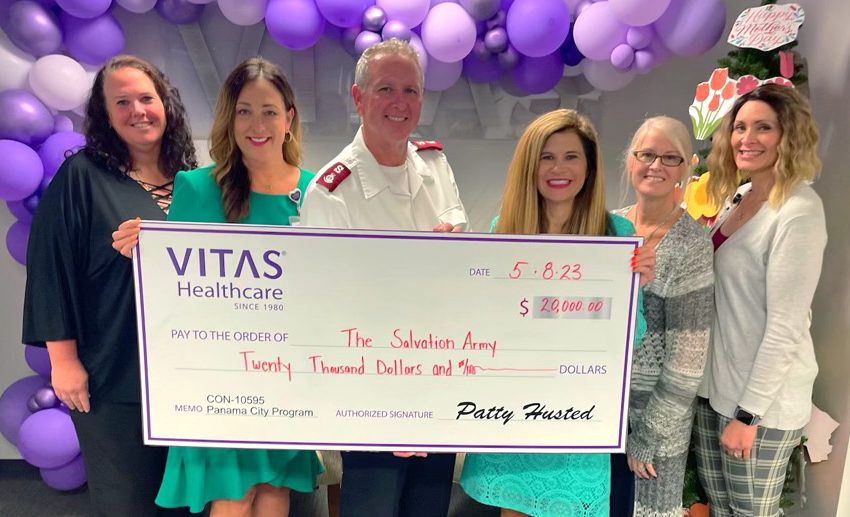 For media inquiries: