VITAS Healthcare Scholarship Recipient Making Strides to Change Perception of Hospice Amongst Haitian Community
08/10/2018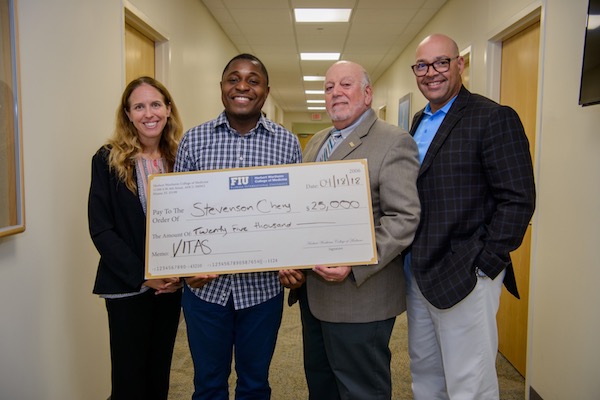 Stevenson Chery - 2018 scholar
Miami, FL - Stevenson Chery, a Haitian student who attended undergraduate college at the University of Florida, graduate school at the University of Central Florida and medical school at Florida International University, was recently awarded the 2018 VITAS Healthcare Scholarship.
The scholarship is designed to reduce the burden of medical education debt for a student at FIU's Herbert Wertheim College of Medicine (HWCOM) who successfully matched into a primary care residency program. Chery graduated in April 2018 and will continue his medical training in family medicine at Jackson Memorial Hospital. Chery was awarded the scholarship for the work he is doing to change the perception of hospice care among the Haitian and other minority communities in South Florida.
"While hospice and end-of-life care is widely accepted and appreciated in the U.S., there are still many other countries and cultures who still have a stigma with it. For example, many Caribbean cultures-- several of which are very common in South Florida-- find just talking about death taboo," said Chery. "Since South Florida is a melting pot with a variety of different cultures, I'm determined to educate diverse communities about the many benefits end-of-life care can bring to patients and families, and that it is a topic that should be talked about."
Changing the View of Hospice Care
VITAS Healthcare, the leading provider of end-of-life care in the United States, looks for scholarship recipients with a deep appreciation for the needs of terminally ill patients and their families through a submitted essay. In his winning essay Chery noted that during his upbringing death was the norm because life expectancy in Haiti is in the early to mid-50s, but death was never talked about. He experienced this first-hand when his family was shocked and despaired upon the death of his grandmother, even though she had been bedridden for two years. End-of-life care was not a topic he had even heard of prior to moving to the United States from Haiti in 2004.
He hopes to help change this view of hospice in other countries by incorporating end-of-life care into the services provided by KORE Haiti, a non-profit organization he and two of his classmates founded in their first year of medical school to sponsor medical mission trips to Haiti. The organization applies the concept of social determinants of health that the students learned at HWCOM, while offering health education and medical care to people who in many cases have never seen a doctor or health care provider.
"Stevenson has already identified that in his culture there is a need to prepare for end of life that is not being addressed, and how he is developing ways of meeting that need in a culturally appropriate manner," said Dr. Joel Policzer, VITAS senior vice president of medical affairs. "VITAS is honored to support incredible individuals, like Stevenson, who are proactively identifying new approaches to end-of-life care."
Chery plans to continue mission trips with KORE Haiti, and eventually integrate end-of-life care services and train other providers and healthcare professionals. The next medical mission trip to Haiti is scheduled for March 23-29, 2019. The trips typically consist of healthcare providers, medical students, pre-med students and other individuals with a heart to help. If you are interested in attending the upcoming KORE Haiti mission trip, visit www.korehaiti.org. VITAS understands the importance of being sensitive to and aware of different cultures so that the multidisciplinary teams can provide culturally appropriate interactions with patients and their families.