VITAS Accepts National Black Nurses Association's Care Resolution
11/16/2017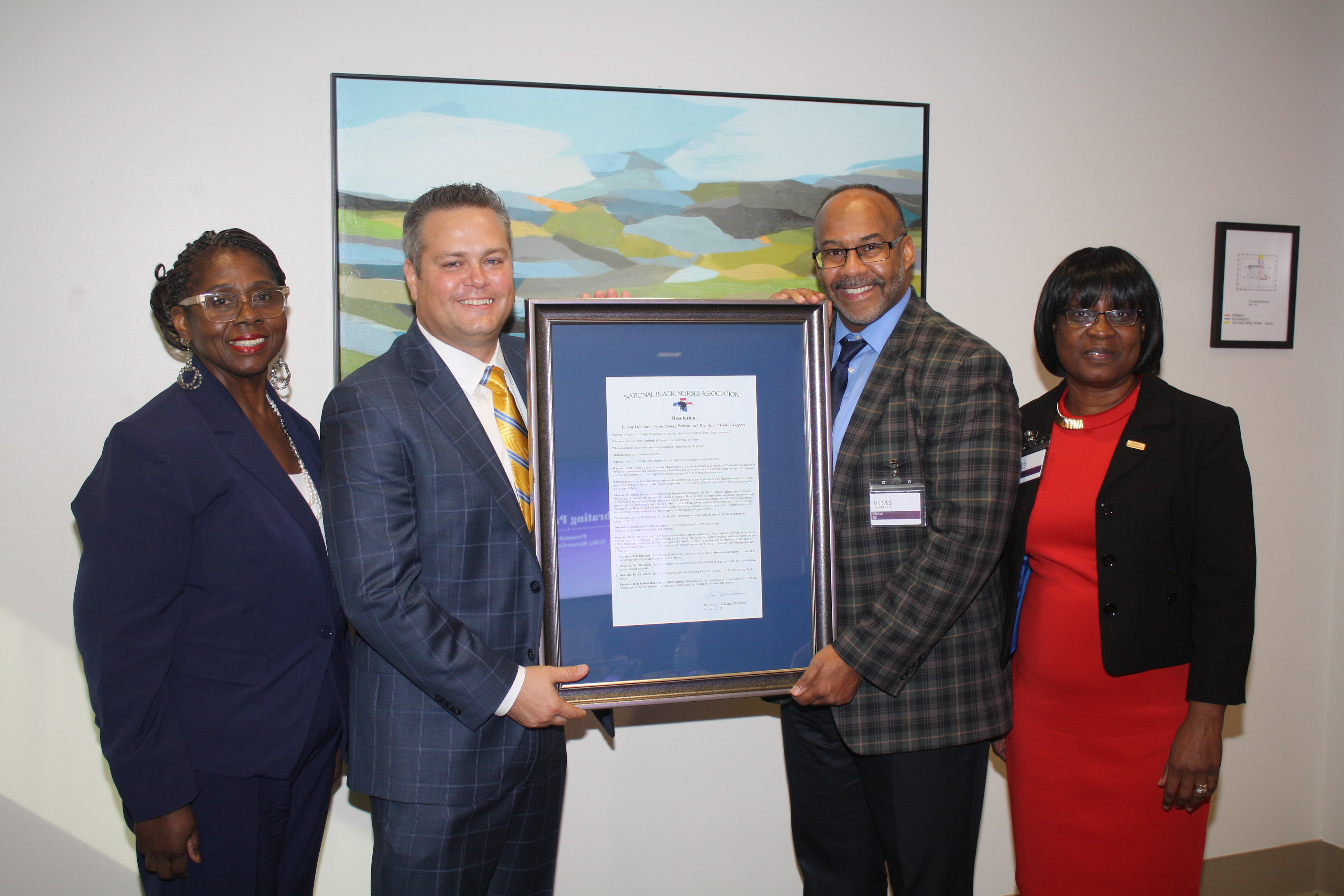 Board members of the National Black Nurses Association (NBNA) met with executive leaders of VITAS Healthcare, the nation's leading provider of end-of-life care, to present a joint resolution entitled "End-of-Life Care: Transitioning Patients with Dignity and Family Support." The resolution was first presented at the NBNA's Annual Institute and Conference in August in Las Vegas, Nevada.
Representing the NBNA at VITAS' Miami headquarters were board members Sheldon D. Fields, PhD, RN, FAAN, Dean and Professor, School of Health Professions at New York Institute of Technology; Martha Dawson, DNP, RN, FACHE, Assistant Professor and Coordinator of Nursing and Systems Administration at the University of Alabama at Birmingham School of Nursing, and Trilby Barnes-Green, RN, Telemedicine Triage Nurse, Accountable Care Division at Ochsner Hospital, New Orleans, LA. Together they presented VITAS CEO Nick Westfall, President David Wester and Vice President of Community Affairs Diane Deese a framed copy of the VITAS / NBNA resolution.
Recognizing a 14-Year Partnership
"This end-of-life resolution is representative of the supportive and organic 14-year partnership we have enjoyed with VITAS Healthcare. It also serves to advance NBNA's service activities, promotes education and research, and increases evidence-based practice around end-of-life care," said Dr. Dawson. Dr. Fields, representing NBNA president Dr. Eric J. Williams, noted the importance of "including end-of-life care in schools of nursing curricula to introduce students to palliative and hospice care early in their careers."
"VITAS is proud to be a long-time supporter of NBNA, working together to promote the importance of end-of-life care and to bring hospice services to underserved communities," said Diane Deese." This resolution is a declaration that all patients are entitled to appropriate, culturally sensitive end-of-life care options, and nurses have a significant role to play in providing that care."
Ms. Barnes-Green reviewed some NBNA program highlights that VITAS championed in many of their 100 chapters, such as Missing our Moms, Sons and Daughters Remembrance, Crossing Over Jordan, ELNEC Training, scholarships and other events. NBNA also acknowledged VITAS for their bereavement support to the City of New Orleans after Hurricane Katrina devastated the community. For that reason, the NBNA New Orleans chapter extended the "Keys to their chapter" and a proclamation by the New Orleans City Council to each VITAS executive. This special recognition was also extended to VITAS Executive Vice President Peggy Pettit, who is a lifetime member of the NBNA and was not present at the meeting.