There's a Great Story Behind National Skilled Nursing Care Week
05/13/2018
"Celebrating Life's Stories" is the 2018 theme of National Skilled Nursing Care Week (NSNCW), a celebration May 13-19 that shines a light on the diverse life stories and relationships that shape experiences within the nation's skilled nursing centers.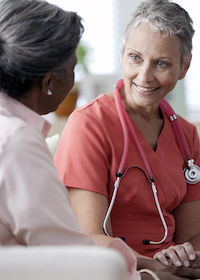 The weeklong celebration (formerly known as National Nursing Home Week) is an ideal time for residents, families, staff members and surrounding communities to tell and share their stories—a tangible way of recognizing the skilled nursing center's role in caring for the nation's seniors and people with disabilities.
VITAS thanks the hundreds of nursing homes and skilled nursing facilities across the country that allow us to listen to their residents' stories, share the VITAS story and provide compassionate hospice care for skilled nursing center residents near the end of life and the people who love them.
What's your story?
Find more about National Skilled Nursing Care Week 2018 at the American Health Care Association's website for NSNCW.