We Care for Veterans: VITAS Sponsors and Volunteers at 37th National Veterans Wheelchair Games
07/25/2017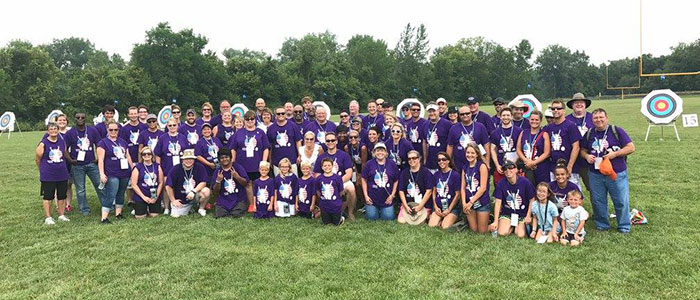 Click here to see a photo album of the archery event.
CINCINNATI - July 24, 2017 - Approximately 200 VITAS employees and their family members spent several hours on Saturday, July 22, helping run the archery event at the 37th National Veterans Wheelchair Games (NVWG) held in Cincinnati from July 17-22.
VITAS was a platinum-level sponsor for the NVWG, which is the largest annual wheelchair multi-sport and rehabilitation event in the world. The NVWG is open to U.S. military service veterans who use wheelchairs. Over 600 athletes competed in 19 sporting events, including basketball, quad rugby, power soccer, softball, swimming and weightlifting.
"As a leader in providing specialized care to veterans at the end of life, VITAS was proud to sponsor the National Veterans Wheelchair Games, especially since it took place in my hometown where our VITAS team and family members, myself included, had the opportunity to assist and support our veterans during the games," said Nick Westfall, CEO of VITAS Healthcare.
VITAS has a strong commitment to the veterans community across the United States, offering specialized care to veterans and their families, who have specific end-of-life needs often relating to combat and PTSD. Several of our hospice programs are certified by "We Honor Veterans," a pioneering program of the National Hospice and Palliative Care Organization (NHPCO) and the Department of Veterans Affairs (VA) focused on respectful inquiry, compassionate listening and grateful acknowledgment of veterans.
VITAS cares for veterans: Our Specialized Veterans Care
VITAS is the first healthcare sponsor in the 37 years of the NVWG that offers care specialized to veterans. VITAS Veteran Liaison Carole Quackenbush assisted during the archery and other events while providing support to the veterans participating.
"At VITAS, we take veterans care a step further," said Carole Quackenbush. "We believe all veterans need to be honored and shown respect for their service, commitment and duty. And it's never more important than at the end of life."
Quackenbush is also a member of the Military Order of Purple Heart Post 3620, whose 12 volunteers also helped with the archery event on Saturday, July 22.