VITAS Healthcare Redesigns Website to Enhance User Experience
The website's updated design and robust search function provides easier access to information on end-of-life care
03/27/2019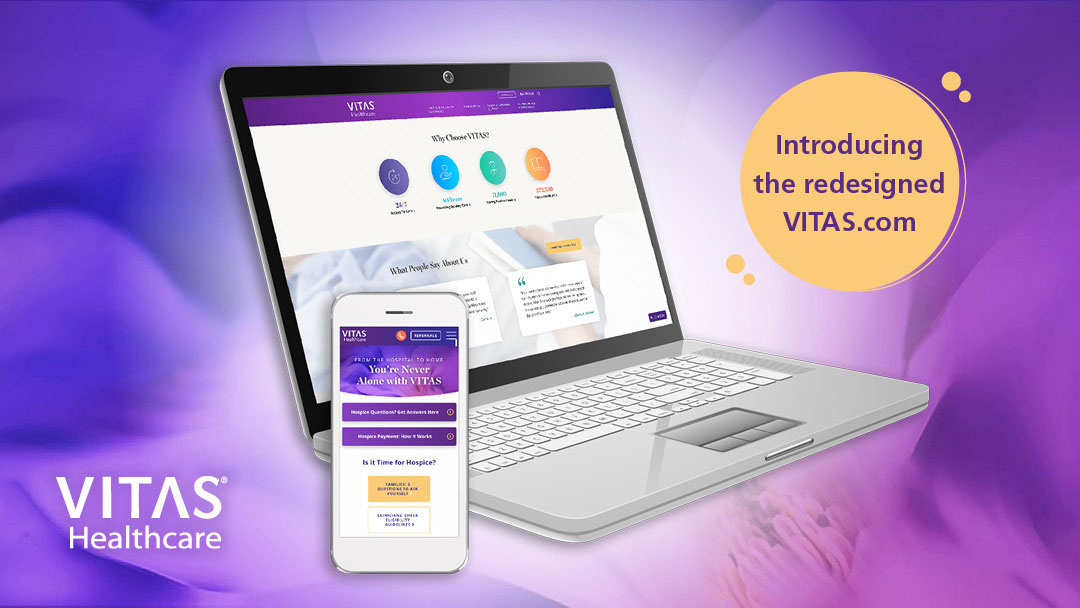 MIAMI, Fla. – VITAS® Healthcare, the nation's leading provider of end-of-life care, today launched its redesigned VITAS.com website with enhanced content, a cleaner design and improved functionality. The goal of the website redesign is to provide quicker and easier access to end-of-life information for the millions of healthcare professionals and families who use the site every year.
Configuration of the first phase of the new mobile-friendly site is the result of more than 18 months of extensive design and development work, including in-depth user testing, quantitative research, and qualitative review and reconfiguration of content to provide optimal user experiences.
This thoughtful approach resulted in improved navigation and an intuitive approach to content flow for patients, families, healthcare providers, VITAS partners and employment candidates.
Streamlined navigation enables website visitors to explore end-of-life information, find helpful resources, refer a patient, get in touch with a VITAS representative or apply for a career at VITAS. Content is continuously updated so that visitors have access to leading-edge VITAS resources about hospice and palliative care.
"Families want all the information they need at their fingertips. Physicians expect easy, secure and instant access to up-to-date clinical information. The new VITAS.com reflects and meets our visitors' demands for instant access and relevant content," said Drew Landmeier, senior vice president and chief marketing officer of VITAS Healthcare.
A seamless user interface and new key features help users access information on hospice and palliative care:
"We're always looking for opportunities to enhance patient experience and provide a seamless transition for people exploring end-of-life care options," said Landmeier. "By enhancing the website experience, patients and their families have easier access to the resources they need and a greater understanding of how VITAS can support them during this difficult time."