VITAS Healthcare Receives 2018 PEX Network Award for Mobile Solutions
01/29/2018
MIAMI, FL, January 28, 2018 –VITAS Healthcare, the nation's leading provider of end-of-life care, has won the 2018 Process Excellence Network (PEX) Awards in the Best Technology-Enabled Process Improvement Project category for its mobile solution to improve patient experience. This globally recognized award recognizes success in projects where processes are improved and enabled by technology. The announcement was made at OPEX Week: Business Transformation World Summit in Orlando, Florida.
VITAS' mobile solutions earned this award for successfully improving patient transition experience into hospice by putting mobile devices in the hands of field staff, making it easier and faster to relay important daily care information. At the OPEX Summit, Patrick Hale, chief information officer and executive vice president of VITAS, demonstrated how mobile solutions has helped reduce time and errors incurred during patient admission and increase the speed to bedside by VITAS clinicians. VITAS' mobile solution was judged on initial implementation success, future sustainability, governance, and business impact.
"We are honored to accept this award from one of the world's premier process improvement organizations," said Hale. "Our mobile solutions implementation was a true team effort, as the support and partnership of our programs and clinicians has been critical to our success. This award is another validation of our commitment to provide the highest-quality of care to our patients and their families, and I'm so proud to be part of this dedicated team of professionals."
VITAS partnered with Centric Consulting, a business consulting and technology solutions firm, to support the development and implementation of their mobile technology.
VITAS award-winning mobile solutions presentation, "Improving Patient Experience Through Mobile Technology" (click for larger):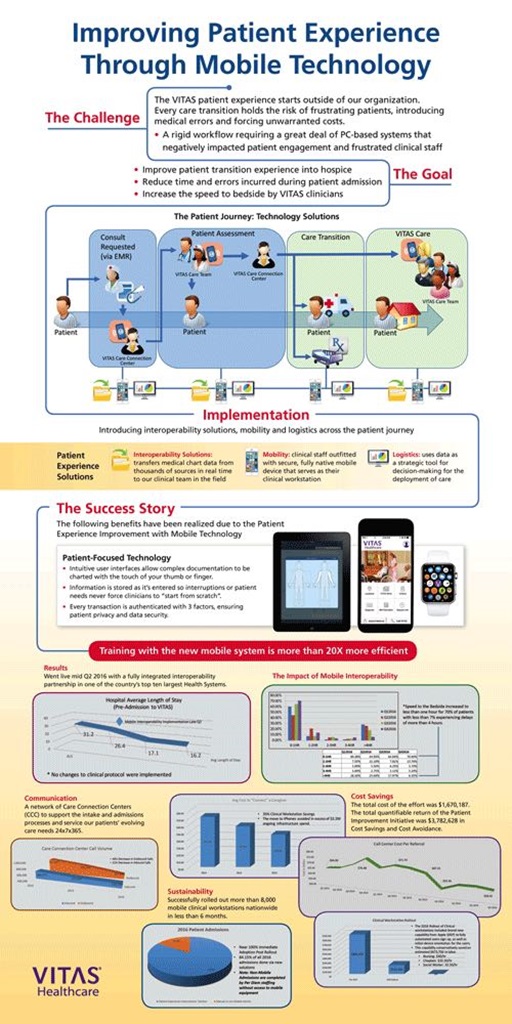 VITAS Healthcare
VITAS Healthcare, a pioneer and leader in the hospice movement since 1978, is the nation's leading provider of end-of-life care. Headquartered in Miami, Florida, VITAS (pronounced VEE-tahs) operates 45 hospice programs in 14 states (California, Connecticut, Delaware, Florida, Georgia, Illinois, Kansas, Missouri, New Jersey, Ohio, Pennsylvania, Texas, Virginia and Wisconsin) and the District of Columbia. VITAS employs 11,621 professionals who care for terminally ill patients daily, primarily in the patients' homes, but also in the company's 29 inpatient hospice units as well as in hospitals, nursing homes and assisted living communities/residential care facilities for the elderly. At the conclusion of the third quarter of 2017, VITAS reported an average daily census of 16,726.
About Centric Consulting
Centric Consulting is a business consulting and technology solutions firm providing full-service consulting services. Centric's expert consultants help clients tackle their toughest business challenges with innovative, balanced, and measurable solutions. With more than 700 employees in 13 cities in the U.S. and India, Centric is known for helping clients drive operational efficiency, improve customer service, and increase profitability. Centric was founded in 1999 and is a privately owned company. Centric Miami specializes in diverse business offerings – from multi-year technology implementations to business process improvement consulting services with quick turnarounds.