VITAS Healthcare Earns American Heart Association Certification in Atlanta
Evidence-based guidelines direct the care processes for patients with heart failure
June 28, 2023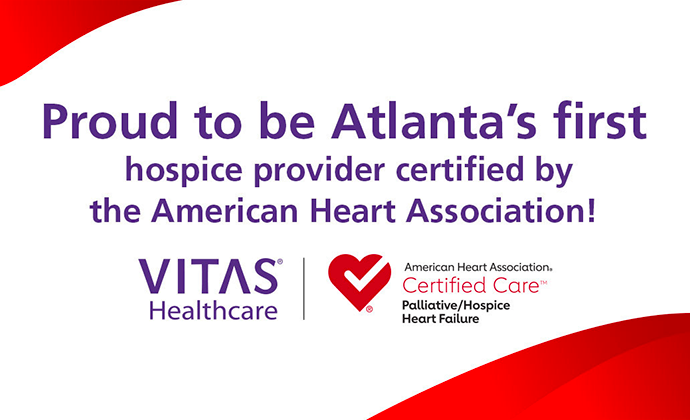 ATLANTA, GA—Patients with end-stage heart failure can be confident they are receiving high-quality hospice care when they choose VITAS Healthcare in Atlanta. Effective May 2023, VITAS has earned Palliative/Hospice Heart Failure certification from the American Heart Association®, the world's leading nonprofit organization focused on heart and brain health for all. VITAS is the first hospice organization in the state of Georgia to earn this certification.
In recognition for gold-standard hospice and palliative care, this certification affirms that VITAS services for advanced cardiac disease align with the professional evaluation criteria supported by the American Heart Association. The certification provides an evidence-based framework for evaluating palliative and hospice care agencies against the Association's rigorous science-based standards for heart failure patients.
"This certification helps assure patients and families can have confidence that their end-of-life heart failure care is coordinated and follows the latest evidence-based guidelines," said Rabia Malik, MD, American Heart Association volunteer expert and associate medical director at Anthem. "We're pleased to have VITAS Healthcare join the national network of American Heart Association Palliative/Hospice Heart Failure certified agencies."
Hospice serves a critical need for heart failure patients nearing the end of life.
"Research demonstrates that only about 10% of patients who die from heart failure access the hospice benefit," said Joseph Shega, MD, VITAS executive vice president and chief medical officer. "VITAS independently developed a heart failure program to address this need. We then expanded it to meet the rigorous criteria put forth with the American Heart Association certification. Our hope is that the long-standing reputation of the Association, combined with our four-plus decades of experience in end-of-life care, will help clinicians, patients and families become more comfortable with hospice services and benefit from person-centered, evidence-based care."
The certification processes are robust, comprehensive and complete. To become certified, the Association reviews documents and performance metrics for every part of the care process for heart failure. Six key areas include program management, personnel education, patient and caregiver education and support, care coordination, clinical management and performance improvement. A live presentation with a review board is also required. The application and certification process took VITAS about six months to complete.
Hospice care has been proven to enhance the quality of life for individuals across a multitude of serious illnesses, including heart disease. New research from NORC at the University of Chicago shows that greater utilization of hospice during the last six months of life is associated with increased satisfaction, improved pain control and reduced physical and emotional distress for patients and their loved ones.
VITAS has been providing compassionate care to hospice patients and their families in Atlanta for 19 years. VITAS care teams deliver comfort to patients throughout 18 counties of Metro Atlanta, wherever they call home—in a nursing home, assisted living or long-term care community or private residence.
For media inquiries: