VITAS Healthcare Donates $10,000 to Help Homeless in Stuart Following Hurricane Dorian
The donation to Love and Hope in Action (LAHIA) will impact 750+ homeless and/or indigent people living in Martin County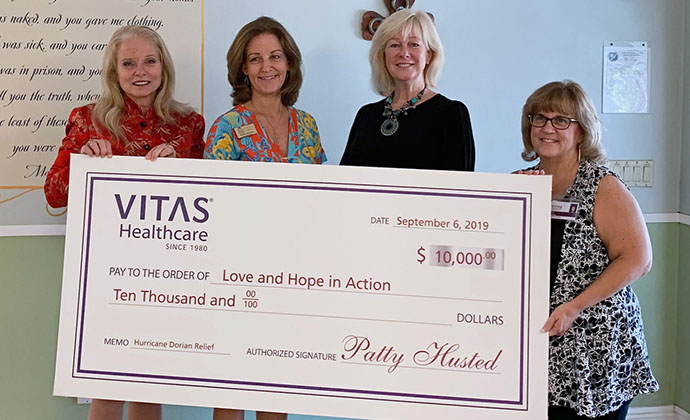 09/06/2019
Miami, Fla. – VITAS Healthcare, the nation's leading provider of end-of-life care, recently donated $10,000 to support LAHIA, a faith-based 501(c)(3) non-profit organization working to reduce hunger and mitigate serious health and safety risks for adults and families who are homeless and/or indigent living in Martin County, Florida.
"When we became aware that LAHIA had very limited supplies to help families impacted by Hurricane Dorian, we knew we had to step in and uphold VITAS' core value of 'we take care of each other'," said Patty Husted, executive vice president of operations for VITAS Healthcare. "We've only been in the Treasure Coast area a short time, but we wanted to do something to give back to the community that welcomed us with open arms."
Martin County, although one of the wealthiest counties in Florida, has major poverty and homeless issues; nearly 18,000 people (12 percent of the population) live below the poverty line. As of January 29, 2019, 1,499 individuals were counted as homeless on the Treasure Coast.
LAHIA offers a comprehensive array of programs to help the local homeless and/or indigent population meet basic needs and assists them with a plan to reach self-sufficiency. In 2018, the organization helped more than 400 people, served 31,051 meals, provided 12,400 showers, did 2,200 loads of laundry and supported 48 people move out of homelessness to start a new journey or reunite with family. So far in 2019, over 350 brand new people have gone through the LAHIA intake process in search of necessary resources to move forward.
In July 2019, VITAS opened its first office in Stuart and now has the capability to serve patients in Martin, Okeechobee and St. Lucie counties. With nearly 6,500 healthcare and corporate professionals employed by VITAS in Florida who care for more than 10,000 patients daily, the company is committed to supporting and strengthening the communities it serves.
VITAS has been a pioneer in hospice care since 1978.