VITAS Healthcare Boosts Heart Care and Education in Florida's Lake and Sumter Counties with $50,000 Donation
11/12/2018
In its first year of operation in Florida's Lake and Sumter counties, VITAS Healthcare, the nation's leading provider of end-of-life care, is partnering with the American Heart Association (AHA) to promote community education and awareness about cardiovascular disease, risks and prevention.
On Saturday, November 3, 2018, VITAS presented a $50,000 grant to the AHA during Heart Walk Greater Orlando, just one of the cardiac initiatives VITAS of Lake-Sumter is bringing to the community. The funding will be disbursed over three years and includes an initial installment of $17,500.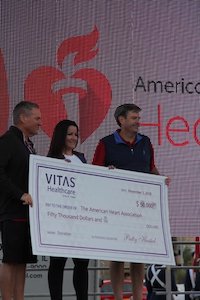 "The American Heart Association looks forward to working with VITAS to build Heart Healthy programs right here in our community," said Joey Conicella, senior director for the American Heart Association of Greater Orlando. Possibilities include health screenings and challenges, a cooking class, CPR education and wellness symposiums.
Read more about our Lake-Sumter location.
In addition, all VITAS nurses, social workers and chaplains employed by the Lake-Sumter hospice provider are trained in cardiac comfort care, a VITAS program that improves the quality of life for hospice patients with heart disease.
To tailor the cardiac program to local patient needs and gauge its success, VITAS invites local cardiologists and their staff to periodic meetings to evaluate the program and provide feedback on how VITAS can best address the needs of patients with serious progressive heart disease, including congestive heart failure.
"Heart disease has unique symptoms and travels a unique course," says Patty Husted, VITAS executive vice president. "VITAS is committed to bringing the right care to patients near the end of life. By supporting education and outreach, we also seek to promote the heart health of the community and help the American Heart Association meet its mission of building healthier lives, free from cardiovascular disease and stroke."
Since January 2018, VITAS interdisciplinary hospice teams have been bringing services to the homes of patients and their families in Lake and Sumter counties. VITAS has an office in Eustis located at 127 North Bay Street, Suite 200.