VITAS Gives Thanks to Veterans on Veterans Day
11/11/2018
Watch Helen Bachman, a VITAS patient, share her story about serving in the U.S. Navy during WWII.
VITAS® Healthcare ensures that our military veterans are honored and cared for every day. But on November 11, we join the country in giving special thanks to those who have sacrificed so much for their fellow citizens.
At VITAS, we understand that veterans often face unique healthcare challenges related to their service experience.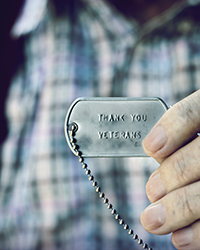 When a veteran becomes a VITAS patient, we learn about their military history to determine how best to provide the care they need, whether their injuries are physiological, psychological, emotional or spiritual.
Our interdisciplinary teams are trained to understand veterans' issues and provide compassionate care, and our veteran liaisons guide veterans and their families through the VA system to help them secure every benefit they have earned.
Veterans Day 2018, we are honored to give back to the men and women who have given so much. Learn how VITAS helps veterans achieve greater quality of life near the end of life.