Now Open: VITAS Suites at The Plaza Health and Rehabilitation Center in Gainesville
January 13, 2020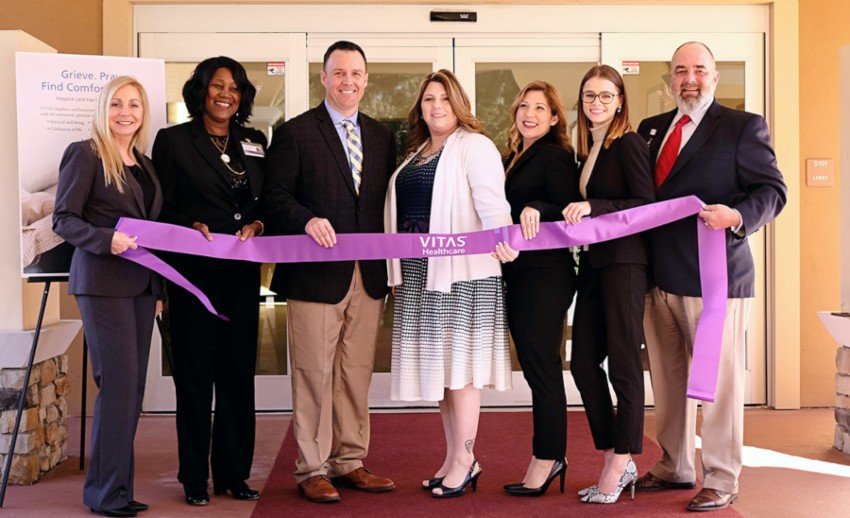 GAINESVILLE, FL – VITAS® Healthcare, the nation's leading provider of end-of-life care, celebrated the opening of the new VITAS Suites at The Plaza Health and Rehabilitation Center in Gainesville on Wednesday, January 8, 2020. The opening marks the company's second inpatient hospice care location in the Nature Coast region.
Healthcare professionals may contact the new location at 386.320.5501 for referral information or download the VITAS mobile app for secure, one-touch referrals, VITAS locations and interactive hospice eligibility guidelines.
"Our expansion into Gainesville is exciting, as it allows us to provide comprehensive medical care and support for greater numbers of patients and families at the end of life," said Karyn Brinkley, general manager of VITAS in the Nature Coast. "Having another option for inpatient care in VITAS' newest service region will help us meet the needs of patients with aggressive symptoms while reducing the burden on their families and caregivers."
To celebrate the expansion, VITAS staff members and executives hosted an open house and ribbon-cutting ceremony for healthcare professionals and local business owners on the day of the grand opening. VITAS representatives showcased specialty services available to its patients and the community, including bereavement support and veterans' services. Gainesville's Mayor Lauren Poe and the Greater Gainesville Chamber attended the event.
VITAS Suites offers a temporary home away from home for patients near the end of life, along with their families, when symptoms become too much to manage in their preferred setting of care. There, they'll receive 24/7 care from an interdisciplinary VITAS team comprising a physician, nurse, hospice aide, social worker, chaplain, volunteer and bereavement expert who attend to the medical, emotional, social and spiritual needs of patients and their families.
Operating offices in High Springs and Lecanto since 2018, VITAS provides quality compassionate care to terminally ill patients throughout 12 counties in and around the Nature Coast, from Bradford and Citrus to Suwannee and Union. In addition to the new VITAS Suites location, patients whose symptoms cannot be managed at home may receive comfort-focused care at the VITAS Inpatient Hospice Unit of Citrus County in Lecanto.
Is your patient ready for hospice?