VITAS Completes Renovations for Hospice Facility in West Allis, WI
February 28, 2023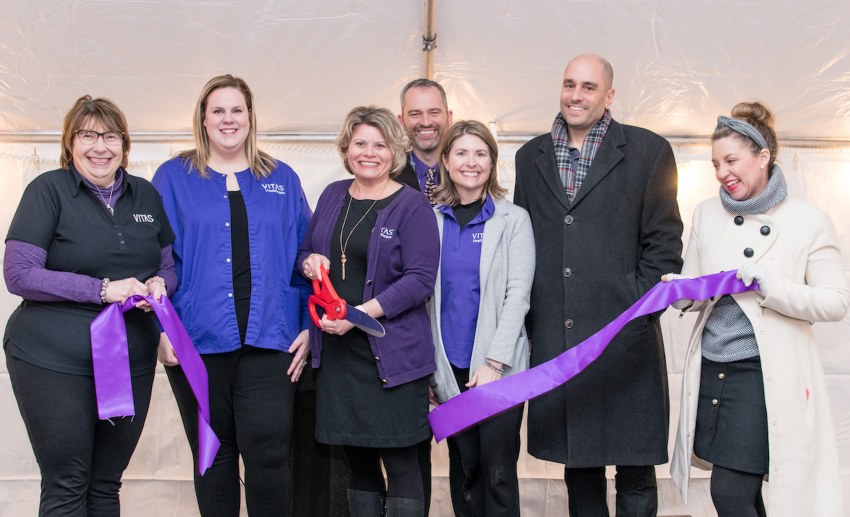 MILWAUKEE, WI — The healthcare community celebrated the newly renovated VITAS Healthcare Inpatient Hospice Unit (IPU) at Ruth Hospice on February 23. Located in West Allis, the IPU is a warm, welcoming place staffed with trained experts who provide compassionate care to more than 200 local hospice patients and their families each year.
"VITAS is committed to providing the best end-of-life care to our patients and their families. This includes investing in our care centers to ensure our patients are comfortable and feel at home," said Carrie Schepp, general manager for VITAS in Milwaukee. "The substantial updates to this inpatient unit make it even more family-friendly, restful and home-like for patients."
Partnering with local contractors, the self-funded facelift features an expanded and remodeled kitchen, a snack bar with living room area for family gatherings, and new paint, lighting, furniture and artwork.
The substantial updates to this inpatient unit make it even more family-friendly, restful and home-like for patients.

-Carrie Schepp, VITAS general manager
Healthcare practitioners and the general community are invited to visit the renovated IPU, located at 8300 West Beloit Road, and learn about the unique services the nation's leading provider of end-of-life care offers to patients and families.
VITAS IPUs provide a temporary home away from home for hospice-eligible patients when symptoms can no longer be managed in their preferred setting of care. The IPU in West Allis offers 10 private patient rooms, a shared family room and kitchen, a private quiet room for prayer and reflection, overnight accommodations for visitors, an outdoor area and activities for children.
Patients receive 24/7 quality care from an interdisciplinary VITAS team comprised of a physician, nurse, social worker, chaplain, volunteer and bereavement expert. Together, the team attends to the medical, emotional, social and spiritual needs of patients and their loved ones.
The ranch-style home setting is designed to offer comfort to patients during this vulnerable time in their life. Unique care services offered at the Milwaukee IPU include:
Respiratory therapy
Nationally recognized veterans program
Paw Pals® visits from loving animals and their volunteer owners for comfort
Memory Bears sewn by VITAS volunteers from loved ones' clothing or other fabric
Since its opening in 1994, VITAS has been long valued by the Milwaukee community, providing pain and symptom management to patients and support for their loved ones before and after death.
To make a seamless and secure referral 24/7, clinicians can download the VITAS Healthcare mobile app, which includes interactive hospice eligibility guidelines. VITAS experts are also available 24/7 at 800.93.VITAS.
For media inquiries: