The Dream Lives On: Celebrating Martin Luther King Jr. Day 2019
01/21/2019
On January 21, 2019, VITAS honors the Rev. Dr. Martin Luther King Jr. and his legacy of civil rights and equity for all Americans.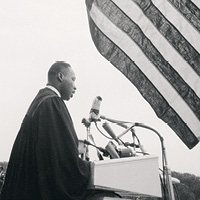 Martin Luther King Jr. Day provides an opportunity for us all to reflect on the contributions and vision of King, whose life was dedicated to righting social wrongs until his assassination in 1968. King believed that any injustice, no matter where or to whom, was a threat to justice everywhere, and he routinely advocated for and exercised nonviolent direct action as a response to injustice.
In a 1957 speech to an audience in Montgomery, Alabama, King stated "Life's most persistent and urgent question is, 'What are you doing for others?'"
At VITAS, our values reflect our commitment to closing the gap between King's ideal world as presented in his famous 1963 "I Have a Dream" speech and the real world of today. They are:
Patients and families come first.
We take care of each other.
I will do my best today and do even better tomorrow.
I am proud to make a difference.