Terry Holecek Elected Vice Chairman of the Ohio Board of Executives of Long-Term Services and Supports
06/05/2017
VITAS Healthcare Vice President of Operations Terry Holecek was elected vice chairman of the Ohio Board of Executives of Long-Term Services and Supports (BELTSS) at the June 2017, board meeting.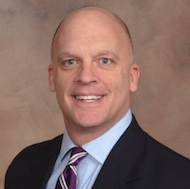 Appointed to the board by Governor John Kasich in November 2015, Terry represents home- and community-based services on BELTSS, the licensing board in Ohio for nursing home administrators.
A licensed nursing home administrator, Terry has more than 25 years of multi-state operational and strategic business development experience in skilled nursing center, senior living and hospice operations.
Terry oversees VITAS hospice operations for VITAS in Connecticut, Northern Virginia, and Washington, D.C.
Terry received his bachelor's and master's degrees in gerontology with a concentration in long term care administration from Kent State University, Kent, Ohio.