National Pearl Harbor Remembrance Day 2017: Take Time on December 7 to Honor All Veterans
12/07/2017
The famous military battle known as Pearl Harbor occurred 76 years ago, yet December 7 continues to live in infamy.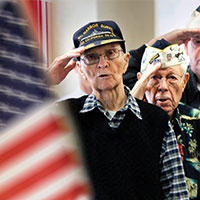 Even in 2017, the casualty numbers as a result of the Imperial Japanese Navy Air Service's surprise bombing of the U.S. Pacific fleet in Hawaii are staggering:
2,403 service members and civilians killed
1,178 injured
2 battleships sunk
188 aircraft destroyed
Since 1994, December 7 has been designated National Pearl Harbor Remembrance Day, a time for all Americans to honor the men and women who fought, were injured or died in the battle that marked U.S. entry into World War II.
Though only a handful of veterans who were stationed at Pearl Harbor in 1941 are still alive, December 7 remains a day to honor all who veterans who have served our country and to thank active military personnel who continue to serve. VITAS offers veterans hospice care that honors their military experiences and their unique medical, emotional and spiritual needs at the end of life.
Remembering is important; so is remembering to care about those who have gone above and beyond the call of duty on behalf of all Americans.
See more: How VITAS Is Caring for Veterans