National Hospice and Palliative Care Month 2018
11/02/2018
November is extra special at VITAS because it is the month that celebrates our medical specialty: National Hospice and Palliative Care Month.
The 2018 theme established by the National Hospice and Palliative Care Organization (NHPCO) is "My Hospice: A Program That Works. A Benefit That Matters," a recognition of the medical establishment's increasing interest in the 35-year-old hospice model, adopted as a standard Medicare benefit in 1982. Patient-centered care is provided by a specially trained hospice team—nurse, physician, aide, social worker, chaplain, bereavement specialist and volunteer.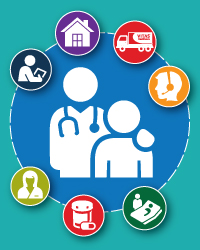 Most hospice care is provided at home, where patients are surrounded and supported by family members, friends and caregivers. Guided by patients' end-of-life wishes, the team focuses on pain relief, symptom management, and psychosocial/emotional support in pursuit of quality of life at the end of life.
VITAS agrees with NHPCO, sponsor of this monthlong event: "In an increasingly fragmented health care system, hospice shows how health care can—and should—work at its best."
Consider doing your part to support hospice patients and their families during November by making a tax-deductible donation to the nonprofit VITAS Community Connection, a 501(c)3 charitable organization that supports hospice patients' needs (e.g., travel expenses, rent, utility bills) and provides grants to community partners that also provide aid to hospice patients and families.