Inpatient Hospice Care Comes to Florida's Treasure Coast with VITAS Suites at Tiffany Hall
March 23, 2020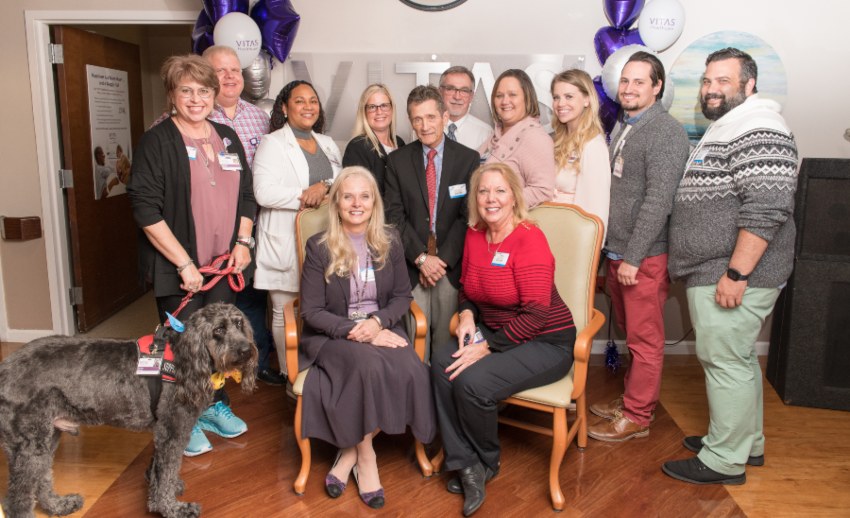 PORT ST. LUCIE, FL – VITAS Healthcare, the nation's leading provider of end-of-life care, celebrated the grand opening of its new VITAS Suites at Tiffany Hall Nursing and Rehabilitation Center in Port St. Lucie, Florida, and is now accepting hospice-eligible patient referrals.
Healthcare professionals may download the VITAS mobile app for one-touch referrals, VITAS locations and interactive hospice eligibility guidelines. Referral information is also available 24/7 at VITAS.com and by calling 800.582.9533.
Refer Online: Quick, Secure and Simple Referral Form >
The VITAS Suites at Tiffany Hall, located at 1800 SE Hillmoor Drive, provides inpatient care to patients whose symptoms and pain can no longer be managed at home or in their preferred setting. The interdisciplinary VITAS team–including a hospice physician, nurse, social worker and chaplain–manages symptoms, addresses pain and provides physical, psychosocial and spiritual support to hospice patients and their families.
Port St. Lucie Mayor Gregory Oravec and other community organizations joined VITAS staff for a ceremonial ribbon-cutting in February.
"We are extremely grateful for the support we have received from the Treasure Coast community, and we appreciate our healthcare partners' commitment to support our continued growth," said Susan Acocella, general manager of VITAS in the Treasure Coast, which opened in July 2019 for patients in Martin, St. Lucie and Okeechobee counties.
The VITAS Suites at Tiffany Hall is projected to care for more than 400 patients each year. When symptoms are controlled, patients return to routine VITAS care wherever the patient calls home.
The quiet, homelike VITAS Suites environment reduces stress for fragile patients and anxious families. It offers space for family gatherings, prayer or meditation, children, pets and more. Across from St. Lucie Medical Center, VITAS Suites at Tiffany Hall features six semi-private rooms that accommodate up to 12 patients. Family members can take advantage of recliners and a shared kitchen, family room, children's and outdoor areas.
VITAS provides hospice services with additional support from Paw Pals® pet visits, alternate therapies such as aromatherapy and veteran-specific care to meet the unique needs of veterans. Families can take advantage of overnight accommodations, computer and internet access, 24-hour visitation and free parking.
Serving the Treasure Coast since July 2019, VITAS provides compassionate end-of-life care to patients and families in their homes from its offices in Stuart and Port St. Lucie, now supported by care at VITAS Suites at Tiffany Hall Nursing and Rehabilitation Center.
Contact the VITAS care team near you.