In March, VITAS Elevates Our Outstanding Social Workers
03/01/2019
During March, VITAS Healthcare recognizes Social Work Month, a time to thank and honor the nation's 680,000 social workers who help elevate vulnerable individuals, families and communities.
Accordingly, the 2019 theme for the month is "Elevate Social Work."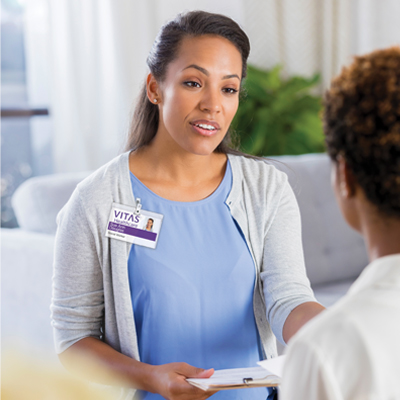 VITAS hospice social workers are crucial members of every VITAS interdisciplinary team.
They help patients and families navigate the logistics, paperwork and financial issues associated with end-of-life care, Medicare and the aftermath of a loved one's death. They make sure patients' and families' concerns are understood and that their wishes are adhered to. They listen carefully and help patients and families connect with community resources, make funeral arrangements and acquire grief support.
Outside of hospice, social workers can be found wherever the social welfare of individuals, families or communities is at risk. Whether they're providing emotional support, managing resources or coordinating services for vulnerable populations, social workers rarely play just one role in any given position.
Our social workers make hospice more accessible and less overwhelming for patients and families every day.
At the end of life, there's no better advocate to elevate your needs and wishes than a VITAS social worker.
Get a summary of how VITAS provides hospice care.