VITAS Commemorates Children's Grief Awareness Day 2017
11/16/2017
Their grief may be invisible, but it can't be ignored. That's why VITAS commemorates Children's Grief Awareness Day.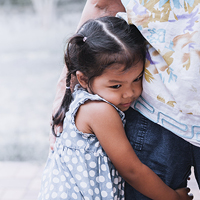 It happens every year on the Thursday before Thanksgiving (November 16, 2017), because the winter holiday season, filled with traditions and food and loved ones, is so memorable to children, and so vulnerable to their sadness.
But the message of Children's Grief Awareness Day is for adults: Just because a child is giggling, or lost in a world of play, or being self-absorbed doesn't mean they are unaware of their own loss and the sadness of others. Children process events differently than adults, but their feelings of grief, loss and isolation are real, and they need adults to understand and meet them where they are.
VITAS has been supporting grieving families for 40 years, and offers free grief support groups open to anyone in the community. Learn more on VITAS Healthcare's grief and bereavement resources pages. Learn more about Children's Grief Awareness Day.