Healthcare Professionals Can Hone Advance Care Planning Skills At April 15 VITAS Webinar
April 2, 2020
MIAMI, FL – In advance of National Healthcare Decisions Day on April 16, VITAS Healthcare offers two tools to help the nation's physicians and healthcare professionals "have the conversation" with seriously ill patients and families about their goals and options for care.
VITAS, the nation's leading provider of end-of-life care, will host an April 15 webinar on advance directives and advance care planning (ACP). The hospice provider also encourages physicians to adopt the six-step SPIKES protocol* to guide challenging-but-necessary conversations with patients and families about disease progression and care preferences.
"Talking honestly with patients, especially when the conversation involves difficult news or equally difficult decisions about end-of-life care, is one of the most essential activities for any physician, no matter how emotional or uncomfortable," says Dr. Joseph Shega, senior vice president and chief medical officer for VITAS. "These conversations lead to patient-centered care, more trusting doctor-patient relationships, timelier hospice referrals and improved patient and family satisfaction with their care."
Tool #1: VITAS webinar
Physicians, nurses, social workers, case managers and nursing home administrators can register now for the live continuing-education webinar on "Advance Directives and Advance Care Planning" (Wednesday, April 15 at 12 pm ET, 9 am PT). Hosted by Dr. Heather Veeder, VITAS medical director, the conversation will:
Provide practical advice for initiating and completing conversations with patients and families/caregivers, based on their wishes, values and preferences for care near the end of life
Offer details on ACP reimbursement and ACP's impact on healthcare metrics
Explore the history, contemporary use of and types of advance directives
Tool #2: SPIKES protocol
VITAS also promotes the value of SPIKES, a six-step process developed in 2000 at MD Anderson Cancer Center in Houston, Texas, to provide clear directions for intense-but-rewarding conversations between doctors and their patients/families. The six-step SPIKES process involves:
Setting: Choosing a private, comfortable, non-threatening environment to hold the conversation with family/significant others
Perception: Assessing what the patient understands about their health, diagnosis and prognosis
Invitation: Obtaining the patient's permission to receive more information willingly
Knowledge: Offering facts about the disease and care options, based on the patient's/family's ability to receive and understand it
Emotions: Acknowledging emotions and responding with empathy
Strategy & Summary: Summarizing the news and determining a strategy for how to proceed, based on the patient's willingness and state of mind
"We encourage our colleagues and peers to explore patients' values, preferences and goals of care, and we invite them to rely on our expertise in comfort-focused hospice and palliative care to support symptom management, pain relief and quality of life near the end of life," said Dr. Shega.
National Healthcare Decisions Day is a national program sponsored by The Conversation Project and intended to "inspire, educate and empower the public and (healthcare) providers about the importance of advance care planning," according to its website.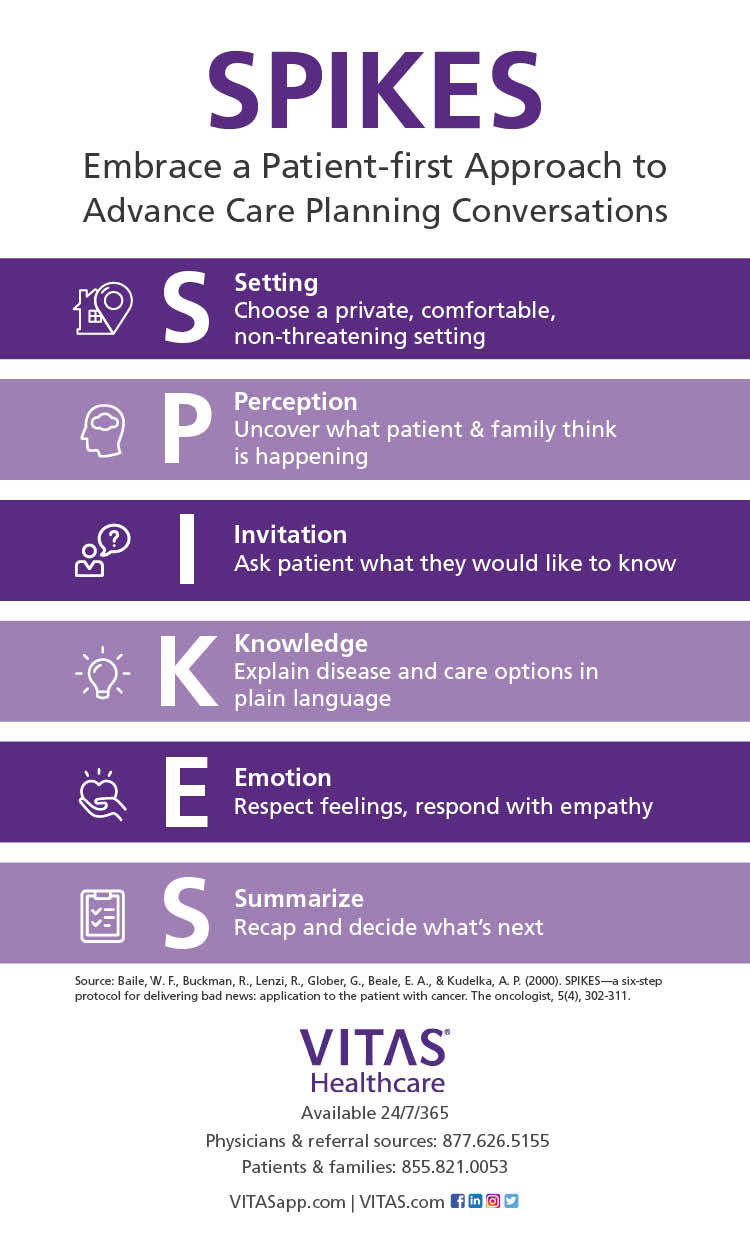 *Baile, W. F., Buckman, R., Lenzi, R., Glober, G., Beale, E. A., & Kudelka, A. P. (2000). SPIKES—a six-step protocol for delivering bad news: application to the patient with cancer. The oncologist, 5(4), 302-311.
Is your patient ready for hospice?