Hospice Eligibility, Hospice Basics
Suggesting Hospice to Your Patients with Advanced Illness
Studies have shown that the vast majority of patients want to know the truth about their condition.¹ Without it, they feel abandoned and alone. Yet in today's time-constrained environment, health care professionals (HCPs) are challenged to set aside the time to have the conversation with patients and families early and to update it regularly.²
Talking about options near the end of life while the patient still enjoys quality of life is a priceless gift from the HCP to the patient and the family. Armed with choices and an understanding of what hospice offers, an informed patient feels in control.
And much like history-taking or conducting a physical examination, broaching end-of-life discussions with patients is a skill that can be learned. Performed skillfully, these conversations strengthen doctor-patient relationships and increase the likelihood that patients will choose appropriate treatment options, such as hospice.
Barriers to Talking About Death
Concern for how the patient will react: Despite their preference to hear the truth, a patient's initial reaction may be an emotional or physical outburst based on the prospect of limited choices, loss of control, eroding lifestyle, changing self-image and loss of life.² While an outburst may make the HCP feel uncomfortable, proper preparation and consideration of the patient's point of view can help defuse these reactions.
Concern about the HCP's own reaction: The HCP may worry about proper responses to a patient's anger, panic or sadness.
Concern that the HCP can't "do enough": HCPs can actually strengthen the doctor-patient relationship by compassionately and honestly acknowledging their feelings about a patient's decline despite all efforts. Talking about end-of-life options is the next logical step in the patient's care.
Anxiety about leading such discussions: This barrier is the easiest to overcome. Take the time to learn how to have end-of-life conversations thoughtfully and compassionately. This skill not only helps patients make informed decisions, it also helps ease an HCP's discomfort.
SPIKES has six practical components:
EOL experts recommend taking these steps now to make sure your wishes are known and carried out if you are diagnosed with a terminal disease or are approaching death and cannot speak for yourself:
S=Setting - Choose a private setting where you can sit face-to-face with the patient and a family member or confidant. If the patient does not speak English, rely on a professional interpreter rather than a family member.
P=Perception - Ask the patient how much they know, perceive or suspect before you begin the conversation.
I=Invitation - Subtly invite the patient to provide clues about willingness to receive more information. Ask if they would like to talk about test outcomes, treatments, etc. If the patient does not respond favorable, suggest that you talk again later that day or the next. Then follow through.
K=Knowledge - Share information directly and simple. After you've opened the conversation, stop talking. Listen to the patient's responses and emotions.
E=Empathy - Identify with the patient's emotional reaction in a kind way that suggests you understand and appreciate their response and are concerned about their future.
S=Summation - Summarize the news and recommend hospice care.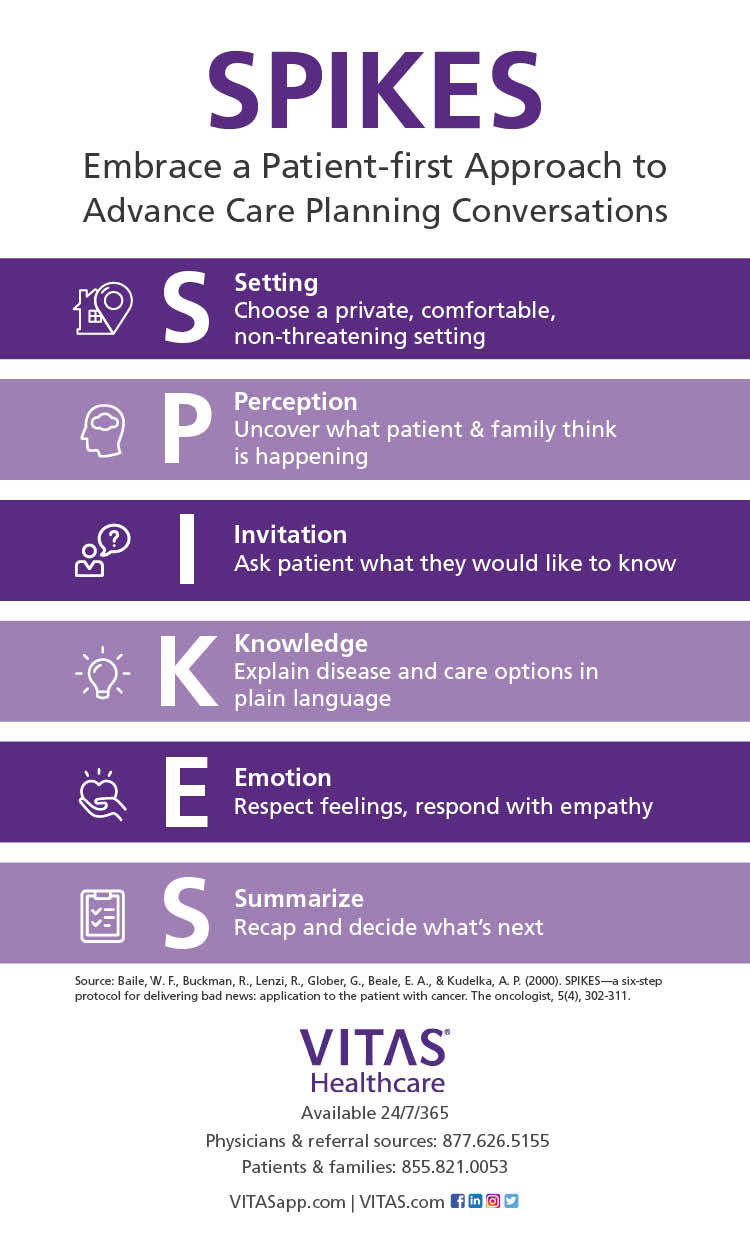 "SPIKE" Your Communication Skills and Confidence
Increase your ability to conduct effective conversations about ending curative treatments and embracing hospice by following the SPIKES system.¹
This will help you assess:
How much a patient understands about their disease
How ready the patient is to discuss the end of life
How to adjust to a patient's response
The value of silence and observation
How to interpret a patient's reaction, whether appropriate or inappropriate
How to share information with empathy
The role of hospice care in preserving hope, comfort and dignity
The Role of Hospice
Hospice plays a key role in satisfaction at the end of life. Optimal hospice care is provided for months, rather than weeks or days. When the side effects and intensity of treatment begin to outweigh any expected benefits, hospice services can help control pain, manage symptoms, facilitate comfort, and address the spiritual needs of the patient and family.
Given the gift of time, hospice patients can visit with loved ones, get outdoors, experience family milestones and put their affairs in order.
Even before hospice is considered, a VITAS physician is available for a consultation. We have the time to listen to the concerns of the patient and family, describe the progression of the advanced disease, explain care options and outline a realistic plan of care. You are informed of the outcome, and VITAS maintains communication with patient and family.
¹Buckman, Robert, and Yvonne Kason. How to Break Bad News: A Guide for Health Care Professionals. Baltimore: The Johns Hopkins University Press, 1992. Print.
²Kinzbrunner, Barry M., et. al. End-of-Life-Care: A Practical Guide. New York: McGraw Hill Companies, Inc., 2011. Print.
Originally published June 2018 and updated April 2020