VITAS Healthcare Supports Pediatric Cancer Patients With $10,000 Donation
December 23, 2020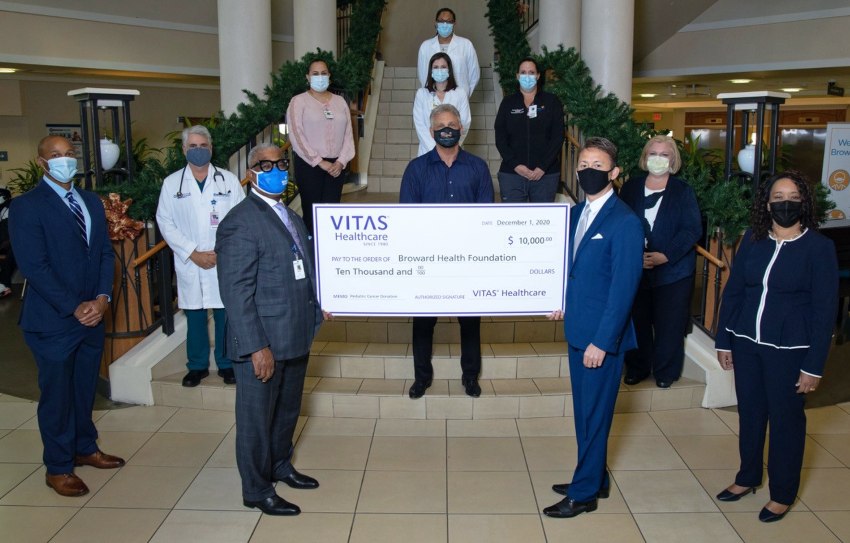 FORT LAUDERDALE, FL — Broward County children undergoing cancer treatment will feel the comfort of a warm blanket and welcome entertainment, thanks to a $10,000 donation by VITAS Healthcare to the Broward Health Foundation.
Funds from VITAS support pediatric cancer patients at Salah Foundation Children's Hospital in Fort Lauderdale, which is operated by Broward Health. Salah specializes in family-centered care for newborns, children and youth.
The foundation earmarked the donation to purchase a tabletop warmer for up to 30 blankets to soothe children who often feel extremely cold during and following chemotherapy treatments. Remaining funds will purchase 10 iPads to keep the pediatric patients busy with games, movies and educational activities while they're undergoing cancer care.
"VITAS Healthcare is proud to support Broward Health Foundation due to our shared dedication to the improved health of our community," said George M. Tokesky, VITAS general manager for Broward County. "We chose to contribute to Salah Foundation Children's Hospital because it provides direct comfort to local children receiving treatments for severe forms of cancer."
"We greatly appreciate Broward Health Foundation Vice Chairman Tokesky and VITAS for their kind contribution to the foundation and the children who are being treated in our pediatric cancer unit," said Bill Diggs, president of the Broward Health Foundation. "This donation is just one symbol of our partnership."
VITAS began providing hospice care to Broward County patients and families in early 1980. Interdisciplinary hospice teams care for patients in their preferred care setting, including private residences, nursing homes, assisted living communities and VITAS inpatient hospice units at Broward Health North in Deerfield Beach, Florida Medical Center in Fort Lauderdale, and Sunrise Health and Rehabilitation Center in Sunrise.
Beginning in early 2021, the VITAS Healthcare Inpatient Unit at Broward Health Coral Springs will begin accepting patients with advanced illness at its recently constructed 12-bed unit.
For media inquiries: