VITAS Healthcare Says 'Xin Chào' and 'Kumusta' With Its Latest VITAS.com Translations into Tagalog and Vietnamese
March 18, 2020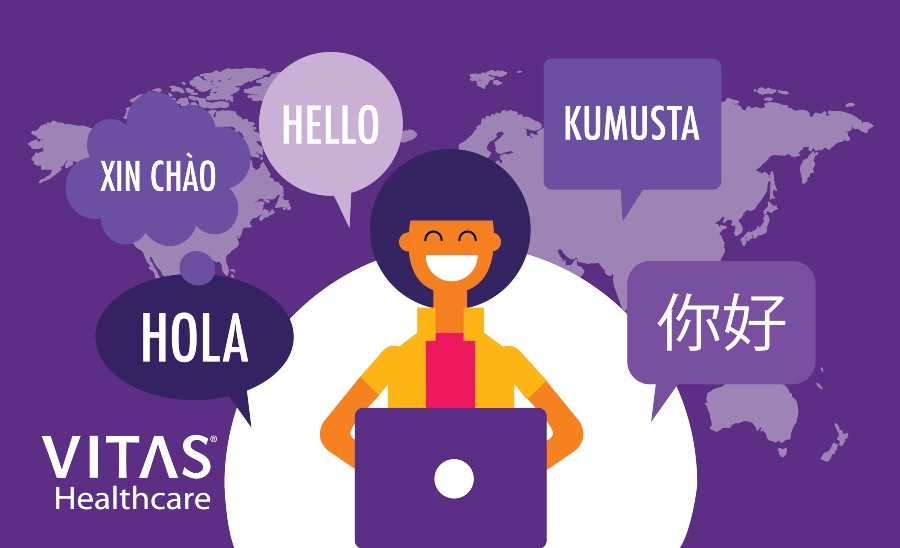 MIAMI, FL – VITAS Healthcare, the nation's leading provider of end-of-life care, announced today the addition of Vietnamese and Tagalog languages to its recently redesigned website, joining existing versions in English, Spanish and Mandarin.
VITAS, which has seen steady growth in multiple markets across the nation, also saw an increase in non-English users of its website (38,000 new users in 2018). This growing demand for non-English content led VITAS to add two of the highest in-demand languages, Vietnamese and Tagalog, to meet the needs of patients and healthcare professionals with unique and diverse backgrounds. "Xin chào" and "kumusta" mean "hello," respectively, in Vietnamese and Tagalog, the national language of the Philippines.
"Providing the highest quality of care means giving patients, families and healthcare providers easy access to information in their preferred language and to hospice providers who understand their cultures and values," said Drew Landmeier, senior vice president and chief marketing officer of VITAS Healthcare.
"By extending our website's reach through careful translations, more people can easily access end-of-life-care resources from any device, resulting in an overall enhanced patient experience," Landmeier explained. "This initiative also reinforces our longstanding investments in resources that meet the needs of our diverse communities, including patient and caregiver hospice training materials in Spanish, Mandarin, Creole and several other languages."
Related: How VITAS Empowers Underserved Populations >
According to the National Hospice and Palliative Care Organization, the number of hospice patients who identify as Asian rose 32% since 2014 but still represented only 1.7% of the entire hospice patient population in 2017, compared with 82.5% white, 8.2% African American and 6.7% Hispanic.
Diane Deese, vice president of community affairs for VITAS, said an earlier translation of the website into Mandarin involved cooperation from Mandarin-fluent clinicians and religious leaders who continue to use it as a valuable educational resource.
"We want to remove language barriers and knowledge gaps that keep eligible patients from experiencing the benefits of compassionate, end-of-life care. Adding Vietnamese and Tagalog supports our goal of expanding access to hospice care in minority communities by providing information in their own languages," Deese explained. "Further, by translating our resources that support health care professionals, clinicians have the necessary information to care for these communities."
The VITAS.com website, updated in March 2019, streamlines the online experience for healthcare professionals, patients, caregivers and job applicants with an easy-to-use, modern design and mobile-optimized content. Now in five languages, information about VITAS services, locations, resources and hospice care is accessible by even more users across the nation.
Call VITAS to learn more about hospice and palliative care options.