VITAS Healthcare Opens New Office in Gainesville, Expanding Hospice and Palliative Care Services in the Nature Coast
June 16, 2020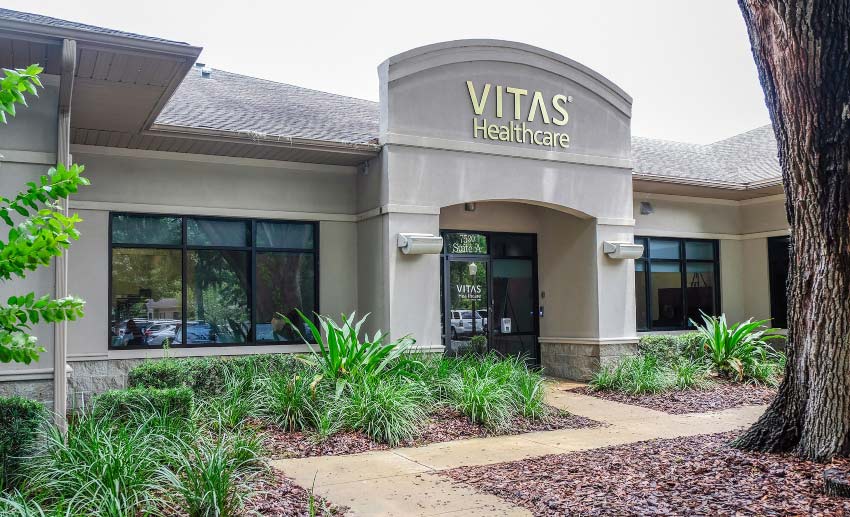 GAINESVILLE, FL – The Greater Gainesville Chamber of Commerce and Mayor Lauren Poe joined VITAS Healthcare leaders on Monday, June 8, 2020 for a ribbon-cutting ceremony recognizing the opening of the new VITAS office in Gainesville.
Located just blocks away from North Florida Regional Medical Center, this marks the second office in Florida's Nature Coast for the nation's leading provider of end-of-life care. Its first office opened in Lecanto in 2018.
Healthcare professionals can download the VITAS mobile app or call 800.93.VITAS for 24/7 referral information.
Admissions personnel available 24/7/365—at the convenience of the patient/family or at the request of the referring physician.
Physical, emotional and spiritual care provided by a hospice team in the patient's preferred setting, including private residence, nursing home or assisted living community. VITAS teams visit an average of five or more times a week.
24/7 telephone access to trained clinicians who can manage symptoms over the phone or dispatch a team member to the home when necessary.
Continuous care at the patient's bedside for up to 24 hours, when necessary.
Inpatient care for treatment of acute symptoms that cannot be managed at home.
The VITAS hospice app for clinicians for secure, one-touch hospice referrals, VITAS locations and interactive hospice eligibility guidelines.
Additional therapies and patient-focused programs available to Gainesville-area patients include gentle hand massage (Lavender Touch) and life biographies provided by trained volunteers, music therapy, Paw Pals® pet visits and special end-of-life support for veteran patients.
Increased Access and Knowledge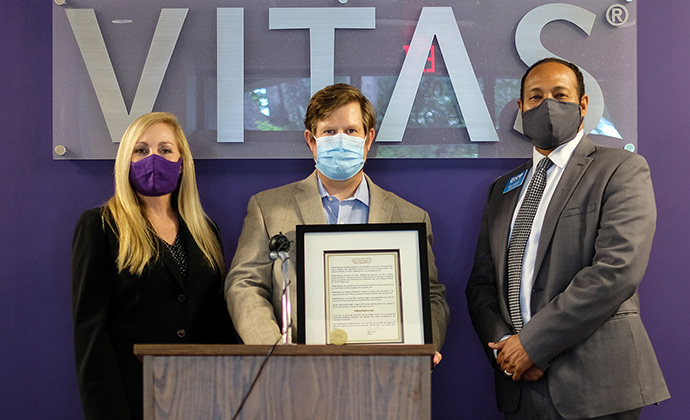 "VITAS is honored and proud to expand access to hospice care to patients and families throughout the Gainesville community and to serve as a resource for Gainesville's healthcare professionals and providers," said Karyn Brinkley, general manager of VITAS in the Nature Coast. "Our goal is to improve access to these services and increase knowledge about end-of-life care for our patients, family members and healthcare partners."
Every interdisciplinary VITAS team includes a physician, nurse, hospice aide, social worker, chaplain, volunteer and bereavement specialist who attend to the medical, emotional, social, and spiritual needs of patients and their families.
"VITAS has earned a national reputation for high-quality hospice care and has advanced the standard for decades," said Eric Godet, chief executive officer of the Greater Gainesville Chamber of Commerce. "We are fortunate to have VITAS to care for our families, friends and neighbors." Gainesville Mayor Lauren Poe and other local officials also attended the ribbon cutting.
Since 2018, VITAS has provided care to hospice patients and families throughout Alachua, Bradford, Citrus, Columbia, Dixie, Gilchrist, Hamilton, Lafayette, Levy, Putnam, Suwannee and Union counties in the Nature Coast. VITAS offers inpatient care at the VITAS Inpatient Hospice Unit of Citrus County in Lecanto and VITAS Suites at The Plaza in Gainesville.
For media inquiries: