VITAS Healthcare Office in Florida's Lake and Sumter Counties is Now Open
01/02/2018
Eustis, Fla., January 2, 2018 – VITAS Healthcare, the nation's leading provider of end-of-life care, is now accepting hospice-appropriate patients in Lake and Sumter counties. Located at 127 North Bay Street, Suite 200, Eustis, FL 32726, healthcare professionals may contact the Eustis office at 352.800.5101 for information at any time, day or night.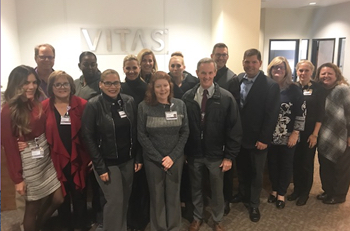 "We are prepared to provide high quality hospice and palliative care services for the Lake-Sumter community, so patients and caregivers have the physical, emotional, social and spiritual support they need at the end-of-life," said Jillian Madsen, RN, General Manager for VITAS Healthcare in Lake and Sumter counties. Madsen is a resident of Lake County and was a valuable member of VITAS' Maitland office for more than 20 years before she was given the opportunity to lead the new Lake-Sumter location.
Learn more about our new Lake - Sumter location.
With almost 40 years of hospice experience, VITAS Healthcare has the tools and resources needed to improve the quality of life for those near the end of life. VITAS offers unique hospice services across the country in 14 states and the District of Columbia. Services include using palliative chemotherapy and radiation to optimize pain and symptom management and a palliative care program for patients with terminal cancer. Another offering is VITAS' Cardiac Care Program, which provides patients with end-stage heart failure and other cardiac conditions access to evidence-based cardiac care alongside holistic end-of-life care.
"VITAS leads the way in the development of hospice and palliative care to improve the quality of life for patients and their families through compassion, clinical expertise, strength and guidance," said Nick Westfall, CEO of VITAS Healthcare. "We are dedicated to providing patient-centered care that aligns with their wishes and values."
VITAS services available for hospice-appropriate patients starting on January 2:
Admissions personnel available 24/7/365—at the convenience of the family or upon the request of the physician
Physical, emotional and spiritual care provided by a hospice team that visits the patient at home, in their nursing home or assisted living community, an average of five-plus times per week
24/7 access to trained clinicians who can dispatch a team member to the home when necessary
Continuous care at home for up to 24 hours when symptoms demand it
Inpatient care for aggressive management of acute symptoms that cannot be managed at home
Additional therapies and patient-focused programs:
Lavender Touch: A gentle hand massage administered by trained volunteers that offers added comfort, support, and one-on-one attention
Music Memories: A visit led by a certified music therapist with the goal of meeting physical, emotional, cognitive, social, and spiritual needs through music
Paw Pals: Loving animals and their owners who volunteer to visit patients to provide comfort
Life Bio: A written, audio or video biography of a hospice patient, provided by specially-trained volunteers
VITAS' award-winning Veterans Program
The first of two VITAS offices planned to serve Lake and Sumter counties is located at 127 North Bay Street, Suite 200, Eustis, FL 32726. A second office will open in Sumter County in 2019.