VITAS of Columbus Recognized as a We Honor Veterans Level Four Community Partner
08/10/2018
Columbus, OH – VITAS Healthcare in Columbus has earned Level Four Community Partner recognition for its We Honor Veterans program, a designation that provides local veterans with specialized, veteran-centric hospice care and support as they face unique challenges and issues that can arise near the end of life.
Celebrating its 40th anniversary in 2018, VITAS is the nation's leading provider of end-of-life care. In Columbus, VITAS is one of only five hospice providers to earn the Level Four designation.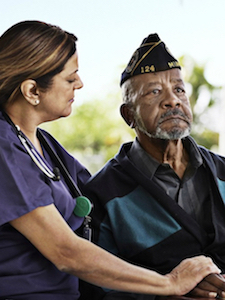 Learn more about hospice care in Columbus.
We Honor Veterans is a collaborative initiative by the National Hospice and Palliative Care Organization and Department of Veterans Affairs (VA) to acknowledge veterans' contributions and the unique experiences they often carry throughout life as a result of their military service.
In earning the designation, VITAS demonstrated it can:
Provide high-quality hospice services to veterans and their families
Develop and strengthen partnerships with the VA, veteran organizations and other healthcare organizations
Promote hospice and palliative care for veterans
Demonstrate the impact of its veteran-centric programs
"It's an honor to be recognized as Level Four status for our veteran-specific care, services and community involvement," said Mark Knepper, VITAS general manager in Columbus. "It's a humbling experience to serve those who have served our country. We are proud to ensure that our nation's heroes receive the highest levels of end-of-life care with dignity, respect and compassion."
We Honor Veterans focuses on respectful inquiry, compassionate listening and grateful acknowledgment of a veteran's service and experiences, coupled with veteran-centric education for VITAS hospice employees who care for seriously ill patients and their families.
In addition to specialized care provided by trained hospice team members and volunteers, veterans enrolled in VITAS hospice care are eligible for coordinated care with the Columbus VA Center, a bedside salute, certificate of appreciation, service pin, and a commemorative afghan or blanket made by a VITAS volunteer. Their families can take advantage of VITAS familiarity with the VA system to identify and access veterans' benefits and information, a free 16-page Veterans Resource Guide, and a full range of bereavement support for veterans and their families.