VITAS Healthcare Invests in Hospice Nursing and Education Innovation with $20,000 Donation to South Florida State College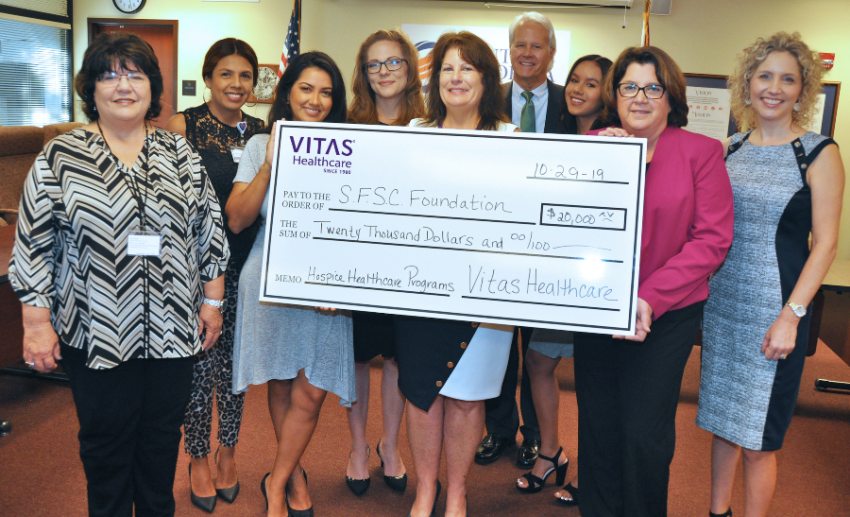 11/13/2019
LAKELAND, FL – VITAS® Healthcare, the nation's leading provider of end-of-life care, has donated $20,000 to South Florida State College (SFSC) in Avon Park to support the College's nursing program and to enhance hospice education.
Renee Followell, general manager of the Lakeland-based VITAS office covering Mid-State Florida, returned to her alma mater on October 29 to present the check to SFSC Dean of Health Sciences Michele D. Heston.
"Support from our community partners promotes excellence in nursing education, enhances the profession, and benefits the community as a whole," Dr. Heston said. "We are extremely proud of Renee and her work in hospice care."
The funds are earmarked to update the nursing program's equipment and to incorporate hospice nursing education into its curriculum for home health aides (HHA), licensed practical nurses (LPN), registered nurses (RN) and students seeking a Bachelor of Science in Nursing (BSN).
"VITAS is proud to play a role as a community partner that improves the healthcare profession by supporting the education of today's nursing students and tomorrow's colleagues," said Followell. She discussed VITAS' reliance on professionally trained, compassionate nurses, physicians and other allied healthcare professionals to ensure that hospice patients and their families enjoy the highest possible quality of life.
"I am personally proud that this donation will ensure that today's nursing students have the same opportunities that I had as an SFSC student to shape a successful and satisfying career in the healthcare profession and the hospice specialty," she said.
For more than 40 years, VITAS has provided quality compassionate care to terminally ill patients throughout South Florida. Today the company employs nearly 6,700 healthcare professionals in the Sunshine State, caring for over 10,000 residents each day.
Working with VITAS is a rewarding choice.