VITAS Healthcare Opens First Freestanding Inpatient Hospice Unit in Northern New Jersey
06/04/2018
June 4, 2018 – VITAS Healthcare, the nation's leading provider of end-of-life care, has opened a new, free-standing Inpatient Hospice Unit (IPU) at St. Joseph's Wayne Hospital, caring for patients from Passaic, Bergen, Morris and Essex counties. VITAS currently operates 28 IPUs nationwide and this is the first, free-standing hospice IPU in northern New Jersey. The VITAS IPU is located at 220 Hamburg Turnpike, Wayne, NJ 07470.
Hospice IPUs, like the New Jersey facility, enable VITAS to provide care for hospice patients whose symptoms have become unmanageable in their home-care setting while adhering to the patient's wishes for end of life care. The company leads the way in the development of hospice and palliative care to improve the quality of life for patients and their families.
Learn more about our new New Jersey location.
"Though many patients choose to receive hospice care at home, the option of an inpatient hospice unit is invaluable when symptoms such as pain, respiratory distress, anxiety and others cannot otherwise be managed," said Robert Danbury, VITAS Healthcare of New Jersey North General Manager. "The new IPU will allow our patients to receive the unique care they require, but still feel like they are in the comfort of their own home."
The 9,800 square foot facility is designed to make patients feel like they are in the comfort of their own home and not in a clinical setting. Expected to serve approximately 500 patients each year, the IPU has 12 resident rooms that include private bathrooms, a spacious family room, a quiet room and kitchen amenities. It's also equipped with support spaces where interdisciplinary teams of physicians, nurses, hospice aides, social workers, chaplains, volunteers and bereavement support staff members can attend to the medical, emotional, social and spiritual needs of patients and their families.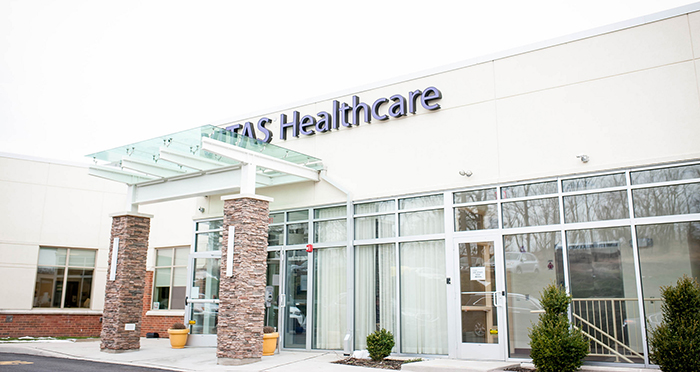 "There is a growing demand for quality, compassionate care in this community, and we are honored to fulfill that need," said Nick Westfall, CEO of VITAS Healthcare. "We look forward to providing patients and their families with the highest quality of end-of-life care and playing an integral role in the continuum of care for northern New Jersey."
In addition, all hospice-appropriate patients will benefit from VITAS' unique care model ensuring that only nurses provide hands-on, compassionate care at the bedside. VITAS also offers a wide range of holistic services to enhance the quality of life for patients and families including:
Lavender Touch: A gentle hand massage administered by trained volunteers that offers added comfort, support, and one-on-one attention.
Music Therapy: A visit led by a certified music therapist to patients with the goal of meeting physical, emotional, cognitive, social, and spiritual needs through music.
Paw Pals: Loving animals—and their owners—who visit patients to provide comfort.
Life Review: A written, audio or video biography of a hospice patient, provided by specially-trained volunteers.
VITAS' award-winning Veterans Program.
VITAS is actively looking for exceptional caregivers in New Jersey that want to make a difference in the lives of patients and their families as well as their own. The company is committed to hiring, training and mentoring highly skilled clinical and administrative staff. For more information, please contact General Manager Robert Danbury at Robert.Danbury@vitas.com.