VITAS Healthcare Celebrates Grand Opening of Hospice Inpatient Center at Rockledge
02/06/2019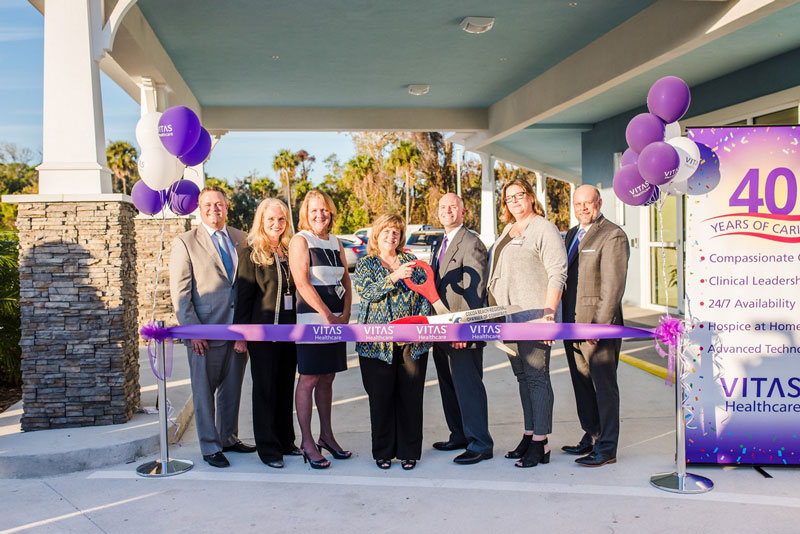 Above: VITAS team at the ribbon cutting ceremony from L to R: CEO Nick Westfall, Brevard General Managers Susan Acocella and Kathleen Kashow, Executive VP Patty Husted, Rockledge IPU Manager John Harrell, Vice President of Operations Jennifer Nygaard, Chief Operations Officer Joel Wherley.
ROCKLEDGE, FL – Residents of Brevard County will soon have improved access to hospice through VITAS Healthcare's Inpatient Center at Rockledge, located at Route 1 and Robles Lane. VITAS, the nation's leading provider of end-of-life care, celebrated the grand opening of its new inpatient unit (IPU) on Tuesday, February 5, 2019, with a reception and ribbon cutting ceremony attended by local officials and business leaders.
"The construction of the VITAS IPU at Rockledge underscores our commitment to meeting the growing demand for our quality, compassionate care in the Space Coast community," said VITAS General Manager Susan Acocella. "We chose this area of Brevard County so that local VITAS patients who have complex symptom management needs that require highly skilled care around the clock will have greater access to our inpatient hospice services."
Learn more about the newest inpatient center in Brevard County.
The 14,000-square-foot, state-of-the-art facility houses 14 private rooms and offers comfort-focused amenities, including a spacious family area, two kitchens and overnight accommodations for family members. Two screened lanais for patients and families are nestled in serene surroundings bordering Brevard County's River Walk Family Park. Wireless internet access and cable television are available for visitors.
The IPU's central location on US Highway 1 near I-95 provides easy access for Brevard County residents and visitors. Doctors who refer patients to VITAS also benefit from the new IPU, which accepts 24-hour direct admissions (including weekends and holidays) and offers protocols for complex and high-acuity hospice patients.
"VITAS has been serving the residents of Brevard County for more than 16 years in a variety of settings, including hospitals, nursing homes, assisted living communities and in their homes," added Acocella. "We look forward to soon opening the doors to our Rockledge IPU and providing the comfort and specialized care some of our patients need."
VITAS' Inpatient Center at Rockledge is the company's first inpatient unit built from the ground up in Brevard County. The facility is expected to serve about 850 patients annually. VITAS will begin accepting hospice-appropriate patients at the IPU in early 2019.
VITAS IPUs like the new Rockledge facility enable VITAS to provide care for hospice patients whose symptoms have become unmanageable in their home-care setting. Most patients return home after spending a few days in the unit.
For more information about VITAS services, call 321.751.6671 or visit VITAS.com.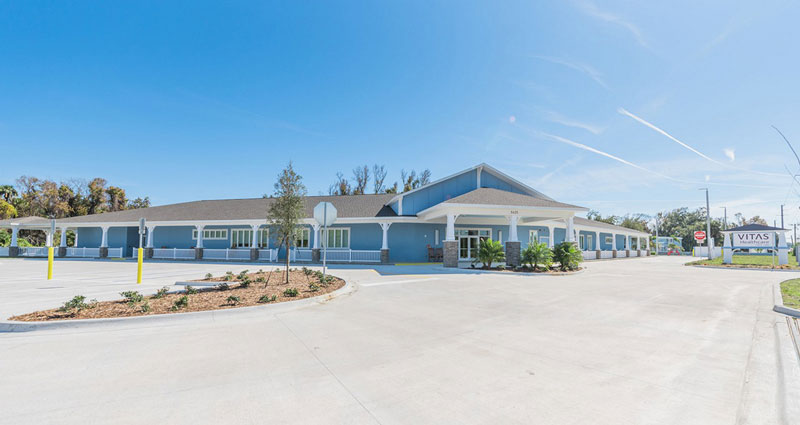 Above: VITAS Inpatient Center at Rockledge, located in Brevard County, will begin accepting hospice-appropriate patients at the IPU in early 2019.